Multiculturalism on the Sunshine Coast
Explore this online program to discover more about Sunshine Coast's multicultural heritage
The Sunshine Coast has attracted many diverse cultures to the region. Enjoy a selection of stories.
British and Scottish migrants
Most of the early settlers to the Sunshine Coast came from Great Britain, including Thomas Tripcony, a sailor who selected 1100 acres of grazing land between Glass Mountains Creek and Hussey Creek in 1861. His son, Andrew, opened Caloundra's first store at his Black Flat residence in 1910. Read more about the watermen pioneers.
In 1888, English born nurse Ellen Hume became a pioneer midwife after moving to Peachester. She would ride side-saddle to see patients from Beerwah district to Maleny. Read more about the early midwives.
Mary Fenwick and William Grigor first met on a ship that set sail to Australia on 10 Oct 1854. They were later to marry and build Bankfoot House in time to greet the first Cobb & Co Coach that travelled from Brisbane to the Gympie Gold fields. Bankfoot House, named after Mary's hometown in Scotland, was built in 1868. See the film of Mary Grigor.
Nambour's nightwatchman from Finland
One of the longest serving night watchmen was Vainna Tamppinen (b. 1899), the son of an emigrant family who arrived in Nambour from Finland in 1900. Mr Tamppinen was a community minded citizen and for nine-and-a-half years was a night watchman, patrolling Nambour's business centre at night and on weekends. He retired in 1967. Read his story.
Stories of Italian migrants
Agriculture brought many migrant families to the Sunshine Coast. Bonatos, Saffignas, De Claras and Porfiris were Italian migrants who grew tobacco in the Sunshine Coast hinterland from the 1960s to the early 2000s. In the early days, many did not speak English, and there was little support from the Government. The last tobacco was ploughed into the ground at Beerwah in 2006. (Image and text courtesy of Landsborough Museum).
Prisoners of war from Italy
Eddie De Vere is known on the Sunshine Coast for his work as Councillor for the Maroochy Shire Council from 1951 to 1967 and then as Chairman of Maroochy Shire until 1982. In an interview he recalled a time when he was given five Italian prisoners of war to work on his dairy and beef property in Obi. "So, we lived together, and it was a very good relationship I had too with them all. I appointed one of them chef, and he used to go out in the paddocks and work with us too, but then his job was to order the meals and have them ready. So, we got along very well." Its a fascinating read.
The Greek connection
The founder of Comino's Drapery in Caloundra, Cosmo Comino, arrived on the Sunshine Coast in the late 1930s. He was a migrant from Cythera in Greece. Mr Comino became a successful businessman, building two shops at 26 Bulcock Street – a milk bar, café and fruit shop which opened in 1940, and a drapery which opened in 1946. The drapery closed in 2016. Read more of his story.
On 9 June 1939, a bride who had recently arrived in Australia from Rhodes Island, Greece, wore white Italian satin, a pearl clip and roses at her wedding in Nambour. After the celebration, the newly-weds, Mr and Mrs Koufalakis, left for their honeymoon in Tewantin. They lived in Eumundi where they ran a café. See the full article courtesy of Eumundi Museum.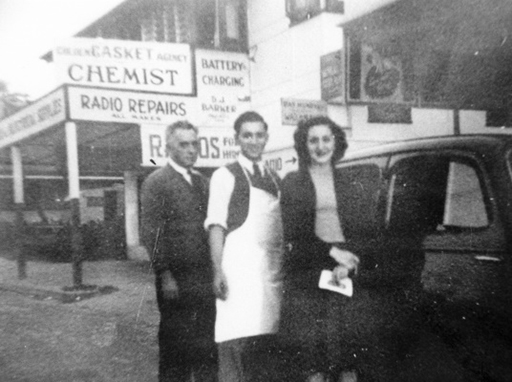 Shopkeeper Mr Cosmo Comino with his son and daughter, Manuel 'Mannie' and Rene Comino outside their business at 26 Bulcock Street, Caloundra, 1940.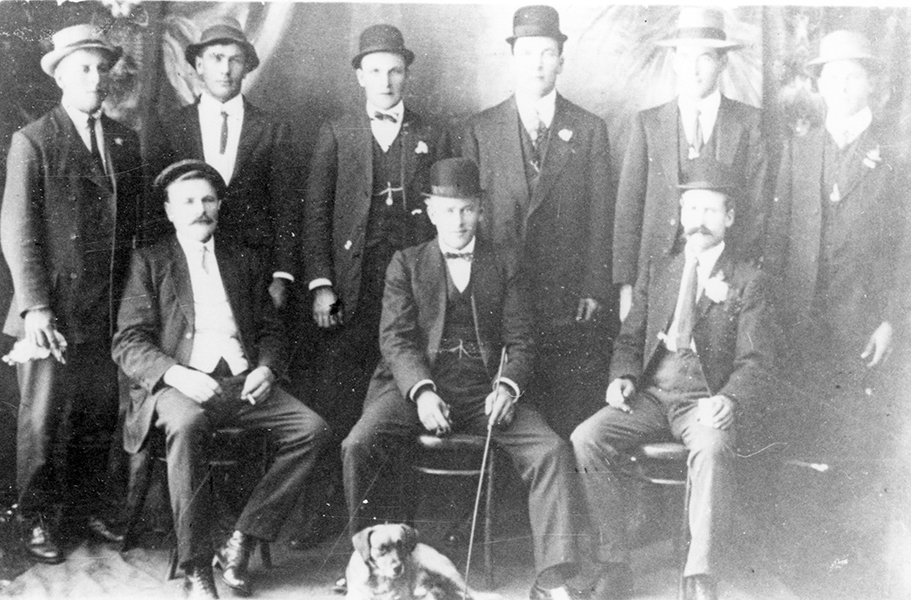 Group of Finnish men on Nambour Show Day, 1915 (Picture Sunshine Coast)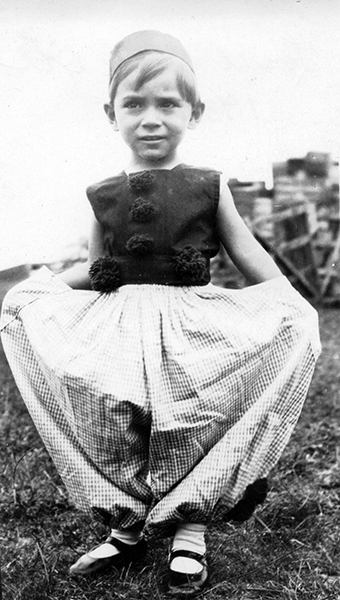 Emmanuel 'Mannie' wearing the traditional male dress of Turkey, Forest Hill, 1933 - Emmanual 'Mannie' Comino was born in Queensland on the 8 of April, 1930. Both his mother Eleni and his father, Cosmo Comino, had immigrated to Australia from Greece. (Picture Sunshine Coast)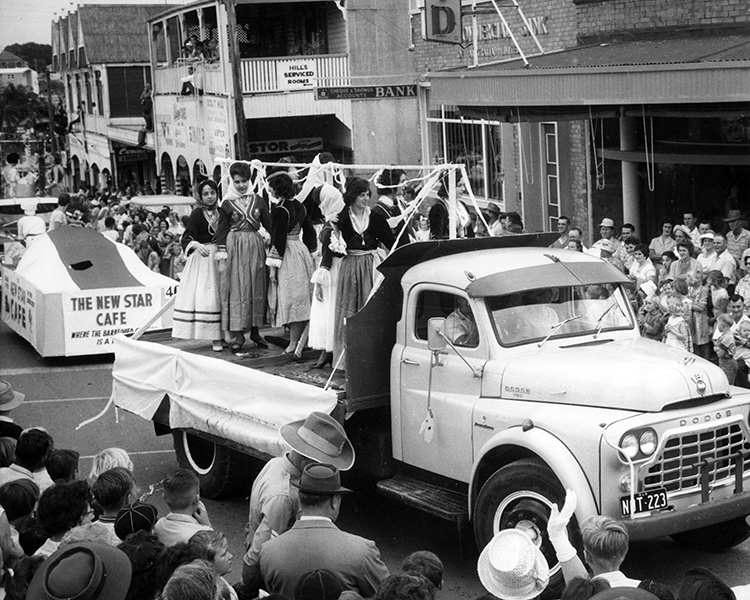 Greek Community float participating in the Warana Festival Celebrations, Currie Street, Nambour on 28 September, 1963 (Picture Sunshine Coast)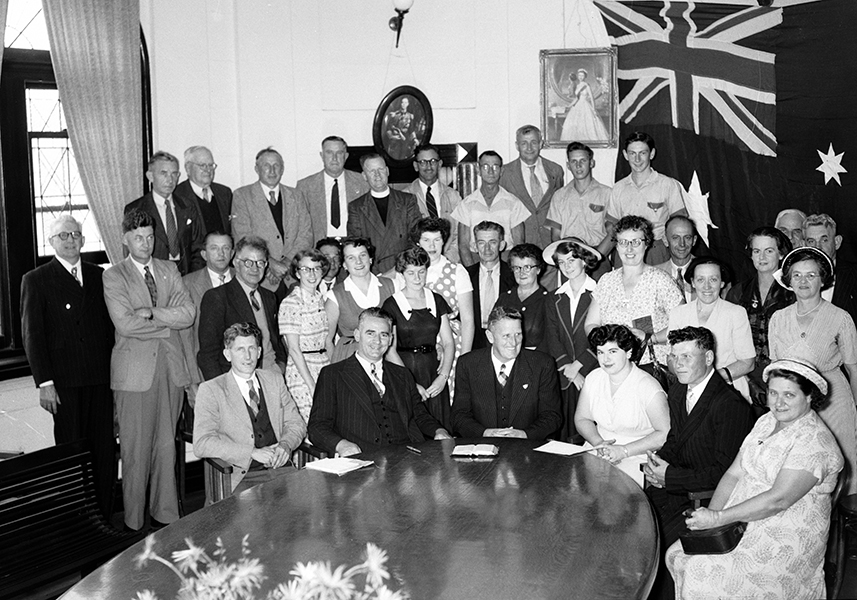 First Naturalization ceremony in the Maroochy Shire, 18 October 1954 - Joseph Fehser (seated second from right), then a resident of Nambour and formerly of the Ukraine, took the Oath of Allegiance administered by the Chairman of the Maroochy Shire Council, Cr D. A. Low, M.L.A. (seated second from left). (Picture Sunshine Coast)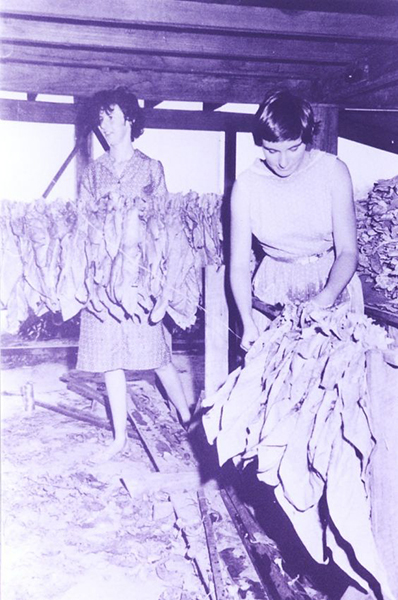 Women stringing and grading the tobacco leaves. (Photo reproduced courtesy of SE Queensland Tobacco Board.)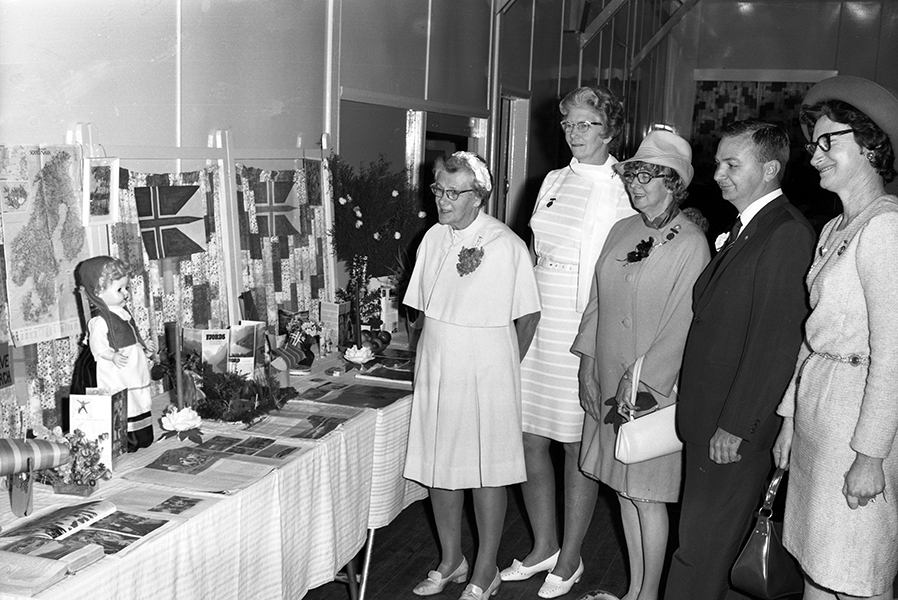 Group of official guests admiring a display at the Nambour C.W.A. Branch's International Day, held in the Q.C.W.A. Rest Rooms, Nambour, July 1971 - The theme of the display was Norway, the country chosen by the Q.C.W.A. for study in 1971. (Picture Sunshine Coast)
More to explore
Feedback
To help us develop our on-line programs content and variety, we would appreciate your time in completing this short feedback form.
Featured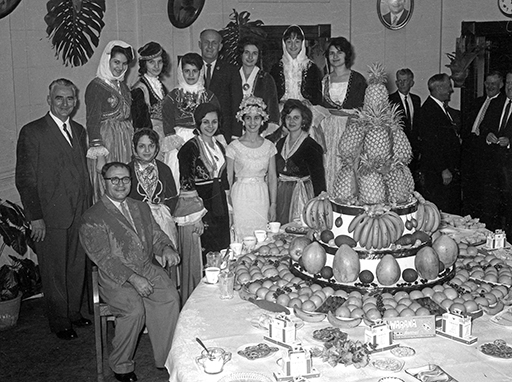 Participants from the Greek Community float