Clementina Burgess: A remarkable life exhibition
Clementina had four children and was responsible for the extensions and alteration of Bankfoot House in 1930
Women of Bankfoot House
Clementina was born in 1878, in the newly built extension of Bankfoot House, along with her twin sister Margaret. At home, Clementina helped her mother Mary run Bankfoot House. She continued to do this after the passing of Mary in 1900.
In 1902 Clementina married William Smith Burgess, who joined her at Bankfoot House. The Burgess family inherited the property in 1905. Clementina had four children and was responsible for the extensions and alteration of Bankfoot House in 1930. She passed away in 1963, leaving the property to her son William Isaac Burgess.
View the Memories of Clementina Burgess digital story.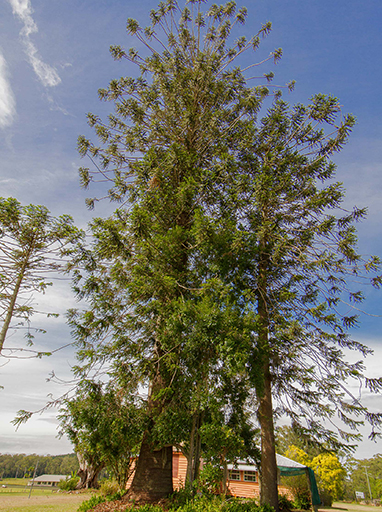 Planted just to the north of Bankfoot House, this Bunya Pine was planted to commemorate the birth of twin sisters Clementina and Margaret in 1878.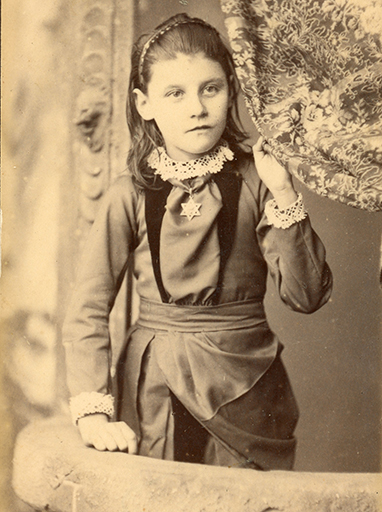 Clementina, ten years of age in 1888.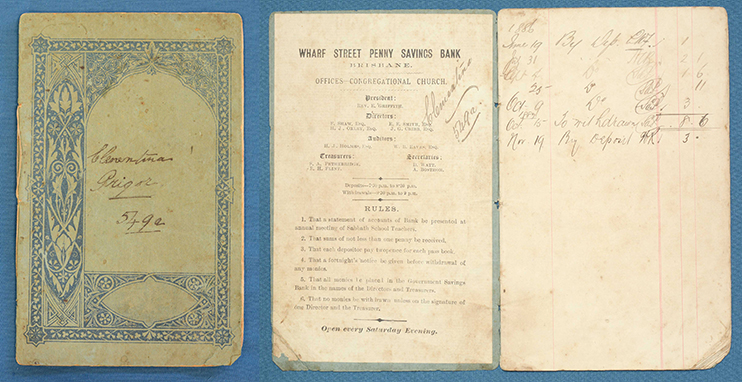 Wharf Street Penny Savings Book, Clementina Grigor 1886. (BH 1248). Penny Saving Banks were established to encourage low income earners to save money, allowing deposits of as little as a penny. By the late 1800s these banks had become a popular way of teaching children how to save.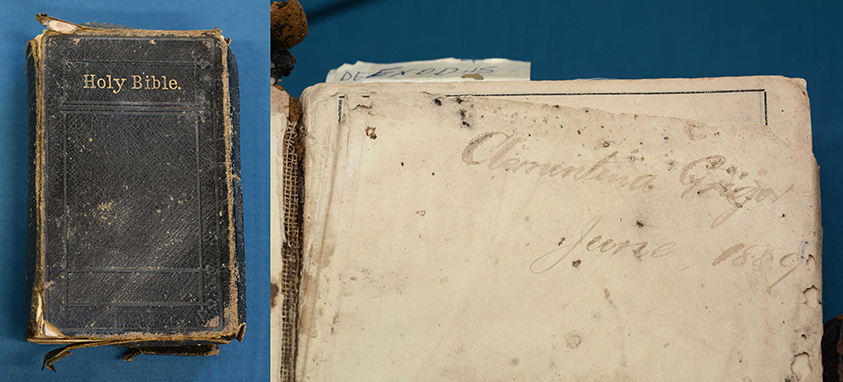 Clementina's Bible –This bible was given to Clementina when she was nine. It is believed to have been a gift from her parents. A small inscription inside the front cover reads, 'Clementina Grigor June 1889'. Clementina made book marks to easily find the chapters of the bible.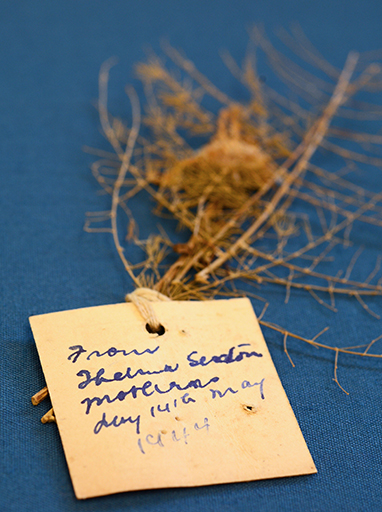 Pressed flowers and small keepsakes were found inside Clementina's bible. These preserved pressed flowers are a Mother's Day Corsage from 1944. The card reads "The Lord thy God be with thee"... "From Thelma Sexton, Mother's Day 14th May 1944."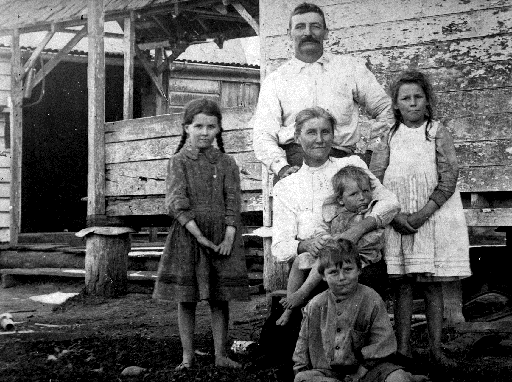 Clementina and William with their children outside of Bankfoot House. From left to right, Janet, Kenneth (sitting in Clementina's lap), William and Mary.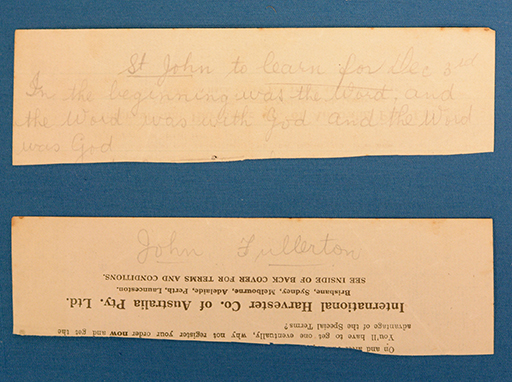 Discovered in the Grigor family bible were these two handwritten Sunday school class plans. Clementina conducted Sunday school classes in Bankfoot House before the local church was built. The front of each slip reads, "St John to learn for Dec 3rd. In the beginning was the word, and the word was with God and the word was God." The back of each slip has the student's names, Willie Benn and John Fullerton.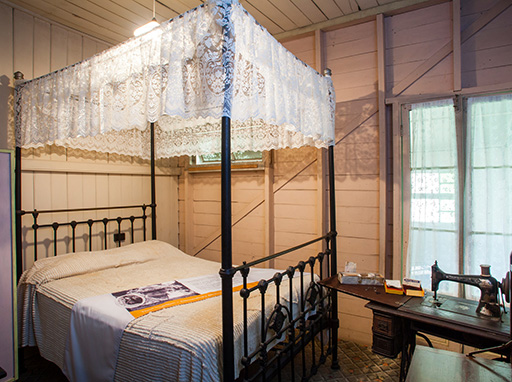 Clementina's bedroom. Built as part of the 1878 extension to Bankfoot House, Clementina was born in this room and it continued to be her bedroom for her entire life whilst living at Bankfoot House.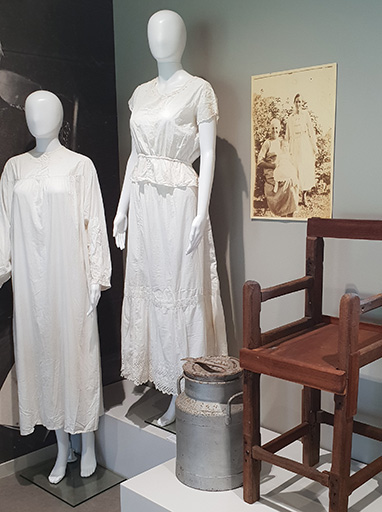 Petticoat, Blouse and Nightgown, all these textiles date from the early 1900s. They are believed to have been made and worn by Clementina Burgess.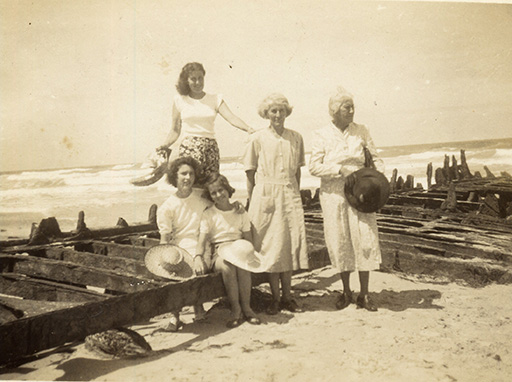 Clementina, standing on the right, at Dicky Beach. The Burgess family enjoyed time by the beach. Often they would camp over the summer holidays staying at Caloundra for a week at a time, starting Boxing Day each year. Clementina and William would take their young children for adventures on the stranded 'Dicky'.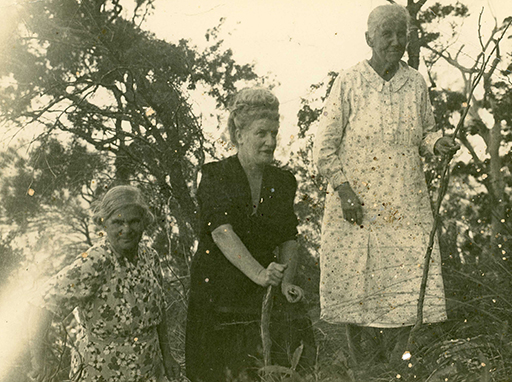 In 1948, 59 year old Jennie Love (nee Clark) visited her long-time friend Clementina who was 70 at the time. She was accompanied by Mrs Mikelson (nee Clark), and together, the trio climbed more than half way up the summit of Mt Coonowrin.
Find out more about Bankfoot House.