Libraries celebrated
The first library on the Sunshine Coast opened in 1913
Nambour Library opened as a Library and Public Reading Room in the Nambour Town Hall (where Centenary Square now stands) in 1913.
In 1925, the library moved into its own premises next door but in 1929, a huge fire destroyed the Nambour Town Hall and adjacent buildings, including the public library. For 12 months, the library was accommodated in Chadwick's Chambers until its 'neat brick structure' alongside the rebuilt Town Hall was completed in October 1930.
In 1968, the then Maroochy Shire Chairman, Ed De Vere, set about finding a new home for the rapidly expanding Nambour Library. It was some 13 years later that council bought the old Commonwealth Bank building and the library moved into the much larger premises. Soon plans were underway for a building specifically designed to function as a library, and in February 1986, construction began on the site adjacent to the Nambour Council Chambers.
There was great excitement in November 1986, when the staff and books moved across the road to their new home. There have been extensions - outwards and upwards - over the years and in November 2016 Nambour Library will celebrate its 30th anniversary in the current building.
School of Arts played a part in the early days of lending libraries on the Sunshine Coast and throughout Australia. On Saturday, March 28, 1931, Caloundra School of Arts, located on the corner of Bulcock Street and Canberra Terrace, was officially opened by the Queensland Minister of Education. Modern for its time, it had a lending library as well.
From 1976 libraries on the Sunshine Coast were operated by the Sunshine Coast Regional Library Service (SCRLS) as a free service to the community. This was achieved when the three local authorities, Landsborough, Maroochy and Noosa, pooled resources to operate the library service. Books were purchased and processed in the central library at Cotton Tree and then distributed to the four shire libraries at Caloundra, Maroochydore, Nambour and Tewantin.
Landsborough Shire Council constructed their first purpose built library in Omrah Avenue, Caloundra in 1976. This building now houses council's Caloundra Regional Gallery.
The first chief librarian was Dawn Maddern who became instrumental in establishing an award winning service for Caloundra's community. Other library branches were planned and constructed in the shire in the following years.
Maleny Library opened in May 1998 followed by Beerwah Library in June 2000.
Maroochydore Library opened in September 1976 to serve the growing populations of Maroochydore, Mooloolaba, Buderim and the surrounding area. Initially the library held 2225 books. About 250 eager borrowers joined on the first day and by the end of September there were 998 members, 346 of them children.
The late 1970s and early 1980s also saw the development of mobile library services that visited hinterland towns and coastal suburbs as part of the Sunshine Coast Regional Library Service.
In 1985, after 10 years of regional library services, Landsborough Shire Council announced it was withdrawing from the Sunshine Coast Regional Library Service. Soon after, in December 1985, Maroochy Shire also announced it would withdraw. The regional service concluded on 30 June 1986 and the three library services continued separately for many years. Amalgamation of the three shires in 2008 brought the library services together again as Sunshine Coast Libraries.
Jack Beausang, Landsborough Shire Council Alderman from 1956 and Council Chairman from 1964, was a great supporter of the Caloundra City's library services. Friday, October 31, 1986 saw the official opening of the Landsborough Shire Council's John L Beausang Library adjacent to the earlier library built in Omrah Avenue.
The Kawana Library and Community Hall were built on land donated to Caloundra City Council by Noel Burns of Kawana Estates. Located at 30 Nanyima Street Buddina, Kawana Branch opened to the public on July 4, 1989 and opened officially on August 5, 1989.
A public meeting was held in Kenilworth on February 27, 1986 to discover the level of support for the formation of a community library.
The new service opened in the old Westpac Bank building in the main street on June 7, 1986 and was operated by the Friends of Kenilworth Library Group with 3000 books from the Nambour Library. Within one month, library membership grew to 231, out of the local population of approximately 400 people. A few years later a small council-owned cottage was moved from the Coast to Kenilworth and refurbished as a new library.
In 1991 when the library service commissioned a new computer system, Kenilworth was brought 'online' and became a fully-fledged service operating with paid staff.
Coolum Beach Library opened officially on October 13, 1989. The award-winning design by architect Gabriel Poole is in his trademark tropical style, featuring a curved iron roof, large windows and tropical landscaping. Extensions are planned for this building due to this areas rapid population increase.
Today libraries on the Sunshine Coast offer free membership through eight branches, two modern mobile libraries and access 24/7 via the library website. There are many benefits of being a library member including free internet access and computer usage, recreational and information services and a specialist heritage library situated in Nambour Library.
The service provides access to a diverse range of collections, services and activities that support recreation and enjoyment as well as intellectual, educational and creative development across the region. This includes hundreds of DvDs, CDs, Magazines and books.
Thanks to Sunshine Coast Council's Heritage Library Officers for the words and Picture Sunshine Coast for the photos.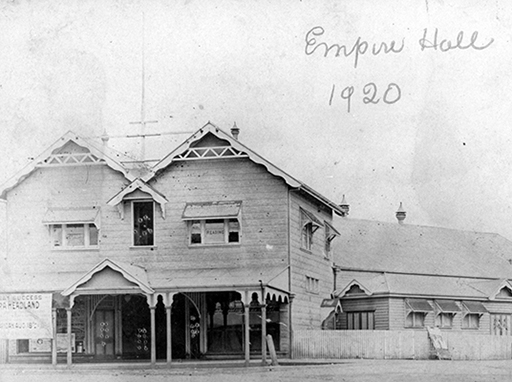 Town Hall and Council Chambers adjacent to the Empire Hall, Nambour, 1920. The Library and Reading Room were located in the upper storey of the building.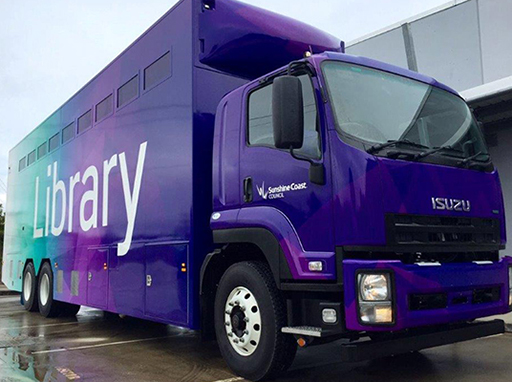 Sunshine Coast Council Mobile Library 'Mobi 2' parked outside the Varley Group workshop, 2016.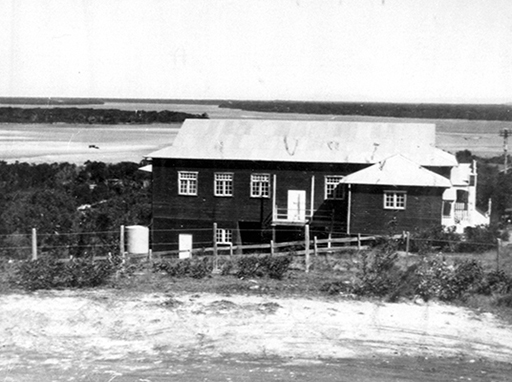 Caloundra School of Arts Hall – modern for its time, housing a lending library as well, 1934.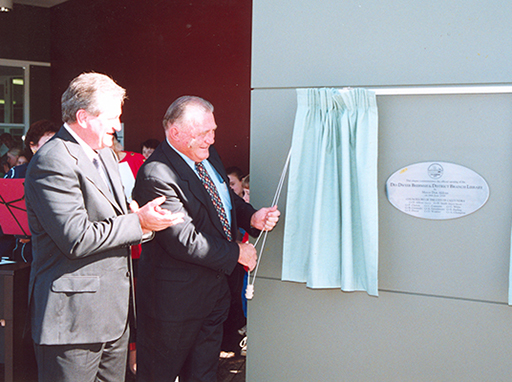 Caloundra City Council Mayor Don Aldous applauds as Des Dwyer unveils the plaque at the official opening of Des Dwyer Beerwah and District Library on 28 June, 2000.