Christmas time
A time of celebration and family gatherings for many, but times can be tough and not everyone has a "festive" season
It is Christmas time once again. A time of celebration and family gatherings for many, but times can be tough and not everyone has a "festive" season.
It is times like this when the human spirit shines brightly.
Today we step back in time and read how residents and early visitors celebrated Christmas and their holidays here on the Sunshine Coast.
These days some people go to church and some use it as a time of reflection and to care for friends and family.
In years gone by, many more people attended church and gave thanks but whatever way we give thanks the most important thing is to care.
When roads were rough and transport was virtually non-existent, attending a Christmas church service gathering was difficult.
During the early Christmas holidays in the 1890s, the Salvation Army established a camp meeting at Maroochy Heads now known as Maroochydore.
Brigadier Kyle, of the Salvation Army in Brisbane, was never deterred and visited the group at this special time.
After a steam train journey to Nambour from Brisbane and a substantial walk to where the boats waited on Petrie Creek, he caught a boat to the Maroochy Heads camp.
Brigadier Kyle marched into the camp with the sound of music from two cornet players accompanying him.
Large camp fires lit the scene because there was no electricity to light the way in days gone by.
Excited children kept the scene very lively and the joy of camping and friendship when money was scarce was perhaps all that was to offer for the little ones.
Due to the popularity of the Christmas camp, it continued for over 20 years.
An advertisement in the Nambour Chronicle in 1912 promoted the Salvation Army Camp as "Natures Pick Me Up" and "Come to Tent Town, where the ocean breezes blow".
At Christmas time in 1927, during the Great Depression, Reverend De La Perrelle, the Anglican vicar in Nambour, set out to visit his parishioners.
His predecessors had relied on horses, trains and at times walked many miles travelling throughout the large parish which stretched from as far as Mooloolah out to Kenilworth and up to Eumundi.
In 1925, the parish had decided Reverend De la Perelle should have a little car and he was supplied with a four cylinder Rugby tourer.
The little car sometimes needed a miracle to proceed on the rough hazardous roads and tracks.
The Reverend had hoped to have a Christmas service at Maroochydore but the car became bogged that Christmas Day due to heavy rains on the Eudlo Flats and he had to return to Nambour.
There was no "Christmas miracle" for the little tourer or the Reverend who arrived home soaked from his kindly well intentioned spiritual expedition.
During World War II when thousands of troops camped and trained in this district, the locals made sure they did not go without at Christmas.
Socks were knitted for them, fresh cakes were baked, poultry dressed and cooked and many church services and gatherings were held in halls for the members of defence.
While enjoying their time with the locals of the Near North Coast before heading back into war zones, young women offered to write to a lonely soldier.
Many lasting relationships were established during these times due to the kindness of our community.
Today many Australians send care packages to our modern day defence personnel spending Christmas so far from Australian shores.
In 1974, just before Christmas, a barbeque was held by Nambour Salvation Army Corps.
Each adult was charged a small admission price and Santa came to check on the good boys and girls of the district before the big day when he had to work night and day to get the job done.
Everyone had a marvellous time of friendship and kindness and a pig donated by Stan Gittens of Maleny may have played a part in the success of the barbecue.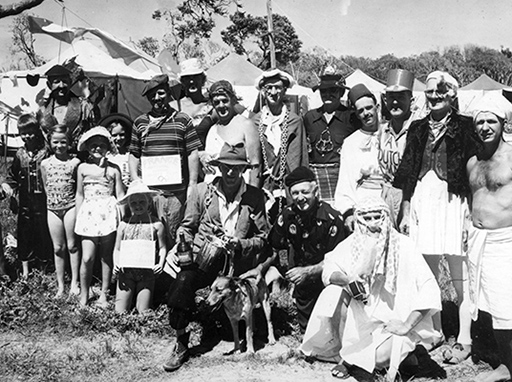 Children and members of the North Caloundra Deep Sea Amateur Fishing Club and North Caloundra Surf Life Saving Club in fancy dress, Moffat Beach camping ground showing Club members in costumes for a Christmas parade. Moffat Beach, ca 1960.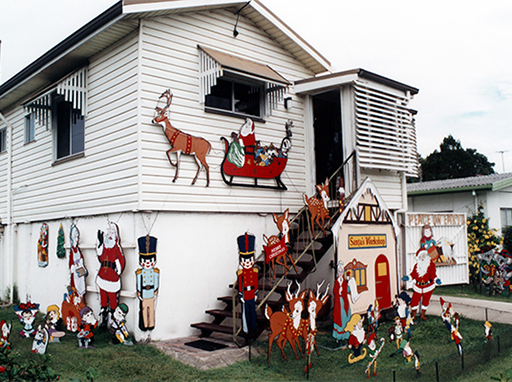 Highset residence decorated as 'Santas workshop' for the Christmas season, Orsova Terrace, Caloundra, ca 2000.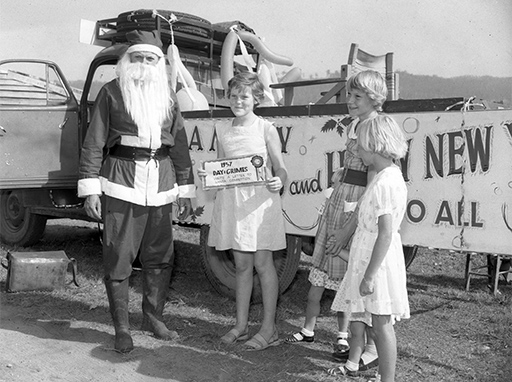 Santa Claus with 'Day & Grimes letter to Santa Competition' winners, Nambour, December 1957.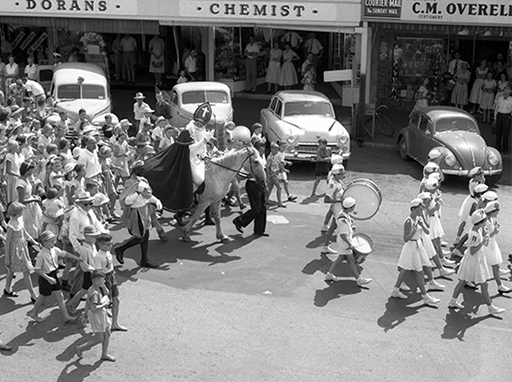 Saint Nicholas procession, Currie Street, Nambour, December 1956.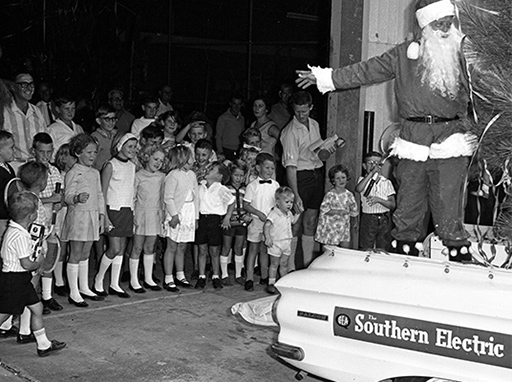 Christmas party at the Southern Electric Authority of Queensland recreation room, Currie Street, Nambour, December 9, 1967.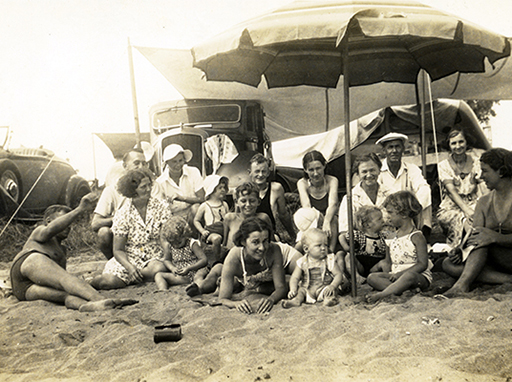 Nisbet family Christmas campsite at Kings Beach, Caloundra, 1937.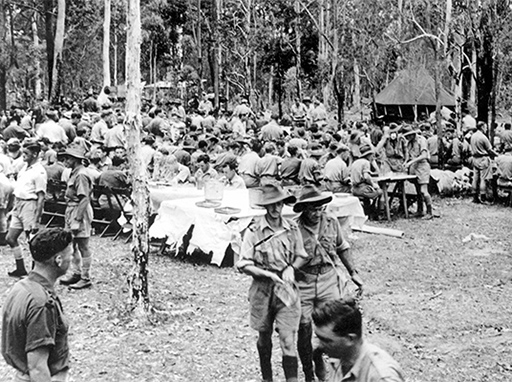 29th/46th Australian Infantry Battalion at their camp near Caloundra having Christmas dinner, December 25, 1942.