Caloundra Library
Caloundra Library is a much-loved community hub in Felicity Park
Caloundra Library is a much-loved community hub, ideally situated in Felicity Park in Caloundra. From its early days when Caloundra was a seaside idyll it also identified as a lovely place to visit for both inspiring writers and readers who were attracted to the town.Distinguished writer Vance Palmer's older sister, Emily, who was a teacher at Razorback (Montville) married Robert Bulcock in 1903 and due to Robert's ill health they moved from Montville to Caloundra in 1914.
It was in Caloundra that Emily began to write stories on a regular basis, sending them to Brisbane and the southern outlets. On Anzac Day in 1922, the Sydney Bulletin highlighted one of her poems with a full page spread illustrated by Norman Lindsay. Emily was foundation member of the Queensland Country Woman's Association and the Queensland Authors and Artists Association. She had also assisted illiterate farm workers in Montville and later gave practical help to many writers.
In the formative years of the township of Caloundra, from 1925 to 1929, Australian authors Vance and Nettie Palmer lived just off the Pumicestone Passage.
In the 1920s, Nettie emerged as possibly the most important literary critic in Australia and by the late 1930s, her husband Vance, a novelist and elder statesmen of Australian letters, was delivering Commonwealth Literary Fund lectures at Queensland University.It was in Caloundra, inspired by its beauty and characters, that Vance wrote the Australian classic The Passage, written as fiction but based on the life of the Caloundra fishing family, the Clarkes.
Caloundra School of Arts played an important part in the early days of lending libraries in the region with a small book collection supplied by the Queensland School of Arts Association.
The opening of the Caloundra School of Arts new hall and library was a gala occasion on March 28, 1931 with the Minister of Education Mr R M King MLA performing the opening ceremony. Minister King praised the opening of the public library, while Hill's orchestra of Nambour provided music during the afternoon and the ladies on the hall committee served afternoon tea.
In August 1941, Vance Palmer's friend and fellow Australian writer Xavier Herbert moved into the Palmer's residence "Tree Tops" for an extended period.Refreshed and inspired, Xavier composed Seven Emus rediscovering in his own words "that lovely thing inside me that makes me write". Caloundra School of Arts patrons paid a small subscription fee to borrow books supplied by the Queensland School of Arts Association. From 1953 these funds were used to purchase more books for a permanent library.
For years the School of Arts hall served the Caloundra community well. There were other small local subscription libraries such as Bulcock Street's Pacific Lending Library and Lamkins Lending Library where both holiday makers and local residents were able to borrow books.
The first free Caloundra Library opened in October 1976 and was purpose built as a public library by Landsborough Shire Council at 22 Omrah Avenue. This early library building is now the site of Caloundra Regional Gallery. When a larger library was needed due to major population growth and size constraints, a new library was built near the original building in Felicity Park, offering relaxing green surrounds for all the community to enjoy.
In the evolution of the service from 1976-1986, libraries on the Sunshine Coast were co-ordinated by the Sunshine Coast Regional Library Service. This service continued until June 30, 1986.
On Friday, October 31, 1986, the new Landsborough Shire Council's John L Beausang Library was officially opened by Governor of Queensland, Hon. Sir Walter Campbell. The library was named after Landsborough Shire Council Chairman John 'Jack' Beausang who later became the first Mayor of Caloundra City. From Conondale, he was a great supporter of the library service.
By 1989 plans were once again underway to ease space constraints and enlarge the library. In a survey by the Queensland State Library, Caloundra Library was used, per population, more than any public library in Queensland during this time.
In 1994, Caloundra City Mayor Barry Gray stated that the library operation was working in cramped conditions. The solution was to give the library a demountable building attached to the library. The faithful demountable is still a part of the library today and has served the community well.
In 2008, Caloundra Library Service became a part of Sunshine Coast Libraries due to the three local authorities of Noosa, Maroochy and Caloundra amalgamating. Noosa later withdrew from this service when the Shire of Noosa was re-established on January 1, 2014.
Today Sunshine Coast Libraries, which includes Caloundra Library, plays an important role in the Sunshine Coast community offering free membership through eight branches, two modern mobile library services and access 24/7 via the Sunshine Coast Libraries website. Sunshine Coast Libraries now has a combined figure of more than 110,000 members.
Reflecting on those early years when residents were committed to improving libraries and important writers were inspired by the beauty of the area, we might understand the forces that have helped create the award winning library service Sunshine Coast residents enjoy today.
Thanks to Sunshine Coast Council's Heritage Library for the words and Picture Sunshine Coast for the images.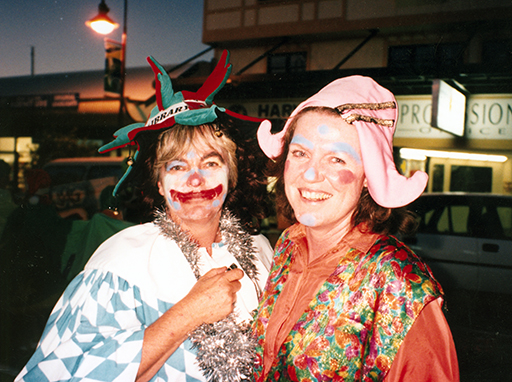 Caloundra City Libraries' staff dress up for a Christmas street parade in Bulcock Street, 2000.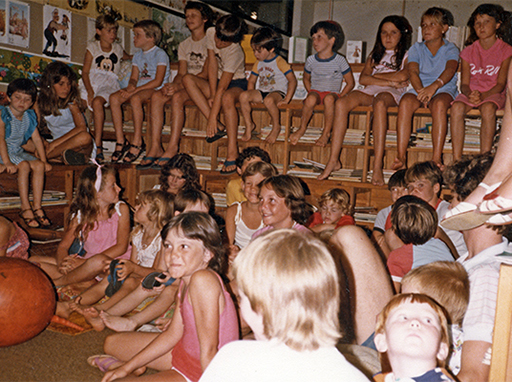 Children seated on library shelves ready for a storytelling session, Caloundra Library, ca 1990.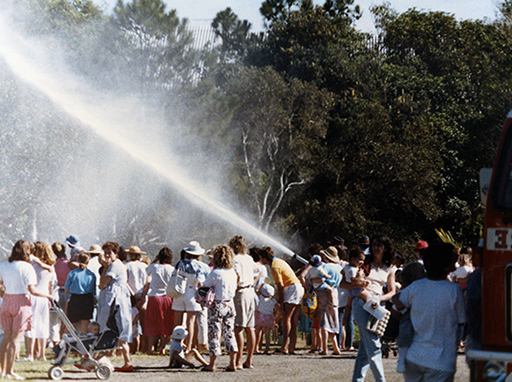 Fun Galore during the Caloundra Fire Brigade's visits the Caloundra Library for storytelling.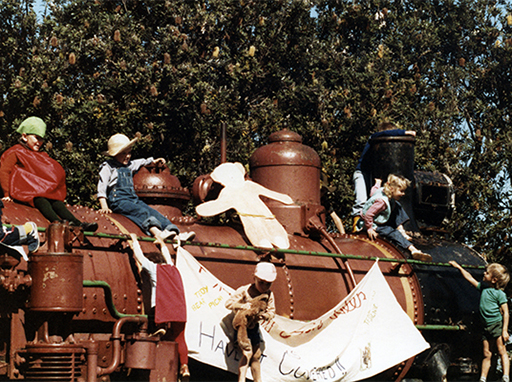 Children sitting on the old steam train at Happy Valley ready for Caloundra City Libraries picnic in the park. The engine was later used as an engine on the Mary Valley Rattlers line.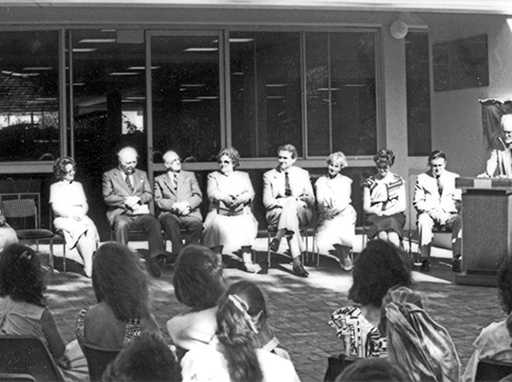 Public Library of Queensland, State Librarian Lawrie Ryan addresses the official party and guests at the opening of Landsborough Shire's Caloundra Library, 1986.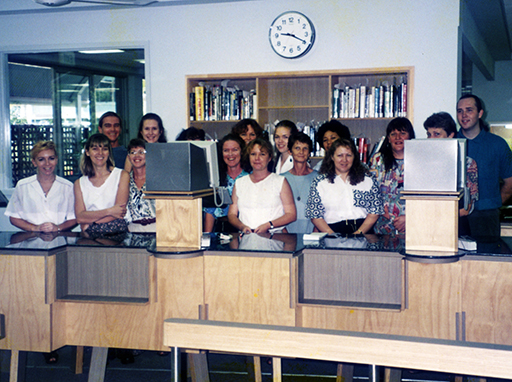 Caloundra City Libraries staff standing behind the main customer service desk at Caloundra Library, 1998.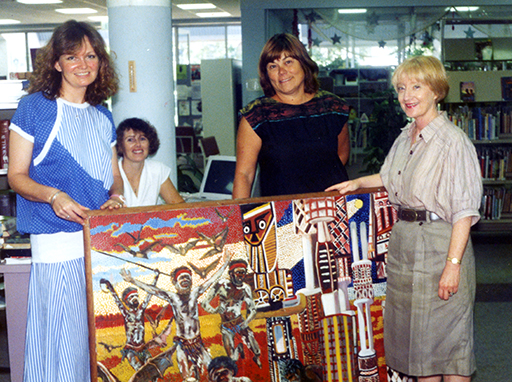 Caloundra City Librarian Dawn Maddern on left and Joan Sheldon, Deputy Premier of Queensland on right, ca 1998.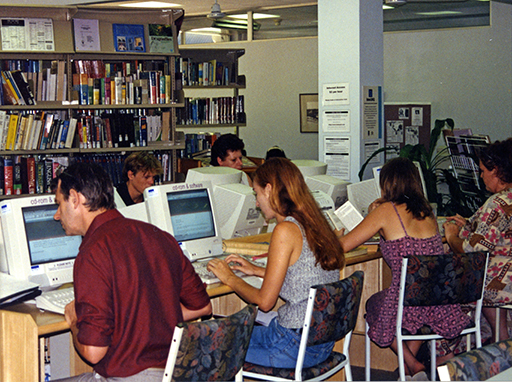 Computers are introduced to Caloundra Library.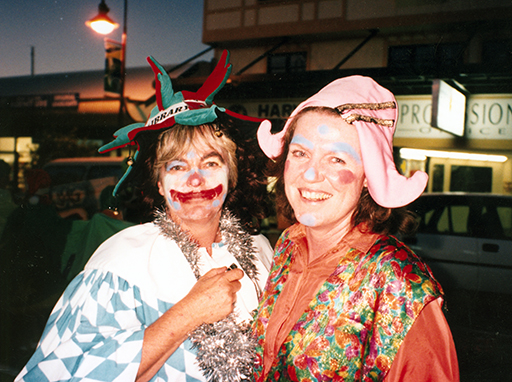 Caloundra City Libraries' staff dress up for a Christmas street parade in Bulcock Street, 2000.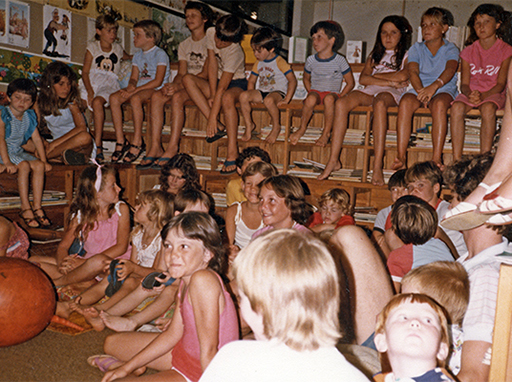 Children seated on library shelves ready for a storytelling session, Caloundra Library, ca 1990.