Pioneers
2018 marks the 150th anniversary of the founding of Bankfoot House
2018 marked the 150th anniversary of the founding of Bankfoot House at Glass House Mountains by pioneers William and Mary Grigor.
It is also 150 years since land was first selected by Europeans in what is now Yandina, on the road to the Gympie Goldfields, in 1868.
It all began when Scottish migrant William Pettigrew arrived in Brisbane in 1849, aged 23.
He was the youngest son of the laird of Tarshaw.
Pettigrew originally trained as a doctor in Scotland but when he fainted during his first operation, it was clear medicine was not the career for him.
He then went on to study surveying and in 1853, he established the first steam sawmill in Brisbane.
For 50 years, Pettigrew contributed to the development of Queensland, he built a network of sawmills and associated ventures from 1853.
In 1862, Pettigrew inspected the Maroochy-Mooloolah Region and in the following year he applied for land at the mouth of the Mooloolah River.
He established a timber depot on the Mooloolah River bank – now the site of Charles Clarke Park – to transport logs from the Maroochy district to Brisbane.
James Low and William Grigor ran the depot and associated store.
William Grigor, in partnership with Low and Pettigrew, moved to Mooloolah Heads in 1862.
Between 1869 and 1873, Pettigrew purchased more land in the Maroochydore, lower Mooloolah and Brisbane areas.
In 1884, he established a landing place at Maroochydore to receive timber floating down the Maroochy River.
He sold his Mooloolah wharf store in 1887 and extended his timber depot at Maroochydore, where, in 1891, he opened a sawmill on the south bank of the Maroochy River.
In 1884, Pettigrew built two houses on the property – a residence for the captain of the "Tadorna Radjah" and one for his overseer, Hamilton Muirhead.
"Tadorna Radjah" means "Storm King" but the river steamer was known as "The Dodger".
Along with the "Tarshaw" and "Gneering", it was owned by William Pettigrew, in partnership with William Grigor and James Low.
These were the main supply boats to the North Coast region.
In 1893, Pettigrew's businesses were hit by flood, fire and economic depression, and he was bankrupted in 1898.
Following the passing of the Crown Land Alienation Act in 1868, Scottish-born William Grigor and his wife Mary selected land and built Bankfoot House to accommodate Cobb & Co. travelers on the Gympie Road, near Glass House Mountains.
They had both arrived in Moreton Bay in 1855 and later married in 1863.
William and Mary raised six children - John, Janet, William, Kenneth, Clementine and James.
Bankfoot House was originally established by the Grigor family as the lunch stop and staging post for Cobb & Co. coaches and later, McCallum's coaches, who provided passenger and mail services between Brisbane and Gympie.
Tom Petrie and Hiram Barnes, drivers for Cobb and Co., had marked the route for the road and blazed trees as they rode through the wild bush in the late 1860s.
The route to the Gympie goldfields, now known as the Old Gympie Road, replaced the use of waterways such as the Pumicestone Passage and the Caboolture, Maroochy, Mooloolah and Noosa rivers, as the thoroughfare of European settlement, until railways were opened on the North Coast line in the early 1890s.
James Low secured the first selection in Yandina in 1868 and he cleared a dray road from Dunethin Rock to the goldfields, passing along the present day Valdora Road.
Low established the first post office opposite and upstream from Dunethin Rock and later relocated this to the Maroochy Crossing, close to the Cobb and Co. route.
His wife Christina was the first European woman to settle on the Sunshine Coast.
Christina was also born in Scotland in 1838 and arrived in Brisbane with her parents in 1849.
Christina married James Low in 1861 and their daughter Christina was born in 1875.
Following James' early death in 1883, Christina Low became the postmistress from 1883 to 1891 and also ran a boarding house at Yandina.
A bridge built across the Maroochy River at Yandina was named the "James Low Bridge" in his honour.
Prior to the construction of the new bridge, the South Maroochy River had been bridged three times in 1877, 1878 and 1929.
James and Christina's son John, married Louisa Bury, the eldest daughter of G.L. Bury and first European female child to be born in the Yandina district.
David Low was born in 1911 in Yandina, one of John and Louisa's nine sons.
David Low attended school at Yandina and Nambour and in 1926, he started work as a clerk with the Railway Department.
He married Claudia Ritchie in 1939.
Hard working and well respected, David Low held positions in various local community organisations and in 1947, he was elected to State Parliament as the Country Party Member for Cooroora, and continued in this position until 1974.
He also entered Local Government and held the office of Chairman of Maroochy Shire Council from 1952-1967.
David Low passed away in October 1974 and the Coastal Highway running from Maroochydore to Noosa was named in his honour.
In his later years, William Grigor deeded the Gympie Road, Bankfoot House property to his daughter Clementina, where he lived with her family and her husband William Smith Burgess.
William Grigor passed away in 1907. Clementina was the Grigor's youngest daughter and was born at Bankfoot House in the Glass House Mountains in 1878.
William Smith Burgess was the son of pioneer Isaac H. Burgess, the first selector in the Landsborough (Mellum Creek) area.
The original 1868 Bankfoot House dwelling was constructed using pit sawn local red cedar by a Mr Mewitt, a ship's carpenter, and it was named Bankfoot House after a village called Bankfoot, in Perthshire, Scotland, where Mary Grigor was born in 1834.
Due to an increased demand for accommodation, a second dwelling was built in 1878.
The original house was demolished in 1930 and the timber recycled and used in refurbishments on the 1878 building which was constructed behind the original Bankfoot House on Portion 1, Parish of Beerwah, on Gympie Road at Glass House Mountains.
Clementina's husband William "Bill" Burgess employed a local man named Arthur Window to assist him to complete the renovations.
The remaining modernised Bankfoot House still stands on the original site and contains the central section of the 1878 residence.
Another civic-minded member of this pioneering connection was Councillor John "Jack" Grigor who represented Landsborough Shire Council from April 12, 1912 to July 22, 1921.
Cr Jack Grigor had previously been a councillor for the area with the Caboolture Divisional Board, prior to the formation of Landsborough Shire.
Jack resided in Maleny and had a home in Cedar Street named "Yarunga".
He was the eldest son of William and Mary Grigor.
The Jack Grigor Bridge was officially opened in October 1929 and was named after the long-standing councillor who gave so much back to his community.
Bankfoot House is a state heritage listed property and the oldest surviving residence in the Glass House Mountains.
The coach service ended with the coming of the railway in the early 1890s but Bankfoot House continued as an accommodation house.
The property remained with the same extended family across three generations - the Grigor, Burgess and Ferris families.
The last of the pioneering family to occupy Bankfoot House was Jack and Mary Ferris who moved to Bankfoot House on Boxing Day 1966.
Jack Ferris was a timber-getter and bullocky. He lived a long meaningful life and died aged 101 in 2002.
As was Jack's request, the Caloundra City Council purchased the house and contents from the Ferris family in 2004 and is now managed by Sunshine Coast Council.
A cairn was erected by Jack Ferris in 1968 on the centenary of the establishment of Bankfoot House by William and Mary Grigor, who were Mary Ferris's grandparents.
The inscription on the cairns reads "This is the site selected on 16th October 1868 by William and Mary Grigor for Bankfoot House which was an accommodation house, dinner stop and change of horses for the coaches of Cobb & Co.."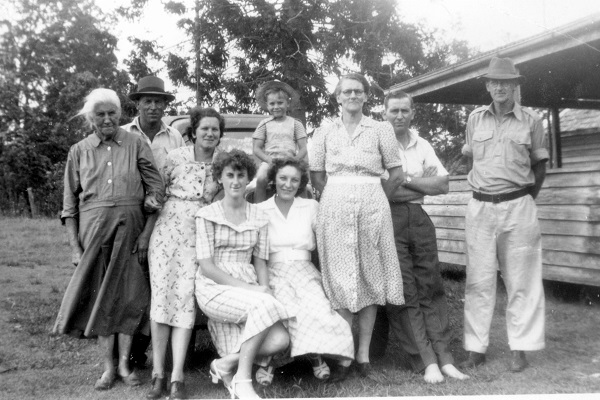 Early pioneer members of the Ferris and Burgess families on Christmas Day at Bankfoot House, Glass House Mountains, 1950.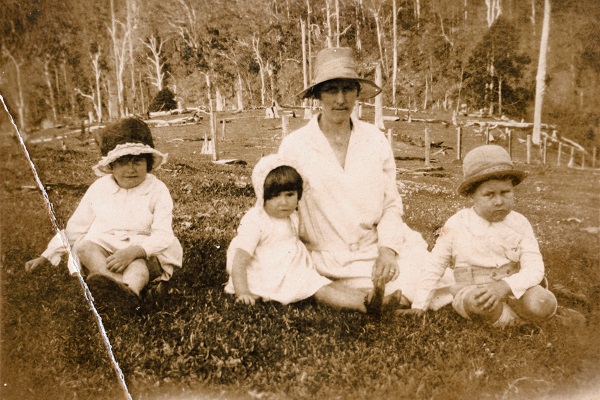 Mary Ferris with her three children, Clementina, Ruby and William, ca 1931.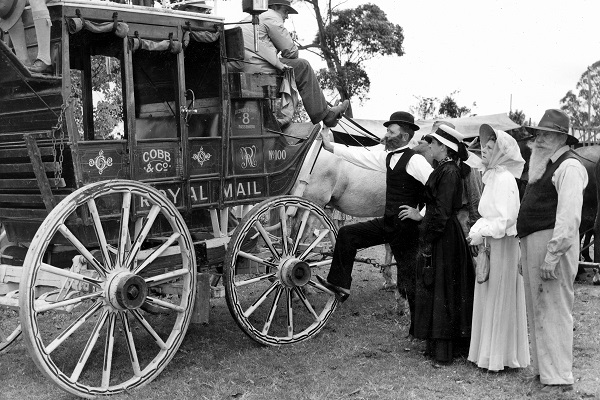 Group of North Coast pioneers travelled in a Cobb & Co. coach along Old Gympie Road during Queensland's centenary year, 1959.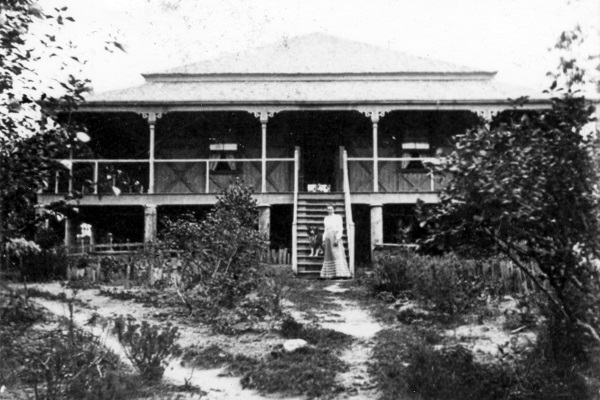 'Coondalbour', residence of Christina Low and family, Yandina, 1904.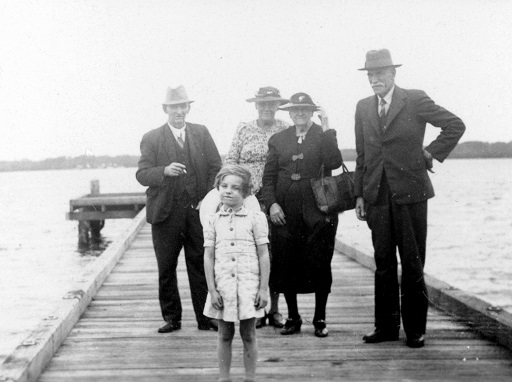 Landsborough Shire Councillor William S. Burgess with family members at Military Jetty, Golden Beach, ca 1940.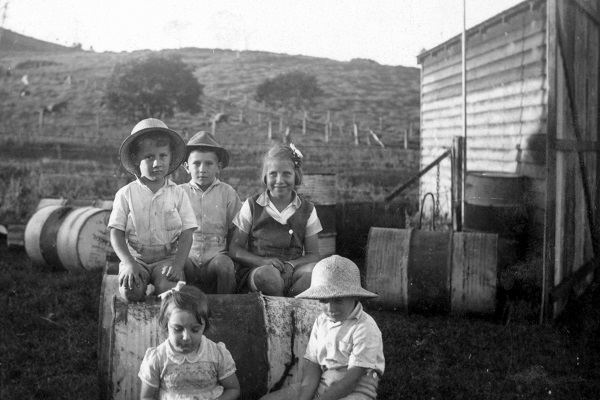 Children seated on drums at Grigor's farm, River Road, Peachester ca 1940.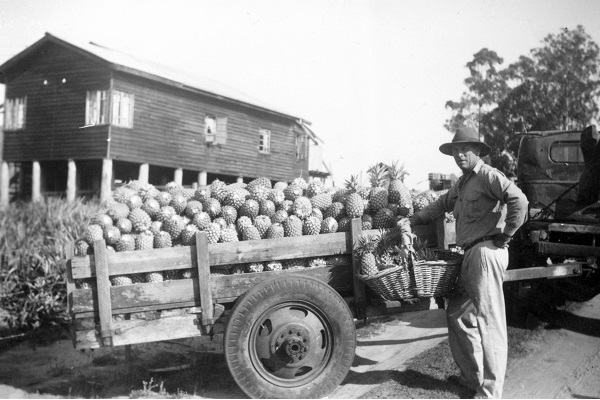 Bill Burgess of 'Fourwinds' Glass House Mountains standing next to a trailer load of pineapples ready to pack for the Golden Circle cannery, ca 1950.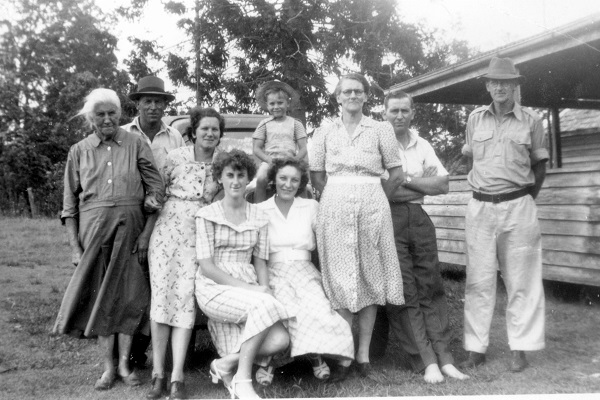 Early pioneer members of the Ferris and Burgess families on Christmas Day at Bankfoot House, Glass House Mountains, 1950.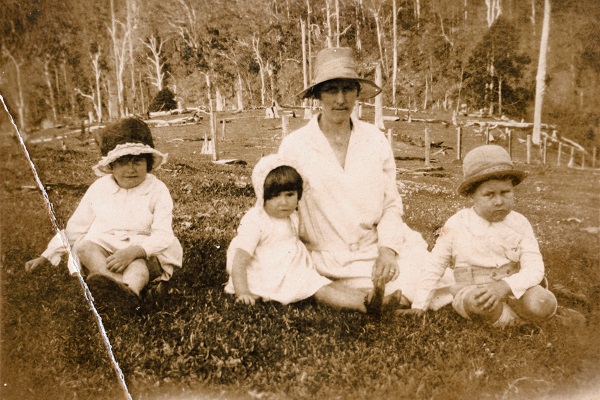 Mary Ferris with her three children, Clementina, Ruby and William, ca 1931.