Connections with First Nations people
Discover the First Nations history with Bankfoot House
Contacts and Context: First Nations peoples and Early Settlers Around Bankfoot House and the Glasshouse Mountains Region
Ass. Professor Ray Kerkhove, Historian in Residence Program, Sunshine Coast Council, July 2022
Bankfoot House's Indigenous playmates
Just two blocks down from Bankfoot House, on what was originally part of the property, sits a small sign by a fence above the road. It explains the area had burials in the 1870s, including 'an Aboriginal playmate – name unknown.' Ethel Burgess similarly recalls having Aboriginal playmates as a child at Bankfoot even in the 20th Century.
Who were these people? What were their lives in and near Bankfoot House?
The environment of early Bankfoot House was very different from today. The house was originally surrounded by mostly open woodlands of tall gums, and later open paddocks, where First Nations people still lived and camped. The Grigors were the only whites in the area until 1878, and even afterwards, their closest neighbours were Burgess family at Mellum Creek, Landsborough and later the Landers - both 10-15 kms away. This paper will consider the forgotten First Nations connections to Bankfoot House and its vicinity.
First Nation Timbergetters
Bankfoot House and the timber industry are synonymous. The property holds a collection of early timber getting tools, axes, pit saws and bullock drawn vehicles. Bankfoot's original structure and furniture were all built by the owners from cedar, blackbutt and other woods they had logged and milled nearby – at Buderim, Peachester (Grigor's mill) and Woodford.
Upon arriving at the Sunshine Coast, the Grigors immediately partnered with James Low and William Pettigrew to locate, harvest and transport timber. William Grigor managed cutting and hauling, whilst James Low ran the steamer that brought the timber to Pettigrew's Brisbane mill, and also the store for supplies.
Originally, the entire Caboolture/ Sunshine Coast/ Cooloola region was seen as little more than a giant timber reserve. All the Bankfoot men - the Grigors, Burgesses and Ferrises -worked in timber-getting. Likewise, most of the earliest families of the Sunshine Coast - the Lows, Lowes, Jones, Carrolls, Maddocks, Simpsons, Campbells, Dunlops etc - were in various ways involved with the Grigors, Burgess, Petries and William Pettigrew in finding, cutting or hauling timber.
Early Bankfoot House is best understood as a major crossroads or centre within a network of logging, hauling and transporting that spanned from the Blackall Ranges to the Stanley River, and from Tewantin and Mooloolaba to Caboolture, Coochin Creek and Bribie Passage. The families of all these areas were intertwined through work and marriage. They and their offspring shaped the region's earliest settlements.
Predictably, there has been much emphasis on the achievements of these white families. But that is not the whole picture. John Simpson recalled that c.1875-1880:
William Grigor, of Glasshouse Mountains, and his son, John Grigor… were felling timber with some blacks opposite us, where Mr.Thynne's dairy farm now is (roughly Mary Cairncross Park). This is where the different tribes of blacks used to meet to fight. … My wife's only neighbours and guardians were the blacks, King Sambo and Queen Beauty, "Captain" Piper… and five gins. They were good friends and watched over Mrs. Simpson well, bringing up the cows to be milked morning and evening, and sometimes carrying rations up from Landsborough. Queen Beauty was a faithful old gin… These were some of the blacks who piloted my brother John and myself through the dense Maleny scrub…. After (Captain Piper) was released from prison he came back to us.
Guiding and supplying
Simpson's reminiscence hints at the vital roles First Nations peoples played in the opening chapters of Sunshine Coast settlement, particularly for the timber industry. The pioneers themselves wrote that they first heard of local timber stands through Kabi and Jinabura informants. These informants guided Grigor and other timber-getters to useful groves. This was quite standard, as a Northern Rivers cedar-getter explained in 1883:
To find the timber and work it they inevitably secured the services of the 'niggers,' because the 'niggers' would climb to the top of the tallest trees and look across the tangled mass of foliage for the cedar, &c. They were also better bush men in every way.
William Pettigrew had most of the local leases. He learnt the qualities (potential uses) of various timber from First Nations informants, and gave public talks on the properties of the various woods, in which he defers to these Indigenous sources. As the first white loggers had to walk sometimes 65 kms to their place of work and residence without rations being supplied on arrival, they subsisted on bush tucker - apparently learning edible foods from Kabi and Jinabura people. As one logger wrote in 1866:
(We had) nothing to eat but a sort of fern root, called by the blacks bungawoo, cabbage tree, and a fish, or a few oysters when we could get them. If we got a yam or two as big as my thumb, that was a treat.
Security guards
In the beginning, Jinabura and Kabi people formed a type of 'security guard' for timber-getters – protecting their leases from poachers and rivals. William Fraser recalled that some timber getters ventured north of Caboolture to look for more cedar, and were immediately attacked:
(My father) heard from the blacks that they had been murdered. They shouted (in their own tongue),'White fellow come along here and steal timber belong Tom and Bill Fraser; we kill him.' They pointed to the spot… Troops were sent to bury the two men who had been murdered, and to this day the place is called 'Dead Man's Pocket.' "
Consequently, it was only known association with recognised timber 'heads' (Grigor, Low, Pettigrew and Petrie) that protected the lives of white workers during these early decades. When, in 1875, Edgar Foreman and two of his friends took up a contract involving miles of fencing and building beyond Yandina, he found: …there were no white people within miles of our camp; but we were not lonely, for there were about 500 blacks in a camp not half a mile away. They never worried us, however, for was I not a 'brother belonga Tommy Petrie?'
Continue reading this article with full bibliography.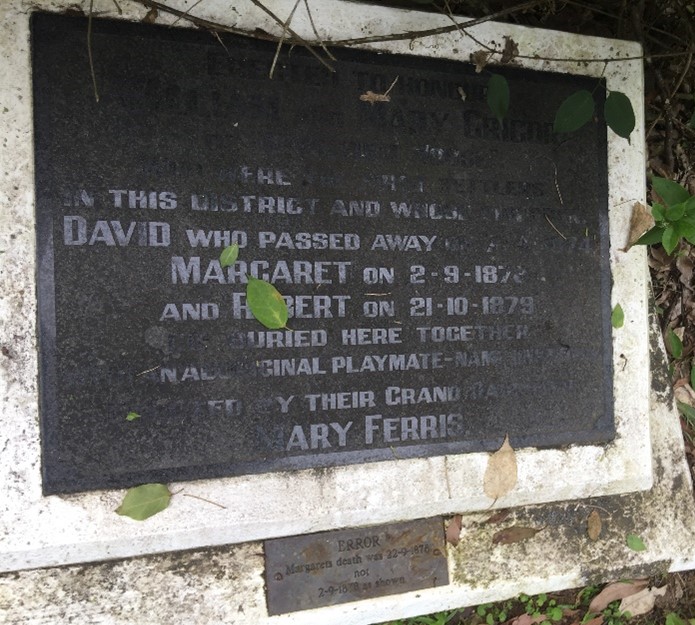 Memorial plaque on roadside south of Bankfoot House (Ray Kerkhove).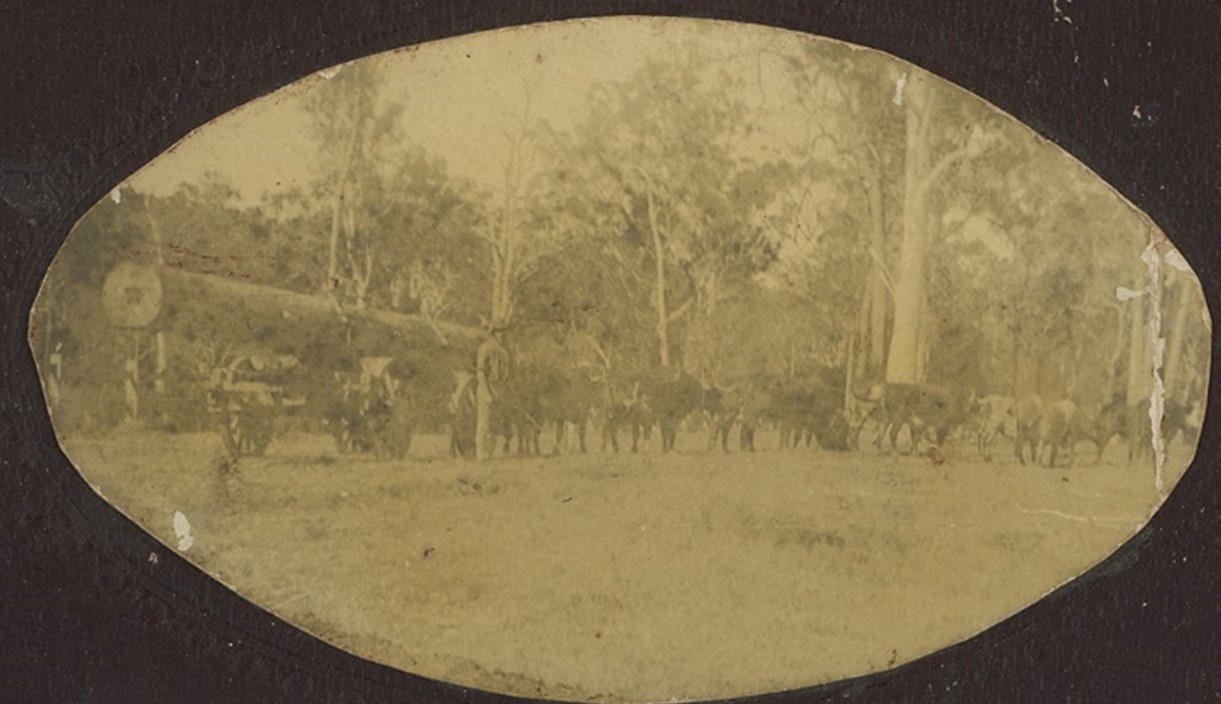 Timber dray (Burgess Photo Album, Bankfoot House).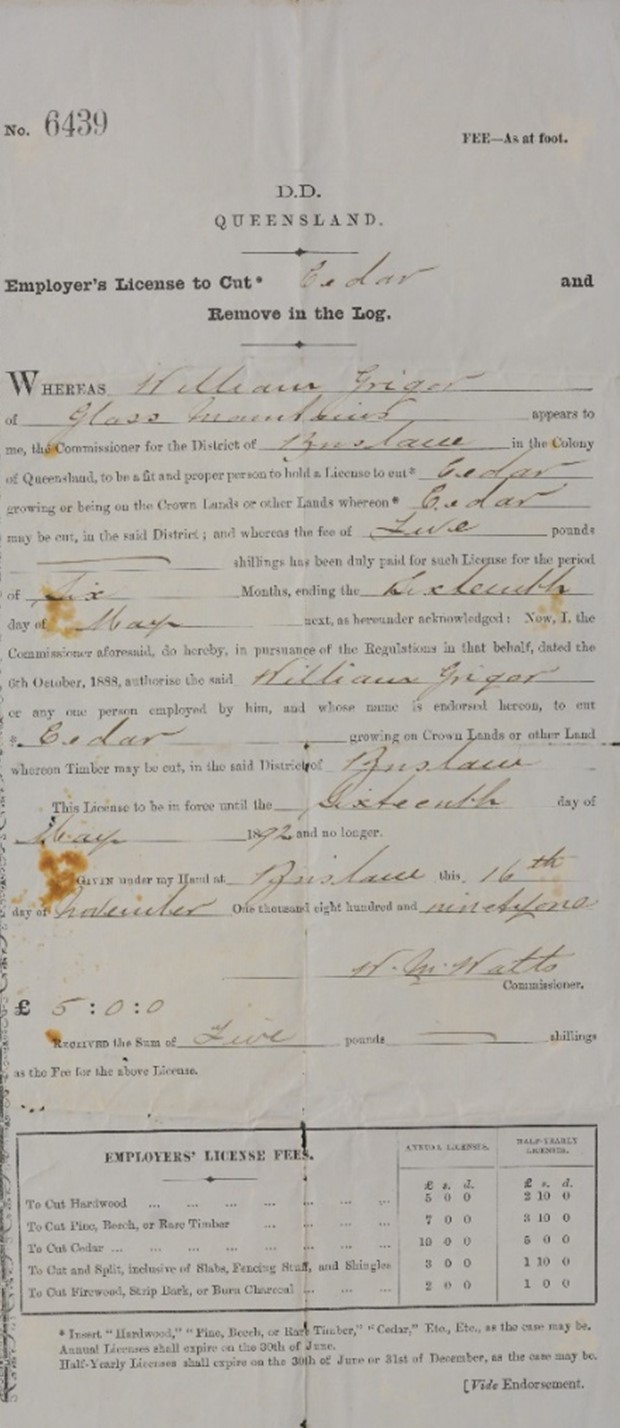 William Grigor's licence permitting him to log cedar and hire assistants Bankfoot House archives).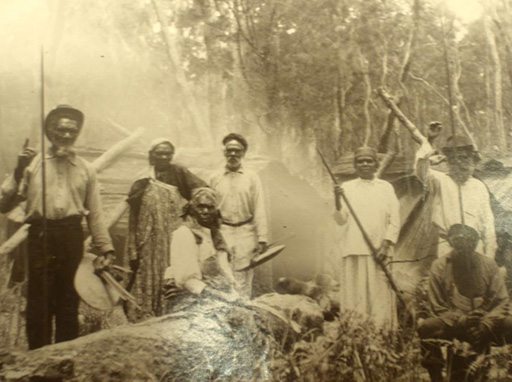 Aboriginal camp at Peachester, probably associated with the Grigors' sawmill (Peachester Pioneers).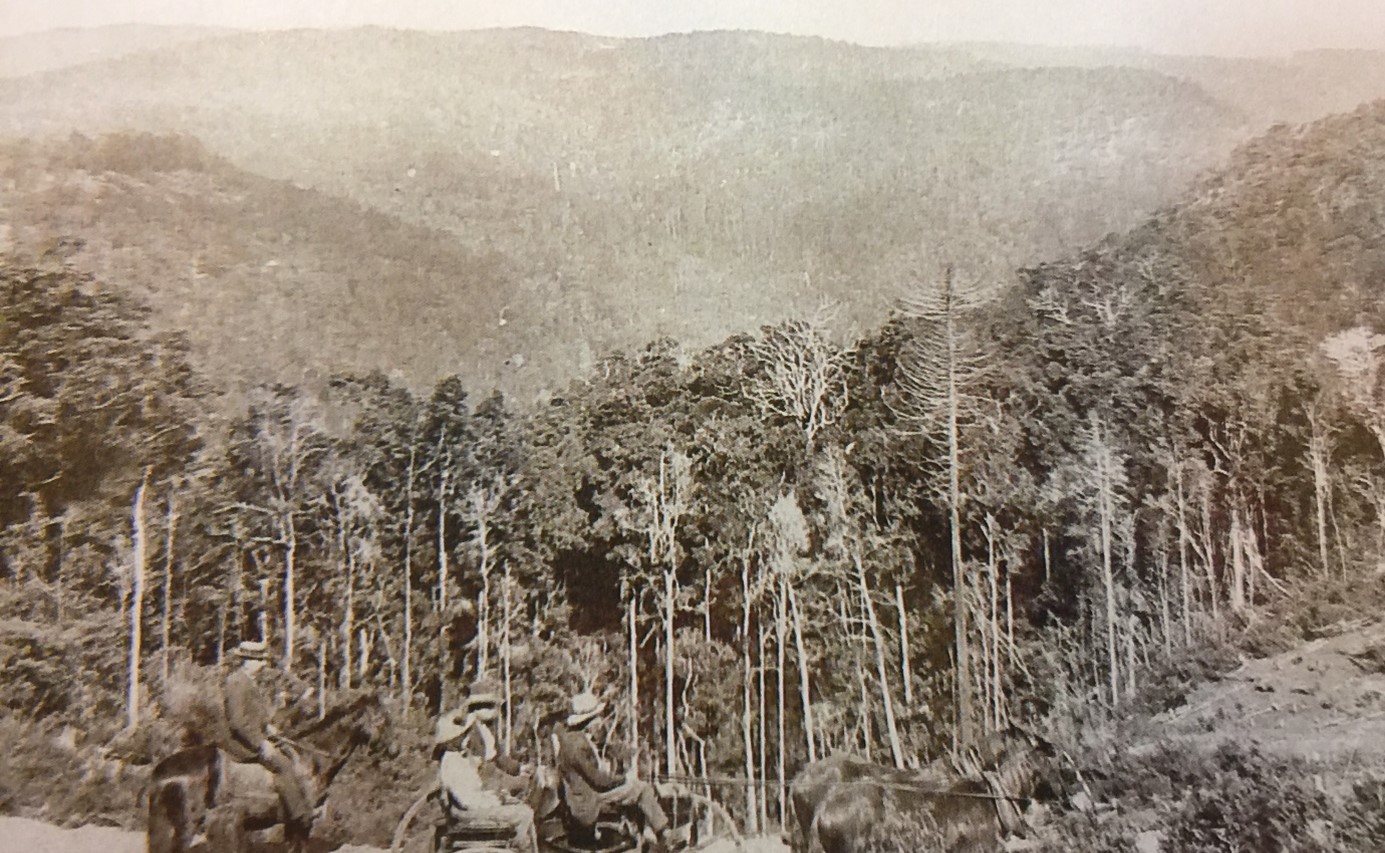 Burgess family in Blackall Ranges (Burgess family collection).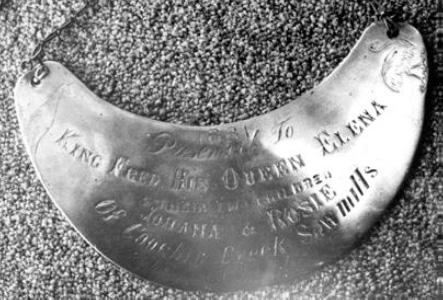 Breastplate of King Fred and Queen Elena (Stan Tutt).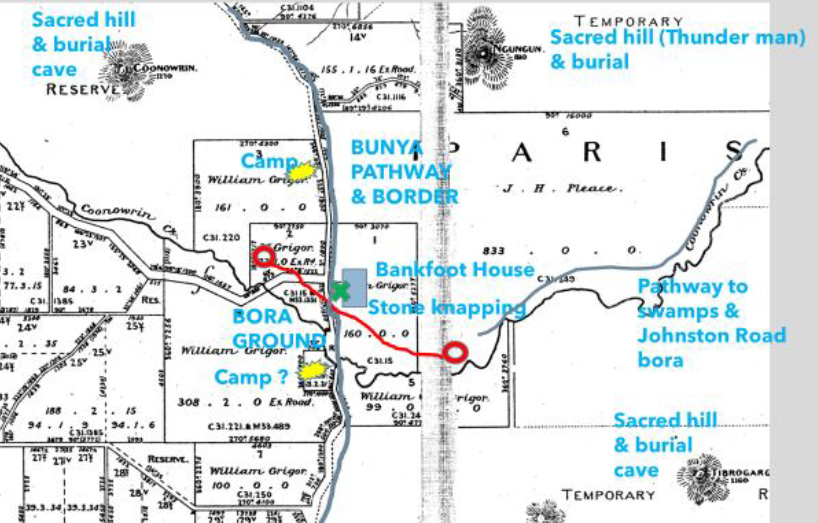 Bankfoot House vicinity, with major Indigenous sites marked (Ray Kerkhove 2022).