Mannie Comino farewell
Farewell to a renowned Caloundra identity
Bulcock Street in Caloundra will not be the same when Comino's drapery closes.
The founder, Cosmo Comino, arrived in Caloundra in the late 1930s. He was an industrious Greek migrant originally from Cythera in Greece.
Cosmo Comino firstly arrived in Cairns as a 12-year-old boy to work with his brothers. In 1927 he established his first mixed business and newsagency at Forest Hill, near Gatton, which served the nearby Agricultural College.
Successful as a trader, Cosmo then had two shops built at 26 Bulcock Street and left Gatton in 1940 to establish his new business ventures in the heart of a small seaside town.
The Bulcock Street Greek milk bar and café and fruit shop opened for Christmas trade in 1940 and ran till 1952.
During its time it had served many distinguished visitors including the Governor of Queensland Sir Leslie Wilson and his wife Lady Wilson, Queensland Premier Sir Frank Nicklin and Australian authors Vance and Nettie Palmer and Xavier Herbert.
Due to stock shortages during WW11, the drapery side of the business could not open until 1946.
The Greek café was popular with soldiers and tanks could be seen at times parked along an unsealed Bulcock Street as they went in for a drink or a snack. The marks of soldier's hobnailed Army boots are still embedded into the wooden floor of the old shop.
Many of the early shops were built in the same style and can still be seen in the main street of Caloundra.
Cosmo's son Mannie took over the running of Comino's Drapery in 1957 after serving in the Royal Australian Navy. Mannie continued on in the drapery business in the original shop for over 55 years.
The business was a success due to the honesty of the Comino family and the shop stayed exactly the same. Goods were wrapped in brown paper, prices were hand written, a manual cash register was used and Mannie always had a lead pencil tucked behind his ear.
Mannie was a Rotarian and lived by Rotary mottos of truthfulness, fairness for all, building goodwill and whether it was beneficial for all concerned. Mannie and his wife Florence raised two children - their son Cosma and daughter Elene - as well as spending countless hours with the grandchildren. His beloved sisters Rene and Stella are Caloundra icons as they too worked in the Comino stores throughout the years.
Mannie was known for keeping the prices low and was proud that his shop had the cheapest haberdashery prices in Australia as Mannie believed in a fair go for all.
When you walked in to Comino's Drapery you were greeted with "Good Day Mate". Mannie always had a smile for everyone and a yarn to tell. He took the time to talk to his customers and there was always an endless stream of customers and people just coming in for a chat.
People liked Mannie Comino and it was a sad day for Caloundra on his passing in late August 2012. He had loved Caloundra with the main street being his lifeblood for over 55 years.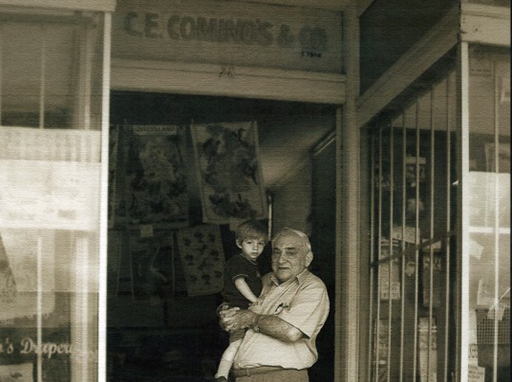 Mannie Comino and his grandson standing at the doorway of C.E. Comino's & Co Drapery store, Bulcock Street, Caloundra, ca 2000 (Daryl Meredith photographer).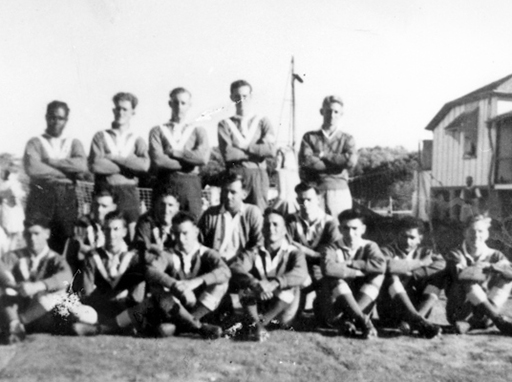 Caloundra Rugby League Team known as the Caloundra Seagulls. The Team formed in 1947 and played their games behind the old Hotel Francis near Shelly Beach. Pictured L – R, front row: Steve Chaplin, Jack Bagley, Bill Nemeth, Joe Benfield, Manuel Comino, Eddy Chilli and Don Grant. Middle row - Bevan Henzell with Coach Tom Green coach. Back row Chris Cullen, Alf Gosper, Keith Cramb, Colin Sawdy and Clive Jones.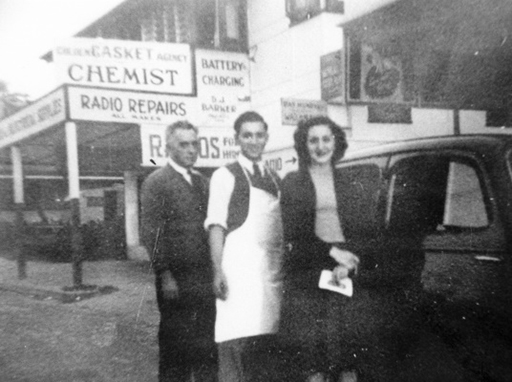 Shopkeeper Mr Cosmo Comino with his son and daughter, Manuel 'Mannie' and Rene Comino outside their business at 26 Bulcock Street, Caloundra, 1940.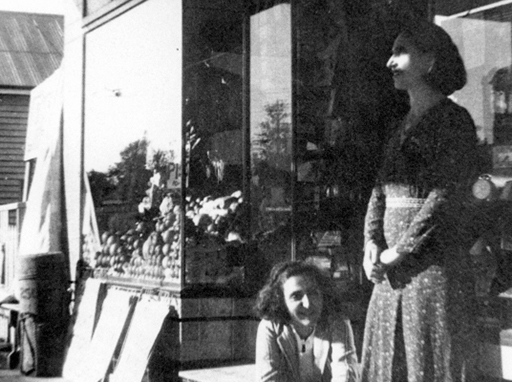 Sisters Stella and Rene Comino at the front of Comino's Cafe and Fruit Store, 26 Bulcock Street, Caloundra.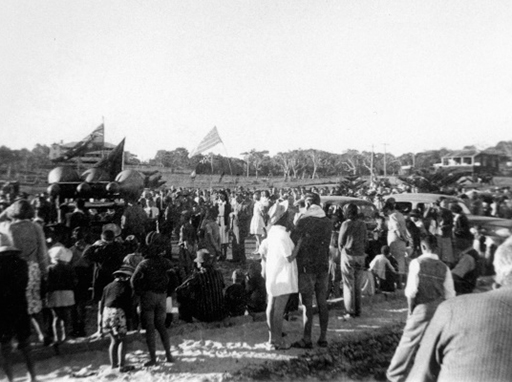 Celebrations at the Kings Beach reserve after the end of World War ll, August 1945. Cosmo Comino pictured Greek flag, among the crowd.