Glitter, gasps and guffaws as Horizon Festival opens
Horizon Festival 2023 opened this weekend to an explosion of drums, dance, glitter and gasps. The 10-day multi-arts festival is in full swing, bringing art, music, comedy and more across the Sunshine Coast.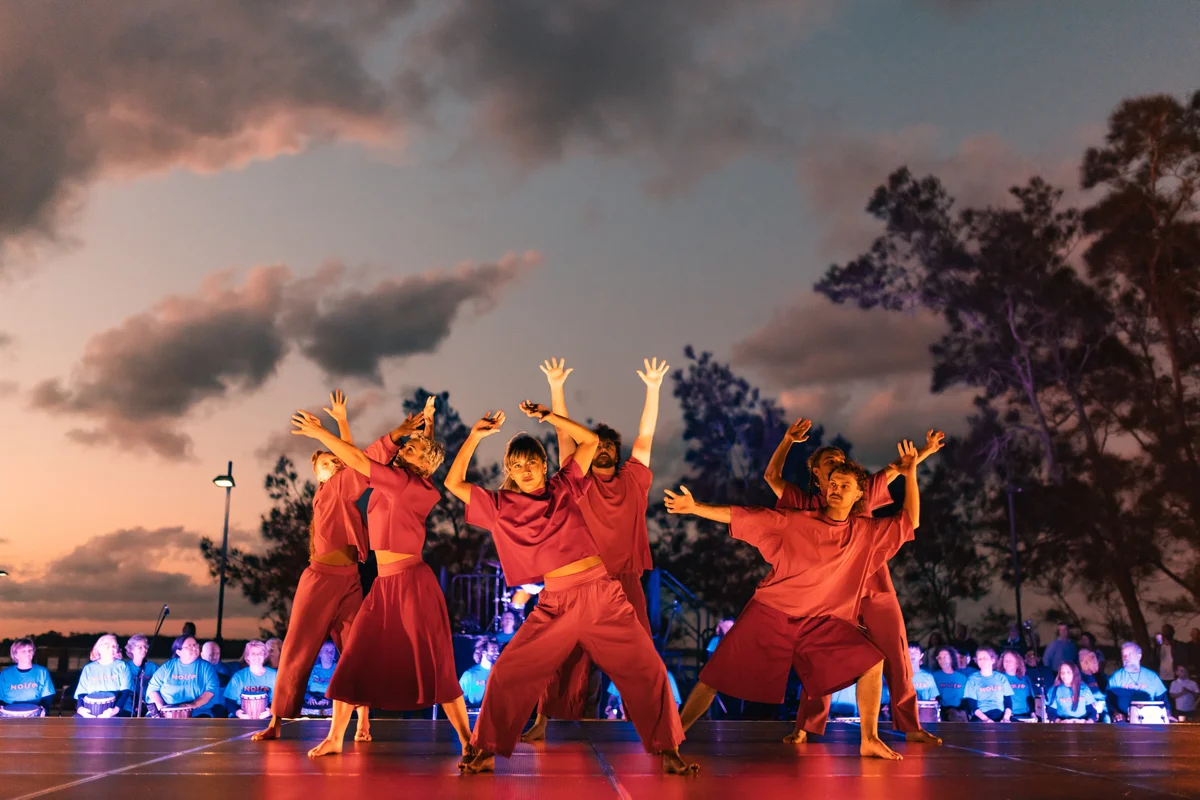 Horizon Festival 2023 opened this weekend to an explosion of drums, dance, glitter and gasps.
The 10-day multi-arts festival is in full swing, bringing art, music, comedy and more across the Sunshine Coast.
The festival kicked off with a free Opening Ceremony at the Festival Hub in Cotton Tree Park.
The community welcomed in the festival with a rhythmic performance from Dancenorth Australia and the Horizon community drumming band, Gubbi Gubbi Dance Troupe, Jinibara Dance Troupe and sell-out performances from the amazing Briefs Factory in the Wonderland Spiegeltent.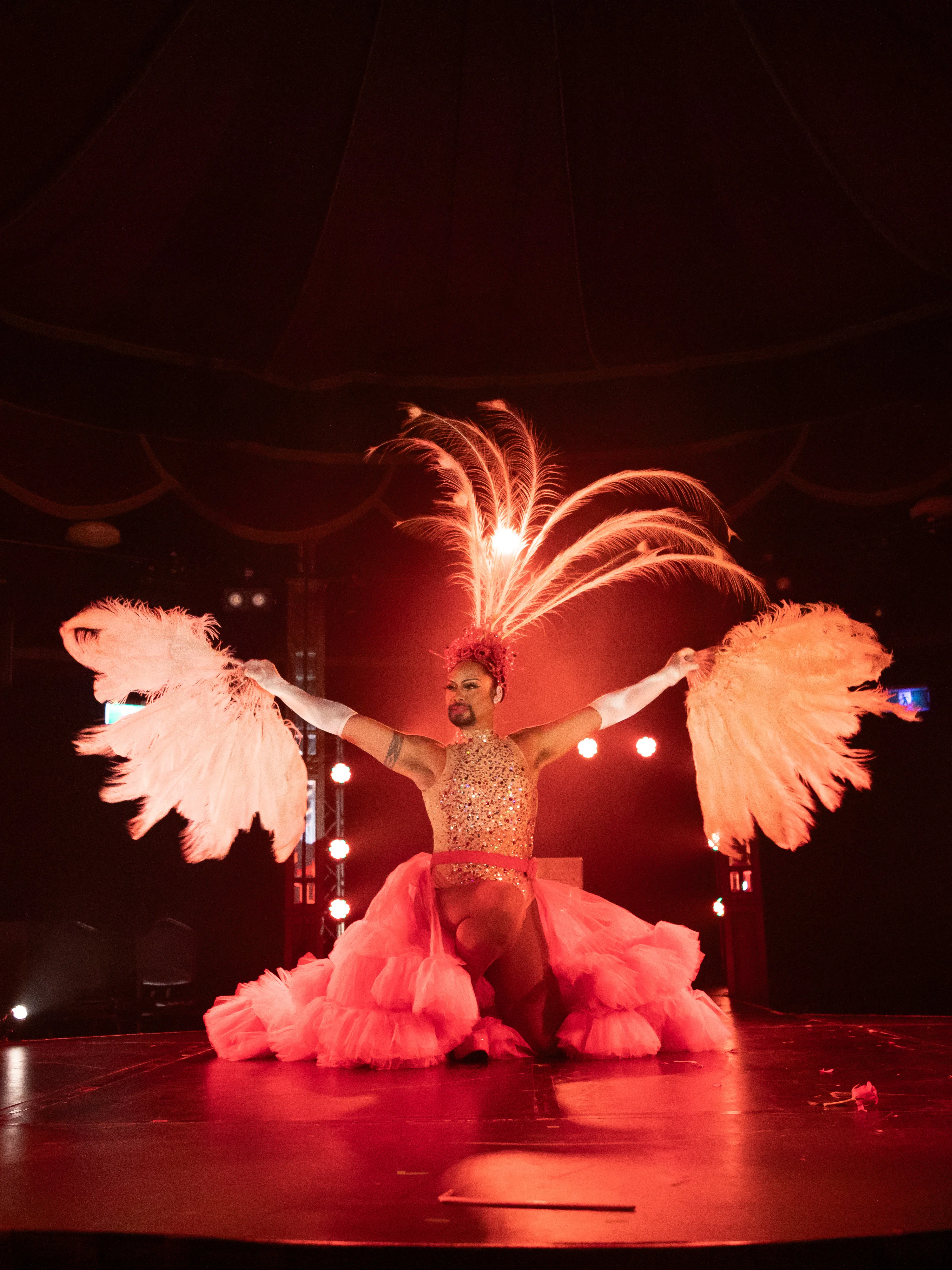 Wonderland Spiegeltent
Horizon Festival Director Hannah Clissold said the opening weekend had been electric and there was still so much more to come.
"Our solid 2023 line-up promises a wide array of free and ticketed events that will appeal to art, music, theatre and comedy lovers as well as kids and families," Ms Clissold said.
"Tickets are selling fast, but are still available from the Horizon Festival website horizonfestival.com.au and from the on-site box office during the festival.
"Our Festival Hub is in Cotton Tree Park, with the Wonderland Spiegeltent taking centre stage.
"We've got a rich program of world-renowned acts and a daily program of entertainment in the Spiegeltent Gardens," Ms Clissold said.
FREE Festival Hub events
"From 9am to 9pm each day, the Gardens are free to enter and open to all.
"In the mornings we have a diverse and engaging program, with Superpowered on tour from QAGOMA's Children's Art Centre program, free arts workshops for kids with Chony's art room, Bees by Polyglot theatre and more.
"In the evenings the community can enjoy a free program of Live & Local musicians such as Andrea Kirwin, and come down to soak up the atmosphere with friends or grab a drink or bite to eat before shows.
"There are so many experiences on offer, but here are just a few of the highlights."
Wonderland Spiegeltent Adult shows
Clementine Ford will deliver the Queensland premiere[BW1] of Conversations With Men, where, for one night only, August 29, she'll invite locals Matt Golinski, Jon Coghill, Jandamarra Cadd, Wayne Parcell and Tobias Ford to speak to the boys they used to be about the men they learned to become.
Award winning circus show ROUGE is on from August 30 to September 2, offering a decadent blend of acrobatics, cabaret and tongue-in-cheek burlesque offering a circus show for grown-ups, and The Sunshine Coast Comedy Gala on September 2 will have comedy lovers clutching their sides with a line up of laughs from some of the finest comedians in the country.
Ticketed Shows Family and Kids
Circus Wonderland: A Neverland Adventure caters to for the whole family, promising a fantasy wonderland of flying acrobatics, hilarious antics and astounding feats in this magical adventure on from August 31 – September 3.
A rock show aimed at kids aged 2-10 (and adults) Junior Burger Rock Show is a new productionfrom motorcycle funklords Burger Joint. Catch this performance on September 1.
Visual Arts
Visual art lovers will enjoy a range of exhibitions and artist talks across the region including the Sunshine Coast Art Prize at Caloundra Regional Gallery, a unique multi-arts installation in Kunda Park Where To From Here (August 26 – September 3), a one night photography exhibition from local artists in Your Local Photo Club (September 2) and lots more.
Performance
A unique dance theatre work Labyrinth choreographed by Chloe Keating will take place in three of the Sunshine Coast's most beloved bookshops, The Book Bucket, Maroochydore (August 31), Rosetta Books, Maleny (September 1) and Berkelouw Books, Eumundi (September 2). Each chapter can be seen as a standalone show, or as a full three-part story.
Film
Living Waters, a screening of four short films, will take you on a journey from a fisherman in Senegal, big wave surfing in Portugal, the Saibai Island and back home to remote Australia. The hour-long screening is on September 1 in Maleny.
The finale
Dawn Awakening will close the festival on September 3 and it's well worth setting the alarm for this magical performance. Gather along the banks of Stumers Creek, Coolum at first light for an experience that will last a lifetime.
"We've also got Lior in an intimate Bankfoot House concert in Glass House Mountains (September 2), Yes Yes Yes, a powerful theatre work about sex and consent at the Events Centre, Caloundra (September 1), Let's Organise Your Leisure, a unique workshop experience aimed at seniors (September 2) with a float off finale (September 3) and the list goes on." Ms Clissold said.
Plan your Horizon Festival experience at horizonfestival.com.au and follow @horizonartfest on socials.