Recycling revolution: $40m facility helps get us sorted
A revolutionary new $40.5 million material recycling facility (MRF) is close to completion on the Sunshine Coast, with the new facility set to be operational by the end of the year.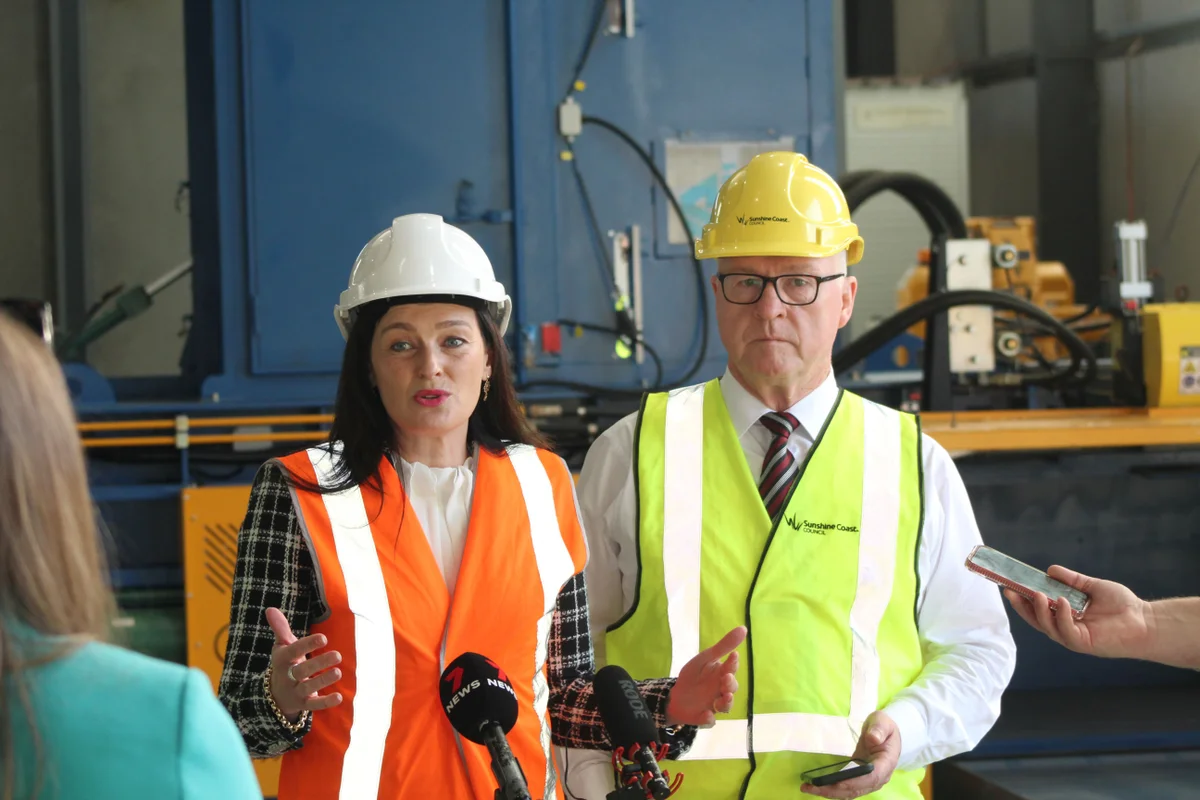 A revolutionary new $40.5 million material recycling facility (MRF) is close to completion on the Sunshine Coast, with the new facility set to be operational by the end of the year.
Sunshine Coast Council Mayor Mark Jamieson has toured the facility with Queensland Environment Minister Leanne Linard, Member for Nicklin Rob Skelton and Environment & Liveability Portfolio Councillor, Maria Suarez.
Construction of the facility has been funded through a partnership agreement between all levels of government, with $22m from the Palaszczuk Government's Recycling and Jobs Fund, $13.5m from Sunshine Coast Council and a $5m contribution from the Albanese Government's Recycling Modernisation Fund.
The MRF is the first new-build facility and largest new investment publicly-owned recycling infrastructure in South East Queensland in a decade.
With industry-leading intelligent sorting technology, the Sunshine Coast MRF will be able to recover glass bottles, plastic containers, cardboard, paper and steel and aluminium cans, supplying a range of quality products for re-use across several industries.
This extra recycling capacity combined with industry leading intelligent sorting equipment will deliver improved recycling outcomes helping to reduce waste-to-landfill and create new circular economy opportunities in downstream markets.
Expanding recycling capacity delivers a key finding of the South East Queensland Waste Management Plan – a region-wide collaborative waste approach driven by South East Queensland Mayors through the Council of Mayors – South East Queensland (CoMSEQ) while also supporting resource recovery and diversion from landfill targets outlined in the Palaszczuk Government's Queensland Waste Strategy.
Mayor Mark Jamieson thanked the Commonwealth and Queensland governments for their contributions towards the new Nambour Materials Recovery Facility (MRF).
"Scheduled to open soon, the new Nambour Materials Recovery Facility is set to deliver an even smarter solution to recycling in our region," Mayor Jamieson said.
"This new high-tech MRF will be able to process tens of thousands of tonnes more recyclables each year, which truly is impressive.
"The facility will sort glass bottles and jars, paper, cardboard, plastics, steel cans and aluminium cans from household and business yellow-lidded bins at 98 per cent purity – the highest quality of any Australian recycling facility."
Sunshine Coast Council Environment Portfolio Councillor Maria Suarez said the facility would help Council deliver the Sunshine Coast Waste Strategy and build on its goal to be a zero-net emissions organisation by 2041.
"More than 80 local jobs have been created during construction and 18 new full-time positions have been established to run the facility when it commences operation later this year,'' Cr Suarez said.
"The initiative is yet another example of how we as a Council are driving our aspiration for the Sunshine Coast to be Australia's most sustainable region – healthy, smart, creative."
Environment Minister Leanne Linard said the State Government was committed to protecting Queensland's unique natural environment and an important part of that was supporting new and enhanced resource recovery initiatives.
"To protect our environment, we have set ourselves an ambitious goal of diverting 80 per cent of waste from landfill and recycling 65 per cent of materials by 2030.
"One way we will achieve our goals is to support greater re-use, recycling and remanufacturing of recyclable materials and this new materials recycling facility will help us do that."
Federal Minister for the Environment and Water, Tanya Plibersek, said the Albanese Government was committed to working with states and territories and industry to better manage waste in places like the Sunshine Coast.
"We know that boosting recycling isn't just good for the environment, it's good for jobs - for every 1 job in landfill there are three jobs in recycling.
"We also know people want to do the right thing and recycle their waste. Our funding is supporting new recycling infrastructure as well as helping regional communities in Queensland recycle more of their waste.
"We want to better protect nature and reverse decline for our kids and grandkids – and that takes all levels of Government working together."
State Member for Nicklin, Rob Skelton said Sunshine Coast residents were keen recyclers and had told him they were keen to do even more to reduce, reuse and recycle waste.
"I'm thrilled that the Palaszczuk Government has joined forces with Sunshine Coast Regional Council and the Albanese Government to deliver this new materials recycling facility for our community.''
Image: Queensland Environment Minister Leanne Linard and Sunshine Coast Mayor Mark Jamieson address media at the new recycling facility.