Watermen pioneers - Pumicestone Passage
Lieutenant Matthew Flinders called what is now known as Pumicestone Passage, the "Pumicestone River"
Navigator and explorer Lieutenant Matthew Flinders called what we know now as Pumicestone Passage the "Pumicestone River".
He was travelling in his boat the Norfolk when he wrote in his log: "Pumicestone River affords good anchorage for vessels not drawing more than 12 feet (four metres) of water. Though the soil is poor and sandy, the country is covered with good timber."
Flinders traversed Glass Mountain Creek in July 1799 and was probably the first European to set foot on Bribie Island.
He had been despatched from Port Jackson Sydney Town to examine Lt James Cook's Glass House Bay as it was called. It would be another 23 years before Pumicestone River was found to be a passage.
In 1881, Samuel Leach established a holding of 40 acres (16 hectares) on the northern banks of Bells Creek where it meets Pumicestone Passage.
Further along, James Campbell's Rafting Grounds were not far from the junction of Coochin and Mellum creeks which flowed into the passage. This was where the timber town of Campbellville once stood.
Down the passage channel was the busy little place called Donnybrook, or Little Caloundra as it was sometimes known. It was a charming little township where prior to fishing and oystering, the business of timber getting was the first industry. There was a lime burning centre as well.
Donnybrook was named because the oyster and fishing men used to go there to settle their differences. The channel near Donnybrook flows towards Caloundra.
Around 1910, Moreton Bay Oyster Company's James Clarke had numerous oyster leases on the banks and near the islands along Pumicestone Passage. Big mud oysters were once common in the passage and sometimes you would find pearls in them.
There are many islands in Pumicestone Passage.
The main ones are now named as Turner, Ningi, Rat, Goat and Tripcony. The creeks flow into The Passage with the main ones being Ningi, Elimbah, Glass Mountain, Coochin and Bells Creek. Some of these are navigable for a few kilometres and steamers used to traverse the creeks to go up for timber many years ago.
Thomas Tripcony senior, an early British sailor of Cowie Bank on the Pumicestone Passage, selected 1100 acres of grazing lands between Glass Mountains Creek and Hussey Creek in 1861.
Thomas and Catherine Buchanan were married in Melbourne in 1861 and he built the family home calling it "Cowie Bank", between Glasshouse Creek and Hussey Creek. He took up an oyster license in front of Cowie Bank in 1874 and in September 1879 he had Pumicestone Passage surveyed and beaconed by the crew of the Shadow.
His son, Andrew, opened Caloundra's first store at his Black Flat residence in 1910.
He owned 200 acres on Bribie Island. Another son, Constantine "Con" Tripcony was also involved in the oyster trade and ran supply boats to Caloundra from Brisbane. Tripcony Bight was named in honour of Thomas Tripcony. Cattle were raised here and horses were bred.
All three of the family's homesteads were destroyed during different cyclones and their last home, Cowie Bank, was destroyed by fire.
Maloney Brothers Tom, Jim and Norman purchased the "Kauri" in 1917 from Andrew Tripcony of Caloundra, who had used the boat to transport goods between Caloundra and Brisbane from 1912.
Early Caloundra relied predominately on sea transportation of supplies, due to the terrible condition of the road from Landsborough, mainly in the swamp country near Corbould Park.Tom Maloney's house in Tay Avenue Caloundra had a wharf and storage shed at the back, facing onto Pumicestone Passage.
The Clarkes were an important fishing family arriving from Beerwah in 1924.
Evan Clarke set up an ice factory in Maloja Avenue, mainly to supply their families fishing business. The big winter hauls of mullet from the ocean side of Bribie Island could now be stored until trucks were available to take them to the train at Landsborough.
The Clarkes also assisted the military during WWII advising of tide changes as well as allowing the military to use their ice works free of charge to store the cold foods and meats.
The Chaplin brothers of Coochin Creek lived close to the Passage and worked locally in the fishing industry.
The Chaplins had a slipway behind the family home and an ice works factory in Maloja Avenue, Caloundra. Members of the Chaplin family have been fishing in the region since Fredrick George "Charlie" Chaplin, obtained a fishing licence in 1911.
"Charlie" Chaplin and his sons, Bob, Fred, Steve, Sonny and Jim fished Pumicestone Passage and started an ice works in Maloja Avenue at Caloundra in 1942. They supplied fish to both the American and Australian Army stationed at Caloundra during WWII.
The Chaplin brothers purchased the Tewantin Ice Works from Len Hatch in 1952 and Mr Chaplin and most of his sons then moved north to Tewantin, where they continued to fish sea mullet and run prawn trawlers.
Thanks to Sunshine Coast Council's Heritage Library Officers and Picture Sunshine Coast.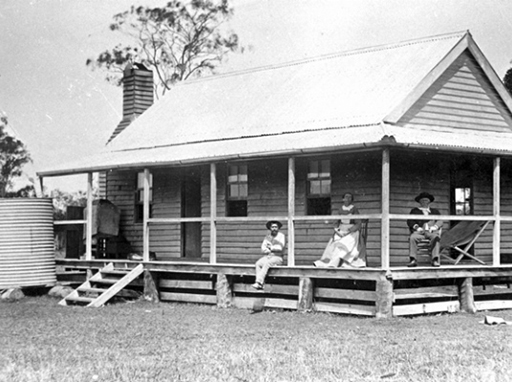 Catherine, Thomas and Con Tripcony at Cowie Bank, 1892.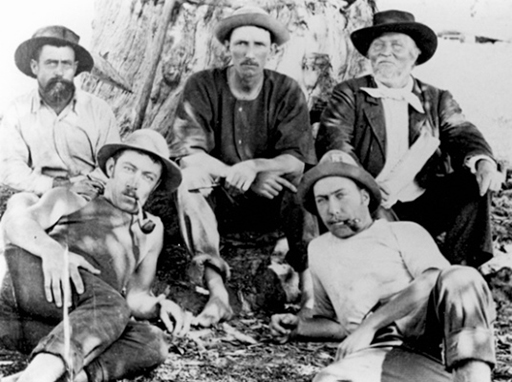 Tripcony family of Cowie Bank, oyster farmers in Pumicestone Passage, ca 1892.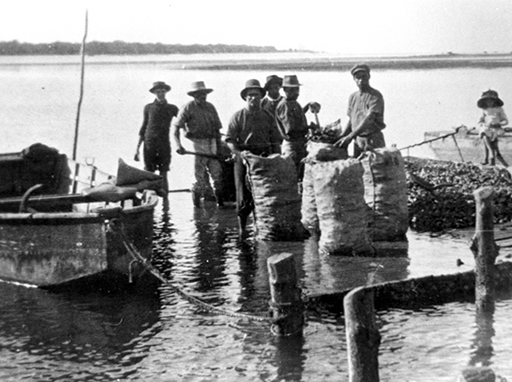 Bagging oysters for James Clark at Poverty Point, Pumicestone Passage, ca. 1910.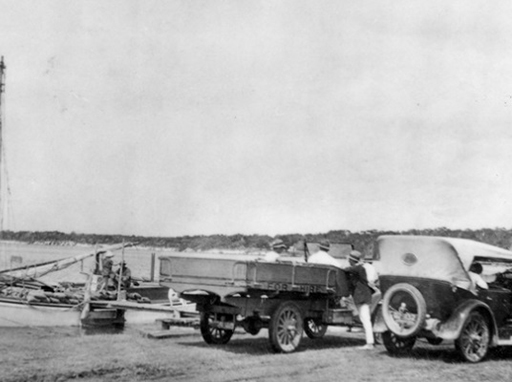 Cargo boat, the Kauri being unloaded at Maloney's Tay Avenue Wharf, Caloundra, ca 1930.