Timber pioneers
Trees have been an important feature of Queensland's development
Trees have been an important feature of Queensland's development in life and in economy.
In the early days of settlement pioneers constructed their homes or sold timber from the trees cut on their selections using the pit saw method. The sale of timber helped many struggling families as they tried to make a living or establish their farms. The industry provided jobs. Local people were mostly employed or supported by the timber industry including store keepers, timber getters, bullockies, sawmill operators working for companies or family mills, office employees and those on the selections. By 1900 the Queensland sleeper cutting industry for railway lines had grown rapidly.
Frank Cunning was born in Nambour, the son of William Cunning Junior, a pioneer of the Tanawaha district. Frank began timber cutting and log hauling in his early teens. He purchased sawmills at Kiel Mountain (1960), Forest Glen (1968) and Nambour (1973) and also tended cattle on a 100ha property along Sippy Creek. He lived in Tanawha for 40 years before retiring to Maroochydore ca. 1935.
The worldwide depression in the 1920s and early 1930s produced a major economical down turn. The timber industry and saw milling was one of the industries most affected in South East Queensland. Many workers were laid off and some family mills closed altogether. Where possible the mills kept their assets and reopened once the Great Depression lifted.
The growth of banana and fruit growing around the late 1920s produced demand for cheap pre-cut timber for making fruit cases. Throughout the district numerous case mills sprang up specifically to supply this trade. The case mills supplied banana, citrus and pineapple cases as well as ginger and pineapple bins.
Usually the timbers were cut at small family mills and the cases assembled in the fruit growing districts. Case mills represented much smaller investments for the owners rather than the larger timber mills. Each case was stencilled with the growers name and the name of the selling agent in the larger cities.
Eric and Ethel Dennis outside their arrowroot drying shed. Their mill was powered by a steam engine which was also used to run a crusher for processing the arrowroot. The mill was not a commercial venture - it was mainly used to supply the Dennis family's needs as well as to provide timber cases for bananas grown in the Diamond Valley area near Mooloolah ca. 1930.
The case mill had almost disappeared by the mid-1960s when cardboard and plastic packaging replaced the wooden fruit case.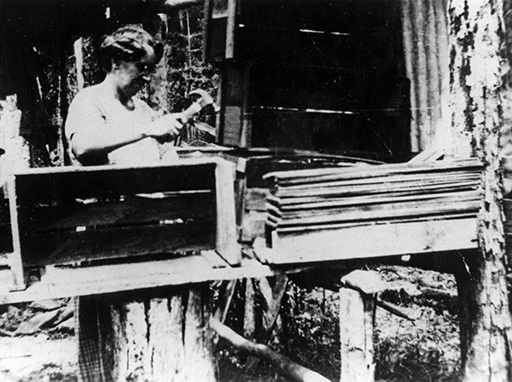 Bella Dean making banana cases on the family property in the Eumundi District.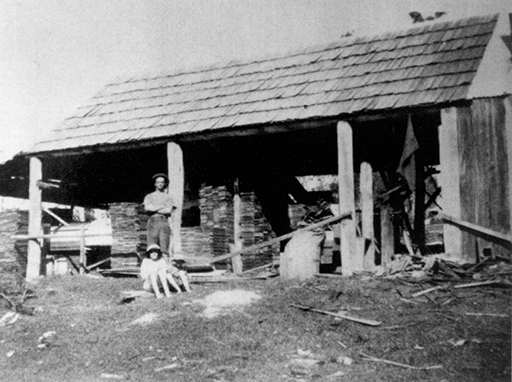 Dennis family members, Eric and Ethel, at their arrowroot drying shed, Mooloolah, ca 1930.
Frank Cunning cutting sleepers on his father's property near Wilsons Road at Tanawha, ca 1935.