Stan Tutt
Stan was awarded the Order of Australia Medal for services to local history and conservation. He was a key player in the creation of Landsborough Museum
Interview with: Herbert Stanley (Stan) Tutt OAM
Date of Interview: July 31 1997
Interviewer: Judith Powell EPA
Transcriber: Audienne Blyth
Place of Interview: Landsborough Historical Museum
Herbert Stanley Tutt OAM was awarded the Order of Australia Medal for services to local history and conservation. A great campaigner for local history he was a key player in the creation of Landsborough Museum.
Images and documents of Stan Tutt in the Sunshine Coast Libraries Catalogue.
Image: Stan Tutt, Sunshine Coast historian, ca 1976.
Audio
Stan Tutt oral history 1997 [MP3 36MB]
Herbert Stanley Tutt OAM was born in Murgon, on May 16, 1914 the first born to Lewis Catherine and Herbert Tutt. He was the eldest of four children. Stan's earliest memories write of the little close knit family moving to another bush home as a little boy. This place at the base of Mt Cooroy became known as 'Old Cracks' and features in many of Stan's boyhood stories. Here the family lived amongst the Australian bush on a banana farm on five acres. Stan was educated by his mother till he turned nine. Lewis Catherine Tutt, Stan's mother was one of the first Queensland country teachers. The children were fortunate and had regular lessons.
As well as educating the older children Lewis Catherine Tutt drove the buggy into Eumundi and Cooroy for supplies. At times she assisted her husband and took the children and the provisions he might need many miles to where Stan's father Herbert Tutt was camped in isolated forests miles away towards the coast where he was cutting railway sleepers. Herbert Tutt was a broad axeman who through years of experience and skill cut the ironbark trees into railway girders for bridges. Experiencing those earliest days young Stan would preserve memories of timber getting, bullock teams, bush camps where his father cut down huge trees and early primitive conditions in the Queensland bush.
When Stan turned nine in the company of younger brother Nigel aged seven they rode on the back of their trusted family pony called 'Billie Pike' to Cooroy State School which was some miles away. With the scent of wildflowers and a happy life in the bush home "Old Cracks' the family stayed at Mt Cooroy until 1923.
All of these experiences would provide Stan with stories for future generations to read and to understand history. Stan was a great campaigner of local history and the Moreton Region and Sunshine Coast is better for it.
The Tutt family moved to the Mary Valley to a rough pioneer slab hut called 'The Camp' and to begin another way of life. Stan often wrote of his mother and woman during those hard pioneer times and of their courage and determination and adaptability. His autobiography, 'In Company of Ghosts' recalls some of that early relocation in 1923 to the Mary Valley and its memories as a nine year old boy which included thoughts of his mother,
'To us it was all an exciting new adventure, but to mum it must have been a daunting challenge. It was rough crude and comfortless, without even a rainwater tank. Drinking and cooking water had to be carried in converted kerosene tins from the Mary River, half a mile away. Yet within a week she had made it our home.'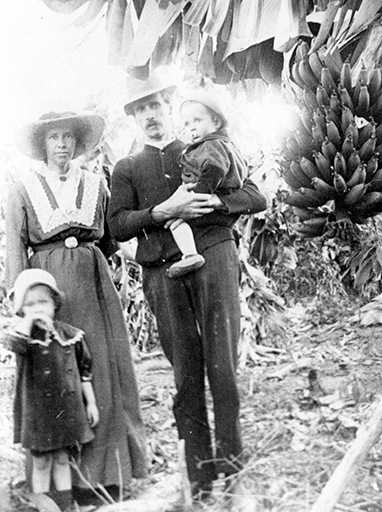 [The Tutt family of 'Sunrise' Mount Cooroy near their banana plantation, 1917]
The family moved for a time to Wanjilli where life was that of hard work. The Depression was effecting work prospects and peoples lives. The Tutt boys made snares and trapped wild animals for skins and food. In 1928 Stan turned fourteen and he left school. The family returned to 'The Camp' Lower Kenilworth and Stan's first job was in a local dairy farm. Many farm jobs were to follow where he experienced the goodness and at times the hardness of his employers. In the early 1930's the Depression caused thousands to be unemployed and to travel the roads looking for work, odd jobs. Stan and his family experienced hard times as did many others.The Mary River was close by to their new home and the children coached by their father learned to become expert swimmers. The Tutt children attended Lower Kenilworth State School which was situated at the top of a dirt road that led to Eumundi 20 miles away. They walked two miles to school and then two miles home again which was not considered a distance back then.
In the autumn of 1936 Stan and his brothers Nigel and Charlie became scrub felling contractors in the Imbil district and then on to the Brigalow country around Gayndah for a time. It was during this period that Stan decided to become a writer. His first short story, 'Stunns Mutton Idle Hands' was published in the Queenslander in 1936, with many other published stories following some in England and some in Canada. A radio play titled 'Young Tree Growing' was written and produced for the ABC later in his writing career.
Stan's tales told of his bush childhood, how he had lived through the Great Depression. In 1937, the Tutt's moved to Landsborough. The property, which Stan's father named 'Woodnook' had been purchased in 1936 and the house built by 1937. The boys obtained contract work at ten shillings a day contract clearing around the Glass House Mountains for the pineapple industry.
Stan Tutt believed in a fair days pay for a fair days work. He was a champion of the battler and I believe when you look back at what he has done should be classed as a visionary. Stan was a unionist and a member of The League for Social Justice which promoted improved working conditions, removal of all road and bridge tolls at that time, reduction in taxation and full time work for the unemployed and a stabilized price for all primary producers. On 5 August, 1939 Stan with a group of working class men stormed Brisbane's Parliament House in a non violent protest. They dumped barbed wire, hammers and wood in the corridors of Parliament House to cause disruption. Thirty eight men were arrested including Stan on the charge of unlawful assembly. On October 18, 1939 all thirty eight men were found not guilty after a trial. Stan had always said that in his time in Boggo Road jail they were treated with the greatest courtesy and consideration. This event was known as The Pineapple Rebellion.
In 1939 the war had begun in Europe and the Middle East. The Tutt boys were conscripted and presented themselves for Military Training at The Landsborough Memorial Hall in 1941. Thousands of soldiers stationed in and around Landsborough, Caboolture and Caloundra region were in training to go north to New Guinea and the Pacific Region. The home 'Woodnook' and bunk house where the Tutt boys slept became R & R to many Australian soldiers who stopped in Landsborough during WW2. 'Woodnook' was a place of welcome for these battle wearied men. Stan saw the atrocities of war when he left for Milne Bay in 1943. During this time Stan penned the story 'Jungle Patrol' which was later to be broadcast by the ABC. On September 30, Stan received an offer from the ABC of three guineas for the ABC to broadcast the story which Stan accepted. Active Service and Stan's journalism assignments (Army Education Service) wires sometimes became crossed and Stan was put on a military charge due to this crossover but he still managed to write. Stan Tutt had another side that saw a man of quite determination which later showed in his tireless efforts to respect and preserve nature. Stan eventually published in Jungle Warfare with the Australian Army in the Southwest Pacific, published for the Australian Military Forces by The Australian War Memorial Canberra under the Title, 'Christmas Night – New Guinea.' The article was based on one of Stan's many diary entries which he wrote in daily if he could during his entire war experience.
On June 11, 1944 Charlie and Stan were back on Australian soil and given leave in Townsville. Stan's diary entry on 13 June tells of the day the train pulls into Landsborough Station and the two Tutt brothers return to their loved ones. A section of the diary is recorded below,
'Arranged with train crew to stop at Landsborough. Got a great send off from the fellows on the train. Picked up our luggage and tramped the half mile to 'Woodnook.' It rained all the way. Dog barked. Mary my little sister was milking the cow. She ran to meet us. Then mum came out. Met 'Pop'when we reached the bunkhouse. Great excitement, it's wonderful to be home.'
An opportunity came up for a position with Landsborough Shire Council after a time and Stan gratefully accepted the position of Noxious Weeds Officer. Stan had worked in the forestry for many years and was glad of the change. Stan retired in 1978 aged 64. He knew the local country side so well and could always relate early land marks and stories with ease. He continued his writings and became well known for his knowledge of the history of the region.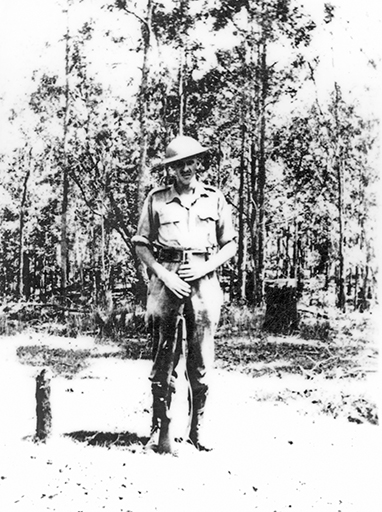 [Private Herbert Stanley Tutt (Stan) in Army uniform, Landsborough, 1941]
Stan went to New Guinea twice during WW2 and whilst on overseas service flew in the transport planes Douglas C47 'Biscuit Bombers' as they became known which supplied ground troops with provisions. Stan saw active service 1481 days and 611 days of that was in New Guinea.
After the war was over Stan was a civilian once more. He had a friendship with a nurse from Nambour District Hospital named Jean Clerk, who was to become his wife on 7 December, 1946. Jean and Stan had their honeymoon at Queensland author Roy Bulcock's, 'Samarinda' Guest House at Point Lookout on Stradbroke Island. Stan and Jean were devoted to each other and became life long partners.
After the war, work became available at the Beerburrum forestry office as a forestry worker where Stan camped in the Barracks four nights a week and hitched a lift home on Friday afternoons to 'Woodnook', Landsborough. He and Jean had daughter Jan by that stage and a son, Gifford was soon to follow.
Stan Tutt was the best known early amateur historian on the Sunshine Coast and Moreton Bay Region. Some of his earlier books, Caboolture Country (1973), Pioneer Day (1974) By Many Campfires (1979) predated Spear and Musket (1979). Sunshine Coast Heritage containing 367 articles of his writings was to follow. His autobiography, 'In Company of Ghosts' was published in 2000.
Importantly he used his literary skills to create public awareness of environmental issues. Stan made a great contribution to the environmental preservation of the Sunshine Coast and Moreton Region. He was a founder of Sunshine Coast Environmental Council in 1980. He and others like him worked to ensure that irreplaceable areas of the environment be preserved and maintained for future generations. As an early age he had gone timber getting like most young men did to earn a living but in later life he more than compensated for this in his ongoing campaigns to preserve and understand the regions natural environment.
On April 4, 1998 due to those efforts he was made a life member of the Wildlife Preservation Society of Queensland and also the Sunshine Coast Environment Council. Stan Tutt, OAM became an Honorary Senior Fellow of the University of the Sunshine Coast on April 7, 2000.
This much loved author and historian's services to the community were recognized by the then Landsborough Shire Council's Citizen of the Year award on Australia Day 1986. He was awarded the Order of Australia Medal on 26 January 1994 for services to local history and conservation.
A great campaigner for local history he was a key player in the creation of Landsborough Museum. Both Landsborough Museum's Reading Room collection and the Sunshine Coast Libraries Kawana Heritage Unit bear his name. Stan wrote an historical column for the Sunshine Coast Daily for over twenty years and was in great demand as a speaker.
Below is an interview on Stan's timber getting experiences and some of the memories from those years.
Transcript
Timber getting days
JP: Stan, you worked in the timber industry before WW2?
Stan: Yes I cut timber, mill timber, for one shilling @ 100 superficial feet but I also was one of a scrub-felling gang felling scrub for the Forestry Dept at Imbil so I have first hand experience of felling the vine forest or the rainforest as they call it now. We used to call it vine scrub or simply scrub.
Stan: Hardwood. In those days hardwood was the prize. Mostly grey ironbark, tallow wood, grey gum and blue gum.JP: OK so the first thing that you mentioned, felling for mill logs. Where was that?
Stan: In Imbil and the Mary Valley, namely in the lower Kenilworth and Imbil areas.
JP: What years?
Stan: Let me see, from1935 to the end of 1938 because WW2 broke out on the 3 September 1939.
JP: What sort of timber were you cutting and where was it going?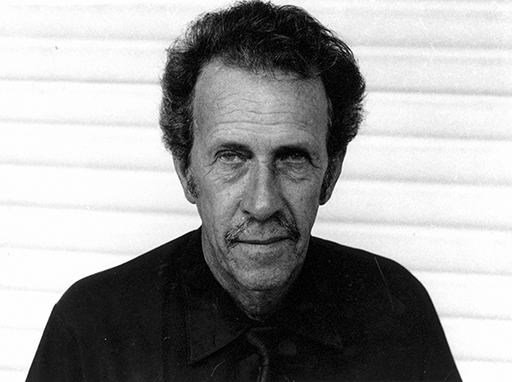 [Stan Tutt, Sunshine Coast historian, ca 1976]
JP: And where did it go?
Stan: It went only to local sawmills. Well, local sawmills were almost everywhere. For instance about Imbil there were at least three local sawmills. There was a sawmill at Kenilworth and a sawmill at Oakey Creek, Kenilworth…
JP: Is that the one with the water wheel?
Stan: No, that was at Mapleton area. Well they tried that. One of the big wheels is in the Kenilworth Historical Museum. Have you seen it?
JP: Yes we spoke to Ed Sims on Tuesday.
Stan: I went to school with Ed.
JP: Did you? So where did you grow up?
Birth
Stan: I was born in Murgon and came to Eumundi about 1916 to a place on the Eumundi Range , you'd say it was between Belli and Eumundi and then lived over on to the slopes of Mt Cooroy about 1917.
JP: OK. What were your family doing?
Stan: Well, Dad was growing bananas there but he and his brothers had big farms in the Kingaroy-Wooroolin-Manarambie district and they were ruined by drought so they came closer to the coast hoping for less drought. The life was entirely different. They started at Belli with the dairy farm. The cattle were wiped out with red water. Have you ever heard of red water?
JP: I have but I don't know what causes it.
Stan: Ticks, it was a fever.
First Job
JP: So what was the first job you started on? Was it timber work?
Stan: My first one would have been milking cows because in those days there were very few milking machines. Ten bob a week and tucker, that was the phrase
JP: Where?
Stan: But then timber cutting and then growing bananas.
JP: I am sorry I sort of digressed. You were saying you were cutting hardwoods for local mills. This was on private land?
Stan: Some was on private land and same was on the forestry. Some was on the forestry between Kenilworth and Brooloo.
JP: When you were cutting was this at the stage when forestry marked trees?
Stan: They crowned them with a hammer.
JP: What about on the private land?
Stan: No they simply marked them with a blue pencil.
JP: And who did that?
Stan: The cutter marked the measurements on the end of the log.
JP: So what uses did that timber go to? Was it all local use?
Stan: No a lot of it would go into house building because it was first class hardwood, wonderful wood.
JP: Yes wonderful. So how was it transported?
Stan: From the forest itself… there were very few bulldozers or tractors about in those days. I can remember the first ones at Imbil they had a bullock team to help it out when it got into trouble but mostly it was by bullock team and they did the snigging from the scrubs or forests. The hardwood grows in the forest but if you were cutting pine it was in the rainforests and one of the first jobs I did was cutting snigging tracks into the Selbathalba Ranges up in the Mary Valley.
JP: Where was that?
Stan: Selbathalba Ranges, lovely name isn't it?
JP: It is a lovely name. I've never come across that.
Stan: Ed Sims would be able to tell you all about that he lived on the edge of it.
JP: OK.
Stan: And the bullock drivers would split their teams in half and the teams would range from anything to eighteen to twenty-six bullocks, usually twenty-six taking a big weighing load. For the snigging teams there might be twelve bullocks.
JP: OK so there.
Snigging timber and bullock teams
Stan: And they would snig it down to a loading ramp and at the loading ramp they would put the wagon into position. Usually the loading ramp was on a slope and the logs were laid on a slope by the snigging team and the wagon was put against the ramp which was built of very stout logs and the logs were rolled down the hill and onto the wagon that way. If they did not have a loading ramp they pulled them up on to the wagon with skids.
JP: I've seen pictures of skids.
Stan: There are some down here (Landsborough Museum)
JP: So when you were felling these trees you were paid by whom?
Stan: You were paid by the sawmiller when you were paid! There was a lot of difficulty in being paid. This was one of the big snags of that time because the timber getter was at the bottom of the heap. He was the usually last to get paid but he was the first to work on the timber.
JP: What were you cutting with?
Cross cut saws and other timber getting implements
Stan: In those days there were no chain saws. You used cross-cut saws. There are very good examples of cross-cut saws down the back down there in this museum. We used the peg raker cross-cut saw. Now there are various types and the old peg tooth was one of the first ones. There were anter saws but then they came up with the raker saw. The peg tooth saw had two teeth and then a raker right along the saw but the oriol had four cutting teeth and then a raker. It was a very good saw too especially in softwood. It was good too in hardwood. We used both.
JP: Why did the peg and the rake together work better?
Stan: Well the cutting teeth cut the sawdust down to the log and the raker took it down to the cut. It didn't stuff up in the cut. If you had the peg tooth especially in cutting a box log it would almost ball up in the cut and that made it very hard going but the raker would pull it out and you'd have a clean cut all the time. With two good men in a saw and they'd have to work in unison on an oriol saw, they'd go through a pine log faster than two men with a chain saw.
JP: Did you ever work with the same men?
Stan: I always worked with my younger brother and it was that way timber getters like to have their partners they got on with because it was said that some men on the end of a cross-cut saw never took their feet off the ground and were so heavy to drag whereas it was push and pull
JP: Like playing bridge. You have to have a good partner.
Stan: Yes
JP: So that was in the Kenilworth area.
Stan: The Kenilworth-Imbil Area.
JP: You did not work in the Eumundi area?
Stan: No
JP: What about the second activity you said that was felling the vine scrub?
Stan: Felling the vine scrub. Well we got tired of working for ten bob a week on dairying farms. So we went into the banana growing business. (As I was telling Audienne there) And you'd buy the case of first-class pine for a shilling a case you made the cases on wet days. There was quite a skill in making banana cases and then you sent the first-class bananas in the one and three-quarter bushel case to Melbourne and very often the return was not worth the price of the case. So we saw these advertisements by the forestry department for felling scrub on forestry plantations in the Imbil area.
JP: So what year is this?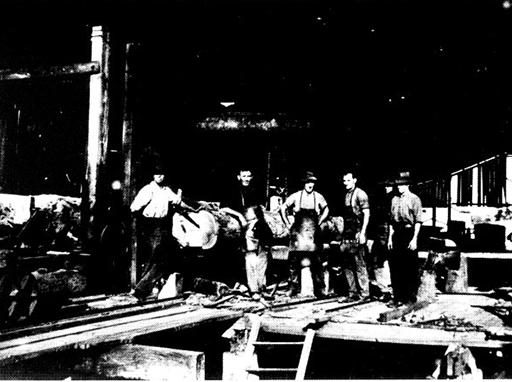 [Etheridge & Son sawmill, Eumundi, showing workers on the platform beside the saw bench, ca 1930]
Stan: This would be about 1935 or 1936. You had to go and inspect the area and put in your tender and the tenders ranged from 2 pounds fifteen shillings to 3 pounds an acre that is $6 per acre that was regarded as a high price and for that for that you had to brush down the growth and small trees and fell the standing trees which ranged from huge fig trees to petrebooya and marara (spelling?) which had spurs which went up sometimes twelve and fourteen feet and you had to use a spring board to get above those spurs. And there were quite a few recognized scrub-felling gangs. We started off as novices at 2 pounds fifteen an acre. A very rugged one but we developed and there were scrub-cutting gangs usually brothers.
JP: You've got to take that timber and sell it?
Stan: What you fell? No, there was an art in felling scrub and you had to start at the bottom of the slope and learn how tough the woods were before you could really drive it because you had to drive it all out and not cause stick-ups. Any man who caused a stick…
JP: What's a stick-up?
Stan: Well if a drive failed to go and stuck up on a huge tree that wasn't sufficiently backed, the man who cut the drive had to go in and release it and that was very dangerous.
JP: Now when you say a drive. I've read about this but can you describe how it's done.
Stan: Yes, the driving technique was brought to this area by the settlers of the Northern rivers in NSW and Maleny was all vine scrub, Kin Kin and around Pomona and all those places and Mount Cooroy and the vine scrub was on the fertile land and had to be cleared and these settlers from the Northern Rivers brought up this technique. You used the vine as a method of destroying the climax vegetation of ten thousand years and you started on a gully at the bottom of the slope and you found that gully and you went to the back of your block so that you weren't scrambling over fallen scrub all the time. Now you would start at the bottom of that gully that rugged gully and did what they called open up and by opening up you cut a few trees along the gully so that you got a face on the edge of the rainforest.
Brushing the bush
Then you have the brushers. It was already brushed before you started opening up and the brushers had to brush it so that the vines were cut six feet from the ground at least. They got fifteen shillings per acre which is $1.50 per acre for doing all that brushing. Now when you got that opened up along the gully, you went in and backed the trees and backing the trees meant you only cut them on the uphill side but you need not cut them right through, you cut them until you judged that the driving tree you had selected would carry them out in a drive. You might go up there and it might be three or four chains backing all these trees on the uphill side until you came to your driving tree. And that driving tree would have a slight lean down to all these that were backed.
JP: A massive tree?
Stan: It is a very heavy tree, a big tree. It probably had buttress roots on it twelve feet up so you had to go up on a spring board and you belly cut it. Now the belly cut was important because you had to place that belly cut in the front of the tree so it would take the tree on to those you had already backed.
JP: What width could you fell on the drive?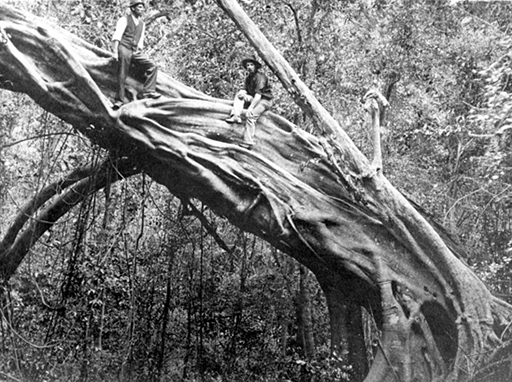 [Timber getters seated on a huge Fig tree, Bunya Mountains, 1913]
Stan: Well that would depend on how dense the vines were in the top because you were relying on those vines to grab the trees. You might have gone out a chain either side if they were dense vines right up level with the driving tree and also, that was part of the safety business, you put the belly cut in and usually a good axe man could chop both right handed and left handed and if you could do that you had a spring board which had a circular clip, a little sharp ridge along the end, a square ridge you could not swing the board around the tree in the same nick. To put the board in, you bashed the tree with the back of the axe and it left the imprint of the back of the axe in the bark. Now that back of the axe was the exact width of the nose of your springboard. You drove your axe in. You had to be that skilful so you did not mess it up. You cut a clean cut into the tree some two to two and a half or more inches, old inches, the same width as that mark you'd put in with the back of the axe. Then you jammed the board in there, then you swung on the far end of the board, the weight, the leverage, pushed the nose of the board up into the wood. It was quite firm and then you swung on to the board and you started on the back of the tree and you cut there until you heard it starting to creak and groan. You were really murdering that tree. And when it started to creak and groan you had to watch the top of the tree and you could hear the groan. You had to be very careful there was not a wind blowing clouds because that gave the impression like one train passing another. When you saw the tree starting to move at the top towards where you had nicked all this, you threw the axe on the ground so you did not fall on it or jump on it, you jumped off the springboard and you hit the end of it like that and you scrambled up the hill as fast as you could because you knew that if the vines overhead hooked up on the trees behind you they would pull more limbs down where you had been standing. Now the driving tree would go in all that backed timber and the roar and crackle! You could hear it three kilometers away. A good drive would take out half an acre.
Wasted Timber
JP: So then what? None of the timber….
Stan: No it was all to be burnt. This was done in winter. We will complete the cycle.
JP: OK you didn't use and of it?
Stan: No. This was done in winter because it was a very strenuous job and all the Forestry contracts had to be finished by the first of September and you would get the first spring winds starting to blow, you could smell it, and it was coming over all these acres of fallen rain forest. They were drying and drying. Your job was finished and you would go into the store. You had usually signed a contract with the store on your contract. The forestry paid the store and you got the remainder which was not much. The fallen timber would be left there, tons and tons of it, a great mass of broken limbs and drying leaves until about early in November and they would choose a good day and go round the bottom of this great area and fire it. Flames would race up the hill and through all this, a mighty fire, all along this range; I've seen the scrub fires we used to look for between the end of October and the beginning of December. You know it was just like you saw a series of atomic explosions going all up the coast and those were the scrub fires. It destroyed the climate vegetation of centuries.
JP: So some of that was clearly done by settlers?
Stan: The ordinary settlers did it. Many farmers felled their own scrub. For instance the Martins felled a lot of the Maleny scrub. And that …
Kin Kin
JP: Around Kin Kin that was all felled. How long was that forest all gone in Kin Kin?
Stan: Well it would not have gone until just after World war Two. And around Kin Kin there was a special tree which was called Penda and it was detested because even take the face off a plum axe if you did not hit it the right way.
Planting Hoop and Bunya and rainforest soil
JP: Ok Yes there's Penda Valley. So you were doing this for Hoop plantations because hoop, am I right in saying, grows on rainforest soil?
Stan: That's right. Well then you go and out to Imbil now and see the hoop and bunya plantations. In fact at Mellawandi they have a big mill now. That mill depends on that timber coming off these areas that these scrub hands cut. We cut there right up to World War Two.
JP: So how many people would have been working in the scrub as gangs for the forestry?
Stan: Well there would probably have been about six gangs and about four in our gang, axe men and then you employed brushers on contract.
JP: So where those people would have lived?
Stan: They came from all the little towns like Cooroy, Pomona and Gympie and we were at Kenilworth but we worked from Landsborough
JP: So it was seasonal?
Stan: Yes it was only seasonal. It was only six months and usually started the beginning of June and had to finish by the beginning of September.
JP: Well what was forestry like to work for?
Stan: Well they were very good, the ones we had, very practical men. The man I remember so well was the forester in charge at Imbil. They called him Boofy Fraser. Boofy was a big man, an ex-teamster, a very competent man and he knew his timber and he knew his men.
State Forestry
JP: Well Imbil interests me because Imbil was a really big forestry center and it still is. In 1928 they had the big Inter- State forestry conference at Imbil.
Stan: Well you know where the forestry place is today. In Imbil? Still there. We used to go there to sign our contracts.
JP: So how big would Imbil have been then?
Stan: About the same size it is now.
JP: It has not changed much.
Stan: Yes they were then I do not know if there has been any change. In those days there would be a bit of a change. The forestry, after the scrub burns the forestry likes to keep the scrub coming down in the district so we got jobs planting the pine. And chipping the weeds that came up wild figs and wild gooseberry like a green tide. And if it was not kept down it smothered the pine trees.
JP: So you were involved in the planting as well? Ok, but the actual maintenance of the forest that was forestry wasn't it?
Stan: Maintenance came later as the forestry grew. Nowadays it would be all maintenance and harvesting. See the change. That change was from establishment right to the top as harvesting.
JP: So Imbil was really the beginning of planting?
Stan: It was the centre.
JP: What about Beerwah and so forth? That was planted much later?
Stan: Later and it was a different type.
JP: That was exotics mainly? Not all?
Stan: Exotics. Pinups caribea and pinus eliotti. I worked at Beerburrum after the war; in fact I was put in charge of the Ethiopian students.
JP: Now that's a story I have not heard about. Tell me about that. When did you go there?
Stan: After World War Two.
JP: Were you in the war?
Stan: I did five years and nearly two years in New Guinea.
JP: OK, so where else were you?
Stan: From Milne Bay to Wewak. I was in an air maintenance company and did work on American airplanes. I was also with the 'Biscuit Bombing', dropping supplies to troops.
JP: What about before New Guinea? Where were you?
Stan: Out at Afghan.
JP: That's another story.
Stan: I'm out. You want the one about Beerburrum.
Beerburrum forestry workers
JP: Tell me the one about Beerburrum
Stan: I went to Beerburrum about 1949 or 1950 and the Balts were there and the Balts were Lithuanians, Afghans, Ukrainians, Russians and Germans, all from World War Two. And I was their Union Rep. See that cap. Now that's a hand made cap. I worked with one and we became great friends. He was a Red Army soldier at the battle of Stalingrad. On that date there he drove up from Brisbane, because he's retired, and he said, "Stanley I have made you a cap." There's the cap.
JP: He lives in Brisbane? What's his name?
Stan: George Bondar
JP: George Bondar.
Stan: And he's Ukrainian.
JP: Interesting.
Stan: When they came George tells me they had to go where they were sent and he was sent to Beerburrum.
JP: And how long did he stay there?
Stan: After that, I think about 1953. He went and worked for the Brisbane City Council until he retired.
JP: Did many of them stay in the forestry service?
Stan: Well I don't know that. I doubt it.
JP: Yes.
Wild Horse Mountain – Glass House Mountains

[Glass House Mountains from the Blackall Range, ca 1955]
Stan: See now, that lookout on top of Wild Horse Mountain, Glass House Mountains and I was there when Johnny Stoushi who was a tank driver in the Red Army drove the first bulldozer to the top of that mountain.
JP: Interesting.
Stan: And I knew all this.
JP: You were the union rep. Tell me about that.
Stan: Well the men were in the barracks. There are still some of the barracks left. They had their own mess but I never actually counted them but with the married quarters there must have been 70 or 80 men.
JP: What Union?
Stan: The AWU.
JP: AWU. So were you an organizer for the AWU?
Stan: No, just the Rep.
JP: Were there lots of problems?
Stan: Now and again. Well one I remember was they put a man in a truck with dynamite and they put the detonators in the truck also. I stopped that.
JP: That was fortunate.
Stan: Was silly to do it.
JP: What was the attitude of the men, Balts to life at Beerburrum?
Stan: They settled in very well. They spoke several languages and they even taught me a little Russian I'd say they became true Australians.
JP: Most of them single men?
Stan: Mostly single then. But all married now. Some of their children work here in Landsborough.
JP: Interesting.
Stan: Only old ones like me would know their back history. They're Australians.
Ethiopian students and refugees
JP: So what were you doing apart from …..
Stan: I was just …. In charge of Ethiopian students. In those days Haile Selassie was Emperor of Ethiopia. I have forgotten the forester's name. A forester from the Queensland service went over there.
JP: Swain.
Stan: Swain. That was it and he interested the Emperor in reforestation. So the Emperor first of all sent three students out. They were Johanis, Tesfel and Waldi, that was their three names. Johanis, I've still got the card he gave me. In fact I wrote an article about it recently, the Emperor's postcard. It showed the Emperor, Haillie Selassie, looking out over Addis Abba. They were sent out to learn about forestry and they came to Beerburrum. The forester of the day, Allan Gardiner, said, "Stan, we will put you with the three Ethiopian students. You look after them and you go everywhere they go." Their English wasn't very good and they had great trouble at the beginning with the food. You see the men's mess was rather rugged. They employed a cook and the men ran a mess themselves but you see it was typical Aussie tucker and the Ethiopian boys weren't used to that. You see Johanis was the son of a Ras who was an Ethiopian nobleman. I've often wondered what happened to Johanis. Ethiopia had a bloody history. Tesfel was an astute businessman and Waldi was an efficient bureaucrat. And I always remember one wet day and Waldi it was on the top of one of the verandahs and there were some ex-Italian prisoners of war there too and they got talking about, you know the Italians invaded Ethiopia, and got talking about rabies and so on and Waldi had had rabies. They were talking about Mussolini's soldiers and he stripped his shirt off and there were great big weal's across his back and they said, "What's that?" and he said, "Rhinoceros hide", where the Italian soldiers had…….
JP: Mmmm.
Stan: You see the war was still breathing in peace.
JP: You said Italian prisoners of war were…where were they?
Stan: Well they had been in Australia but they elected to stay here.
JP: Ok
Stan: And they were really nice blokes. Anyway these three were to go right through the forestry from laboring, brushing planting, nursery and all the lot which they did. And I always remember we put them in a hut and I was in a different hut. You had to be up early to get into the men's mess because work started at 7 o'clock. You had to be on those trucks at 7 o'clock. I'd be about 6 o'clock outside their hut and call out, "Arise Ethiopia!" Laughter.
JP: Laughter
Stan: "Arise Ethiopia" It established a bond between us. They'd come with a dictionary when we were working with the forestry and they'd hear somebody talking and they'd come and say, "Stanley, what means this word?"
JP: And how long were they there?
Stan: I think they went to the offices afterwards but I'd say about 3 months. Guessing there but I'd say it would be about three months. They used to tease me and say, "You come back to Ethiopia with us and we'll get you a little brownie monkey. (Laughter) You knew you were getting along with them.
JP: So Swain was the forester. I don't know if you know any stories about him but he was an interesting man.
Stan: No I don't know any stories about him.
JP: He was sacked by the government in 1932, a very interesting story.
Stan: I would love to hear them.
JP: I don't know all the stories but I will stop this (tape).
Stan: Good
JP: I shall write that down because I haven't read it yet but I will.
Stan: Are we on tape again?
JP: We are indeed. But it doesn't matter; we can do what we like; we can scrap the bits.
Stan: Don't forget we've signed a paper.
JP: We have signed a paper, that's right.
Stan: You better be careful. (Laughter.)
JP: Exactly. Where were we? Ethiopians.
Stan: Ethiopians. That was the first lot. A second lot came after that but that was the first lot I don't know whether Allan Gardner is still alive but the last I heard of him he was living on Bongaree at Bribie Island.
JP: Interesting
Stan: Now if you want to know a native forest that should be saved. Do you know Ian Mackay?
JP: No
Stan: Well you can get his address from the Sunshine Coast Environment council in Nambour. Ian likes writing poetry, by the way.
JP: So who is Ian?
Stan: I think he's a schoolteacher. He was very closely connected with the Conondale Range Committee and the fight to save the Conondale Ranges.
JP: OK
Stan: And also the area on top of Kenilworth Bluff.
JP: So when did you leave forestry then?
Stan: I think it was 1953 although it was a bit later than that because the card I got from Johanis was dated June 1953.
JP: What did you do then?
Stan: I went working on the railway line
JP: Oh dear, John Kerr should speak to you. Have you met John Kerr?
Stan: What's his name?
JP: John Kerr. He wrote a history of railways and he's a mad railway buff and he's also doing a study of sawmills.
Stan: I wrote a short story called, "A bloody good mate" and it's been translated into Thai.
JP: Wonderful. Who did that? It's been published in Thailand?
Stan: Yes and the Thai people sent me the book and it's all in Thai and I find I am in company with Henry Lawson and Steele Rudd and …
JP: So how long were you on the railway?
Stan: About two years.
JP: And then what?
Stan: I became a supervisor of noxious plants and became a regional inspector.
JP: Noxious plants. Working for whom?
Stan: Working first for the Landsborough Shire Council which has gone, then for the Lands Department and I covered the area from Caboolture to Hervey Bay.
JP: Very interesting. So you know all that area?
Stan: Changed a lot. We did Great Sandy Strait as well.
JP: So what sort of noxious weeds in particular?
Stan: Groundsel bush.
JP: So what do you do with groundsel bush? Tell me.
Stan: Groundsel bush? It was threatening the whole of the dairy industry and it was like a green tide and around Pomona and Cooroy.
JP: Kin Kin.
Stan: Kin Kin was terrible. I wrote an article about that at Kin Kin. I used to have to go and put a price on clearing all that vacant Crown land and then I had to oversee the contractors. The Crown had let the contracts out I remember at Kin Kin I had two contractors there and we were looking at a place and there were old snigging tracks and the groundsel bush was over the top like that. It was seeding time and the seed was fluffing like this right down on the ground so we all sat down on the ground under this arched groundsel bush to discuss how they wanted to put a price on it. One of them was a smoker and he lit his cigarette and dropped the match like this and bending over and, you know, that seed was like gun cotton and it went poof and singed his eyebrows.
JP: So when you say you were assessing for clearing on Crown land.
Stan: We're on tape.
JP: What was that about? For clearing on vacant land what was that about?
Stan: Well, see a lot of vacant Crown land had great growths of groundsel bush on it.
Noxious weeds
JP: OK. So it was with noxious weeds?
Stan: And the then supervisor for the council went round to the farms and they'd say, "What about that Crown land?"
JP: Mmm, I understand. What I was thinking about was forestry spent a lot of time assessing timber stands on vacant Crown land before it was alienated and changed it to freehold.
Stan: We're getting away from trees.
JP: We're getting away from trees. We are indeed. Ok. If I said to you, I did before, forest towns, what would you name in the area that you know as the most important timber towns in this area?
Blackall Range
Stan: This was one. Landsborough. See you've been looking down at lower Coochin Creek and old Campbellville. Well after old Campbellville, the railway came through. In fact the railway was the main cause of closing Campbellville. And of course the timber came, a lot of it came on the railway, there are old photos in the museum showing the teams. I've had old timbergetters tell me that the Mellum Club Hotel used to be up on the Old Gympie Road on the corner they'd send 17 teams down from the Blackall Range and they used to be round the old Mellum Club while the drivers had refreshments. Dave Hankinson used to tell me just opposite the little newsagency here where the little rest shed is was the teamsters' hut where they used to sleep when they brought their teams down and their loads from the Blackall Range. There was a big Hancock & Gore Sawmill. A big steam mill.
JP: Where was that? Here? In Landsborough?
Stan: Yes. When we came here. There was another one at Beerwah.
JP: There was one at Conondale too, wasn't there?
Stan: Yes, but it wasn't as big as this one.
JP: OK. Yes. And this took timber from the Blackall Ranges?
Stan: Yes and all around.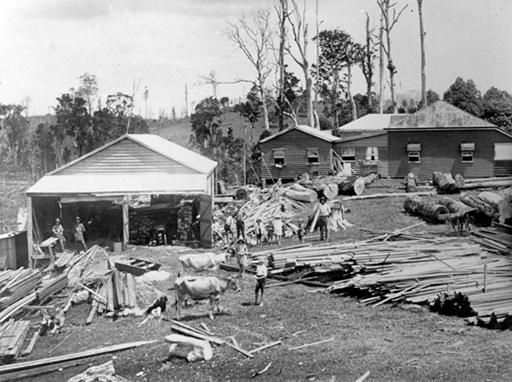 [Sawmill and home named 'Sandy Mount' owned by Alfred Skerman located in Factory Road, Maleny, 1921]
Sunshine Coast sawmills, Shutes
JP: Now was timber dropped by Shutes from the Blackall Ranges?
Stan: Yes there were two Shutes. One was Macarthy's Shute but that would be before the teams came down the ridge here. There was McCarthy's Shute, and Lander's Shute behind Palmwoods. And they were the places where they shot the logs down.
JP: Would there be anything left there to show?
Stan: No, I do not think so. I went there one day in the 1960s and there used to be an old pitsaw but it had almost filled in.
JP: Because, we are looking for things in mostly state forest but if there are any significant or important places to record…
Stan: Well it was in the 60s and I went with Francis Dunlop, who was a direct descendant of one of the early settlers here and you wouldn't recognize it as a sawyers' pit.
JP: Who are the other people in this district that I should talk to?
Stan: (Pause) They are nearly all gone or ill. Arthur Lawton but he is in hospital.
JP: Someone mentioned Strakers around Pomona. They had sawmills.
Stan: If you could talk to Strakers and some of the Pages. Is Ruth Page still alive?
JP: I think so. Yes.
Stan: Well I'd talk to Ruth Page because she would tell you the right people to talk to. In Maleny there were the Hankinson's, all the other Hankinson's are gone, because they were related to the Trails. I am just trying to think of anyone else there to give you a clue.
JP: (Pause) it's very sad that wherever I go people say it's a pity you weren't here ten years ago.
Stan: That's right. There's one of the James, she was a Dunlop. At Maleny. She will be able to tell you a lot. Now, Frank Sterling, he's a real larrikin when you know him. Do you know him?
JP: But when we stopped at Peachester to have a cup of coffee, the woman in the shop said you should talk to Mrs Sterling who works next door occasionally. Now would that be Frank Sterling's wife?
Stan: I don't know it could be. But ask for Frank Sterling. The store in Beerwah would tell you where he was.
JP: So what was he?
Stan: He was a teamster. He'd tell you some of the tallest stories you ever heard.
JP: That would be terrific. That would be great. What about around Eumundi and Cooroy?
Stan: Etheridge's sawmill in Eumundi was a very big one and a lot of the Mary Valley stuff came down there. Bob Etheridge is gone. Pauline, his wife is still alive. Now Pauline Etheridge, Eumundi, and Pauline was Charlie Chambers' daughter. Chambers is a very early family.
JP: They are all related.
Stan: Do you know Pauline?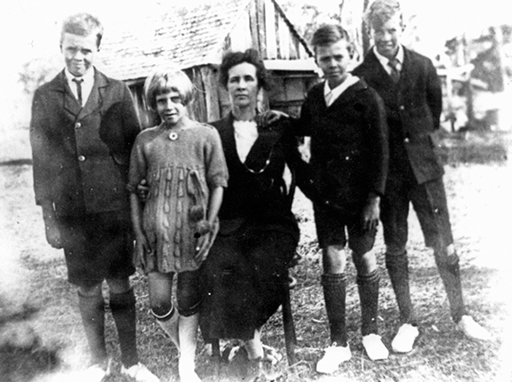 [The Tutt family at lower Kenilworth camp, ca 1924]
Aidienne: I've met her at the opening of Chambers' Crossing Bridge in Yandina.
JP: Audienne is my assistant and Audienne is thinking about interviewing some of these people about forestry and between us …
Stan: It is well worth going to see Pauline Chambers, Pauline Etheridge she is now.
Audienne: Peter Wilkinson lives up on Montville. He's got a lot of things to tell from Wilkinson's' Sawmill and the formation of North Coast Sawmill holdings at Cooroy
Stan: Wilkinson's had a mill at Mooloolah, didn't they, as well?
Audienne: As well? Yes.
JP: What about the Buderim story, the Buderim tramway?
Audienne: That's been beautifully documented by Mark, a student of UNE. Wonderful assignment in Nambour Library about the tramway. What about the timber on Buderim. That's where Petrie first cut cedar
Stan: In 1862.
The Petrie family
Audienne: Yes. That was just a magnificent story of the timber he cut there, the best soil on the Sunshine Coast, the best place to be.
Stan: The story is in Tom Petrie's Reminiscences of Early Queensland.
JP: Hard to think of an area that was not a timber area.
Stan: Well this is it. Timber was the mother of settlement.
JP: It really was.
Stan: You take around Pomona.
JP: And after the war, there were case mills everywhere.
Stan: Yes there was a case mill here (Landsborough). There was a case mill at Beerwah.
JP: But you were saying that the best soil had the vine scrub. But is that entirely true? Because I felt that some of the rainforest areas people cleared the scrub and the soil was in fact not as…
Stan: It only lasted about four years. You see this was a mistake they made, I think. And then it was gone. This was a mistake they made. It was very fertile for four or five years and then it just faded away which meant they were really destroying the source of fertility.
JP: Nothing to replenish it except for places like Buderim and the fertility was not…
Stan: And like Maleny too
JP: And Maleny too and that's its good volcanic soil.
Stan: But is the degrading process still going? Underneath the kikuyu grass?
Audienne: Underneath the concrete slabs of all the subdivisions.
Stan: Yes that's right.
JP: Audienne, you said you had some questions to ask.
Audienne: Well the penda tree. What tree was that? What was another name for that?
JP: Isn't that the golden penda?
Stan: Well I don't think that is the one you see in the garden.
Audienne: A native tree that would take the face off a plum axe.
Stan: It was around Kin Kin and I only knew it as penda. Have you got any botanists up there? Ann Moran would be able to tell you about that.
Audienne: She's one of my friends. Local names and botanical names. She'd be able to tell me about that.
JP: The Francis book, Rainforest Trees of Australia that Les Moreland showed us. That would have a description. Because he was all around Kin Kin.
Stan: Yes.
Dubosia tree
JP: That's another story I came across with the dubosia story.
Stan: I've written articles about that.
JP: Aha, Have you? Because it is hard to find out anything about it.
Stan: Well I wrote about it. They would have been in the Sunshine Coast Sunday.
JP: Would they be in your latest Sunshine Coast book?
Stan: No. It came out before those copies were written. There would be copies here in the research section of the museum.
JP: Because our little house where we live which Irene Christie knew and which is about 90 years old, I suppose. Apparently it was used to store the dubosia while it dried.
Stan: Well you see I knew that there was a factory in Gympie towards Monkland. I used to know the bloke who ran it. Now you'd go there and they'd be in the shed in the dark and the pupils of their eyes would be like big brown owls.
JP: What was the period they were using…?
Stan: Wartime.
JP: Just wartime?
Stan: See it was the base of so many chemicals evidently. Medicines.
JP: I understand it was used to dilate the eye, the pupils.
Stan: And sea sickness, I believe.
JP: Really?
Stan: Yes and childbirth.
JP: OK. So after the war it went out of use?
Stan: Out of this area but there are plantations out near Manarambie.
JP: Where's Manarambie?
Stan: In the Burnett and there are factories that are automated that go day and night processing the leaves from this plantation.
JP: And what do they use it for?
Stan: Medicines.
JP: Same story.
Stan: Now I rang them when I was doing the article so it would be mentioned in the article.
JP: Oh that would be very interesting. Sorry Audienne, I interrupted your question.
Audienne: No that was fine. I was going to ask you about these big strangler figs. Now there is no good wood in a strangler fig. They wanted the tree in the middle; it would probably be a cedar tree.
Stan: Any of those scrub trees like big trees, booyong that's scrub hickory, murraya,
Audienne: So many photographs show them cutting down the strangler fig but the description fails to mention that they did not want it they wanted the tree on the inside.
Stan: Yes well we only cut it down to burn it. And some of the trees were so big I'd seen them cut down, you'd chop all the morning and nearly stand in the belly cut. You'd be covered with it. The sap came out white like a white sticky fluid and then it dried brown all over you. It would get along the axe handle so that your hand wouldn't run smoothly along it. We did not like the fig trees at all.
Audienne: It's worse than war crimes. Isn't it?
Stan: It is. Hope you don't want to put me on trial. Laughter.
JP: So when you were falling the vine scrub, nobody said we could go in and selectively log useful trees?
Stan: But later on in World War Two they were milling the scrubwood for cases and dunnage and so on. The waste that we felt must have been hundreds and thousands of tons of it.
JP: Yes. It's amazing isn't it? To plant other trees.
Stan: Yes. I'm talking about Beerburrum which was a completely different operation. See it was exotic pines being planted in wallum country. And of course the pinus caribea was slash pine and in America slash is swamp
JP: That's why it could grow in the sort of wetter country. Because the hoop needed the other. You said there were hoop and bunya plantations around Imbil. Are there many bunya plantations? I thought it was not so successful.
Stan: No it wasn't. They tried Kauri too. They tried Red Cedar and they were not successful. I believe leaf hoppers got in on the leaves.
JP: Yes. I've read that the earliest experiments were on Fraser Island in the 1880s
Stan: Rollo Petrie wrote about that.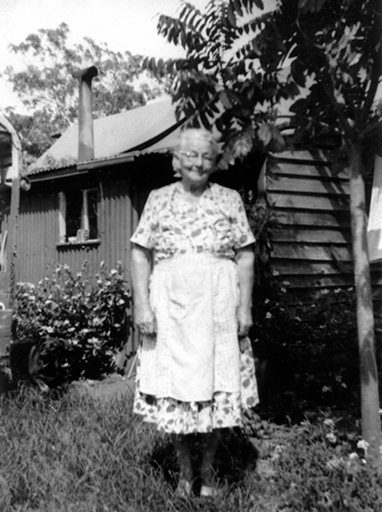 [Thomine Nielsen in front of her Forestry Commission home, Beerburrum, ca 1955]
JP: Yes. We are going there next week to look around.
Stan: Rollo is dead now.
JP: But I've read his book on Fraser Island. A wonderful connection with the island.
Stan: I knew Rollo for years.
JP: How did you know him?
Stan: Well when I was working on that book, Spear and Musket, we went down and interviewed him and took photographs of even the desk at which Constance Campbell wrote the book.
JP: I understand from what someone was saying this morning that a lot of the Petrie papers were lost in a house fire. A lot of material was lost.
Stan: I don't know about that.
JP: This is sad because they are an amazing family
Stan: Amazing. Well Rollo was such an interesting person to know.
JP: And his father was the first forester on Fraser Island. And Walter's grandfather was the first person to…
Stan: Walter was at Imbil too.
JP: I did know that. Yes. Did you know him at Imbil?
Stan: No. He'd been there before we were.
JP: Yes. In the 30s
Stan: Early 30s.
JP: What was the first date for the forestry headquarters at Imbil?
Stan: Yes, well I think Boofy Fraser and there was another chap in the office, Sid Smith.
JP: There you go, Sid Smith.
Stan: Sid had one eye.
JP: The Mary Valley has been pretty important in one way or another.
Stan: Yes, very.
JP: What other things ought we to know?
Stan: Well it is….
JP: I know. We are taking up so much time.
End of Interview