Lloyd Clarke
Lloyd lived in Caloundra since 1920 and was a key figure in the fishing industry in Caloundra
Date of Interview: 21 April, 1998
Interviewer: Dianne Warner
Lloyd Clarke lived in Caloundra since 1920 and was a key figure in the fishing industry in Caloundra. He pioneered the barramundi fishing industry in the Gulf of Carpentaria in the 1950s, his friendship with Vance Palmer and the banning of commercial fishing in Pumicestone Passage in 1995.
Images and documents about Lloyd Clarke in Sunshine Coast Libraries Catalogue.
Image: Fisherman Lloyd Clarke with his son Les near Golden Beach, Caloundra.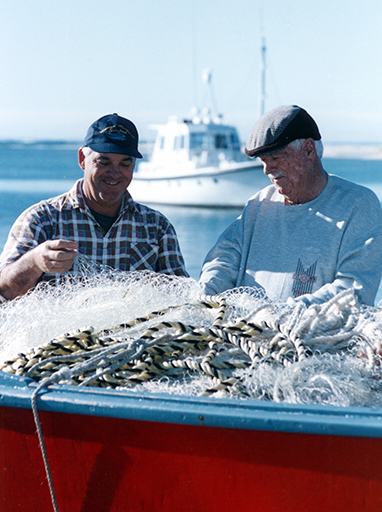 Audio
Lloyd Clarke oral history - part one [MP3 65MB]
Lloyd Clarke oral history - part two [MP3 21MB]
Transcript
Family Background
D.W. Lloyd, when were you born?
L.C. I was born on the 3 March, 1917 at Coochin Creek, Beerwah on the Old Gympie Road opposite the Beerwah School. It was known as the Coochin Creek School in those days.
D.W. Where was your family home located?
L.C. My family home was located opposite Coochin Creek School.
D.W. How many children were there in your family?
L.C. There were nine totally. There were eight when we lived at Coochin Creek and my youngest sister were born after we moved to Caloundra.
D.W. Where did you go to school in this district?
L.C. Well, I went to Beerwah State School for a few weeks but then we moved, so mainly at Caloundra.
D.W. What are your earliest memories of the district that you were raised in?
Establishing Caloundra Ice Works
L.C. Yes, well I haven't got many memories of Beerwah because I was five years of age when we left there and moved to Caloundra. The excitement of being near the sea took over. I can recall the early days when we first settled in Caloundra with my mother and father and with my family and the fishing industry and the activities that hinged around that. The excitement was obvious, there was so much fish and we were a part of the fishing industry. Set up, totally and probably one of the first to be able to conduct an all year round operation.
The reason being that dad put in an ice works and a cold room in a small way in the
beginning and increased on that later. In the 1920s it wasn't an easy industry for the simple reason that the transport of fish to the rail, train being the only form of transports that was available to us to Brisbane. First of all, transport to the rail was by horse and cart and then by a T. Model Ford and then progressively better vehicles.
D.W. So you would transport the fish by horse and cart to the railway in Landsborough?
L.C. Yes.
D.W. When you got a car, Landsborough was the railway station you transported the fish too as well? Was your father the one that would transport the fish or was it one of your older brothers?
L.C. Yes, it was Landsborough. Well dad, mainly at that time of course my three elder brothers were able to operate in the fishing industry. Dad had his work cut out ashore. Both with delivering fish to the rail, icing and packing the fish and generally hanging and mending nets, so that the elder brothers could proceed with the actual catching of fish.
D.W. When your father started the ice works, how did that operate? What sort of machinery was used to keep the ice cold? What formed the ice?
L.C. Yes, well it was an ammonia plant back in those days. It was put there by a Brisbane Refrigeration Firm Warne & Joseph. It was a small wooden structure. The cold room was packed with sawdust for insulation and driven by kerosene operated engine.
D.W. That always worked well, you didn't have problems?
L.C. Well, you did have slight problems but then again you can overcome them with a little mechanical knowledge. We seemed to posses those attributes that made it possible to make the whole thing work. We had kerosene operated engines within the boats too, that powered the launch.
D.W. How did your father build this ice works? Did he build it himself?
L.C. Yes, well dad was a builder in a sense. He wasn't a thorough carpenter but he would come up with things. His younger brothers were all carpenters and strangely enough his grandfather and his father were both carpenters, so there was a certain amount of knowledge there. However it didn't take much to build a square box with the timber that was available. You didn't have to comply with council regulations in those days.
D.W. Where was this first ice works located?
L.C. It was in Maloja Avenue actually, with a waterfront position where we could pull our nets up to the racks. We had a wharf where we could tie the boats to and finally of course, that would have been about 1925 when he put the first refrigeration in. By 1928, he had built a sizeable concrete coldroom properly insulated with cork. He set it up in a much bigger way with a greater ice production, so we could supply other fishermen over our own needs and the bit of the demand that was for an ice chest for the town.
D.W. What would a block of ice cost to the locals?
L.C. A slab of ice was sixty pound in weight and would have been sold to fisherman for about one and sixpence (15 cents) a slab.
D.W. The residents about the same?
L.C. Yes, less than twenty cents today.
D.W. They would come and pick it up themselves?
L.C. Yes, they could pick it up from the ice works. Later on, of course, I probably was one of the first ice men in Caloundra that made a delivery around the town. I was about twelve years of age and able to drive a vehicle without a licence. I delivered ice throughout Caloundra but particularly the holiday season, such as Easter and Christmas. That was when the demand was much greater.
D.W. You did that yourself?
L.C. Yes.
D.W. What sort of car did you drive?
L.C. Well, it was then an A. Model Ford. Later, a better quality which would have been a V8 Ford, a 1934 model.
D.W. How was that business, with you yourself a young boy doing the work?
L.C. Well, I suppose it was a part of the making of enough income for mother to be able to feed us. I suppose the loose change went into the pot for mother to be able to purchase the supplies to feed a family of nine and probably several other people we had working for us. I kept a bit for myself.
D.W. When your father moved originally to Caloundra, was he in the fishing industry before that time?
Fishing Coochin Creek 1917
L.C. Dad started fishing from where we lived at Coochin on the Gympie Road, in 1917. He set up a small fishing plant at the headwaters of Coochin Creek. He operated down Coochin Creek into the Bribie Passage from there and returned to there. He delivered by horse and cart, back to the rail at Beerwah where he sent his fish.
D.W. What sorts of boats were used in those times?
L.C. We needed a boat to tow the net dinghies and it was powered by a kerosene engine. The first boat he had was twenty seven feet and he brought that from Coochin Creek to Caloundra. Shortly after we arrived here he invested in a bigger boat which was thirty six feet. It was powered by a petrol start, kerosene operated engine. There was no diesel engines in those days. It was a much bigger boat and we had a better range with that and often it would supply and deliver the fish to the Brisbane Market overnight across Moreton Bay and to Brisbane Fish Market. It was a seven hour trip.
D.W. Being a wooden boat what sort of materials were used?
L.C. That boat was built in Brisbane on Breakfast Creek by one of the Tripcony's. He was a boat builder and he also built the first boat that dad had.
D.W That boat would have had to come up here from Brisbane?
L.C. Yes, my eldest brother was quite capable at an early age. He was able to bring the boat from Brisbane to here and also to deliver the fish. He was head of the fishing crew which operated the fishing outfit with two of his younger brothers.
D.W. How old would your brothers have been at that time?
L.C. When we came to Caloundra my eldest brother would have been about fourteen years of age.
D.W. What was his name?
L.C. His name was Clarence.
D.W. The other two boys?
L.C. James Jess was the second eldest brother and then Jack next.
D.W. Were your parents families involved in the fishing industry at any stage?
L.C. Only one of dad's brothers actually was slightly in the fishing industry. He was a carpenter and he did a bit of fishing even at Caloundra.
D.W. What was his name?
L.C. His name was Louis Clarke. He lived in Malojah Avenue also. In fact he owned the property I recently sold in Malojah Avenue, 24.
D.W. So your family lived in Malojah Avenue at that property number 24?
L.C. No, that was my home, my recent home. My father had five blocks of land from where Jamie Stewart's from the Boardwalk progressively west to the, I can't think of the number of the street there now. There is a big set of units there now though.
Leaving school for the fishing industry
D.W. When did you leave school?L.C. I left school when I was twelve years of age. I would have been thirteen on the third of March. I didn't go back to school after finishing at Christmas. I think that old Harry D?……….. had, had enough of Lloyd. The last three or four months that I had been at school he had me cleaning the school grounds because like my father, I was a fair axeman. I was able to swing an axe so he harnessed this and my energy and put me to clearing the school grounds. I think he might have written a letter to my mother saying perhaps it was time to put me into the fishing industry.
D.W. When you left school did you start in the fishing industry straight away?
L.C. Immediately. That picture of me there, I was thirteen years of age when that was taken.
D.W. You were a fairly big lad for thirteen.
L.C. Well, you know it could be suggested that I thought I had the knowledge to be able to join the fishing plant, which I was able to do. With a lot of guidance from my brothers I probably became quite successful at it.
D.W. How long have you been associated with the fishing industry Lloyd?
L.C. Now, over sixty five years.
D.W. Who did you work with besides your family in this industry locally?
Lloyd takes over the Ice Works
L.C. Actually, I didn't work with anybody else in the industry. Well, we would have joined up with other fishermen on certain conditions. Probably on the beach when there was one haul of fish. The Chaplin brothers had set up in Caloundra in 1944. They proved to be pretty tough opposition. They had the numbers, at that stage my elder brothers had left the industry and I was in it on my own. I had just taken over from my father the ice plant and the property, which was the home property, the old family home. In 1944, I took it over from him and operated by myself. I had the help of one brother at different times.
D.W. Who was that?
L.C. Jim, he would come back from the farm that he settled in, at Maleny. He would come back in the winter time and join me in the mullet season. He would give me a hand out. I employed about five or six other chaps.
D.W. Locals? Who were they?
L.C. Yes, locals. There was a chap by the name of George Ganza, Ron Harris and about three or four others.
D.W. Where was your boat situated? Did you have more than one boat?
L.C. We had three waterfront blocks here in Caloundra. There was the ice works, the home and the facilities for racks for pulling up the nets and the wharf covered in.
D.W. Was there just one boat?
L.C. Oh no. We had quite a fleet of boats. There were about five net dinghies involved in catching the fish. At least one or two powered boats to move the fish around and to pull the dinghies up and down the passage or where ever outside along the beaches because four wheel drives were not invented then. We had to do it by hand or the easiest or best way you could. Whether that is by rowing a boat or by hand.
D.W. Has this method of fishing for mullet changed since you first started?
L.C. It has slightly, but only with the quality of nets and a little bit different in designs.
D.W. Could you explain that to me, that process?
L.C. Yes well, in the early days you had what was called a straight net. It was one hundred metres deep and various sizes in mesh? For a Passage net You would use up to three or four hundred metres, yards back in those days. On the open beach you would reduce that size down to about two hundred and fifty yards and later on to produce bigger quantities we depthened the bunt, the centre of the net was called the bunt. That would be about two hundred metres deep and taper out to the wings. This would fish deeper and hold more fish. In latter years of course that bunt became known as a sandbag and that was developed from a prawn trawl net. Very much the same, whereas the fish all end up down in the end, the cod end, and released there. Now we can take up to a thousand boxes of fish and with no problem at all, No chance of them escaping from the net because they are down in a sock. When it's beached you can open up the end and bale the fish out and it was a more civil way of handling. Whereas the open net where it was a bunt was just swung between the headline which was the cork line and the lead line. The quality of nets today, nylon, monofilament and Poly propylon ropes and nets make them that much stronger and you haven't got to preserve them like you did in the old days. You would either tan or tar them.
D.W. Did you make the nets yourself?
L.C. No, the nets are factory made but you would put them together yourself and design the type of net you wanted.
D.W. Where would you purchase those nets?
L.C. Those nets were bought from Brisbane back in the early days.
D.W. Where was that?
L.C. People by the name of Frank and Bryce imported them in mostly from mostly Ireland in those days. The nets were made in Ireland. They were hemp, linen and cotton nets.
D.W. Were any of the boats made locally?
L.C. Yes, we made all of our own dinghies. They were carvel dinghies between seventeen and eighteen feet long. I built a couple of boats myself in the early days, both dinghies and launches. The first launch I ever built was thirty feet and that was built in 1939. Again, after I sold it at a later date I built a similar boat but extended the length of it to thirty six feet.
D.W. What style of boat?
L.C. It was a carvel boat.
D.W. Carvel?
L.C. Yes, a decked in boat suitable for outside work, working the bar. The last boat that I built, the thirty six footer was probably the first diesel engine that I was ever able to purchase or operate. It was a Southern Cross built in Toowoomba, a Southern Cross diesel.
D.W. Would that cover what type of engines were used in the boats in those early days?
L.C. Kerosene operated, yes power kerosene, well the farming implements were the same. The tractors on the farm were powered by kerosene.
D.W. Were they easy to use?
L.C. Yes, they were quite simple. It was a method of starting either you had dual carburettors or you filled the carburettor with the container with petrol. Started it on petrol and when it got hot enough you could switch on to kerosene and it would vaporise the kerosene and operate quite successfully.
D.W. Did you see as time went on and change, that it was helpful to the industry with regard to engines changing?
L.C. Yes, well of course as the industry expanded you see it got into off shore fisheries. When I say offshore, it was to a limit. See schnapper fishing is line fishing and so is mackerel fishing. There were boats that were designed to operate along the coast at various points to catch mackerel. They were diesel powered, and in the early stages they would operate with ice chests and hold their fish in ice. Which you could do for a period up to three or four days. That was about the limit with ice.
D.W. How far would you go out for mackerel and schnapper fishing?
L.C. We never engaged in the offshore fishing, only when the Brisbane market would be flooded with mullet. We would get word from them to say that the market was flooded with mullet and that they were closing that side of the industry down for a week till they cleared stocks. Under those conditions we would proceed to fish for schnapper, and we would line fish offshore then.
D.W. Was that far out?
L.C. No, you didn't have to go far in those days. What they call the Nine Mile now would be about as far as you were game to go. You didn't have a compass and anyway that was far enough. You didn't have to go any further to catch a few boxes of schnapper, you know to get a pay, before the end of the week.
D.W. What sort of equipment was used in the actual early days as far as your lines? Did you have to make things up yourself?
L.C. Well, you see there was such a thing as a cat gut line in those days, but no nylon. If you get a piece of good cat gut and put it on the end of the string line, the cord line you had no troubles to catch schnapper then. They were not too timid in those days. They would bite almost on a bare hook.
D.W. Your hooks and anything like that?
L.C. Yes, the hooks are very much the same as they are today. They have improved a bit, but not a great lot. That material was always available from the wholesale markets in Brisbane.
D.W. How would you get those fish to the markets? The same way as the others?
L.C. Any line fish we caught, was gutted, cleaned out, iced down and packed in wooden boxes and sent in a similar way.
D.W. Were you taught to navigate with equipment or was it celestial navigation that was used in the early days of your fishing career?
L.C. Yes, well I never learnt celestial navigation which incorporates the right equipment there too, which is a sextant. There is a part of my family now who has achieved this and is doing quite well. It is my grandson. In the early days I had a compass on dead reckoning and a set of charts. If you didn't venture too far from land you were reasonably safe.
D.W. Did this change with time? Navigation? Do you know celestial navigation now or did you not need any other form of navigation?
L.C. No, I never learnt the art of celestial navigation. Never really had a reason to. I have taken boats from here to the Gulf of Carpentaria.
D.W. That is what I am interested in? How did you do that?
L.C. There is such a thing as a set of sailing directions for the Queensland coast. Set out on big charts and if you run the shipping lanes you will have no problems. You can fix your position with a hand bearing compass. A copy of the sailing directions for the Queensland coasts you can identify lights, landscape and landform and usually there is some sort of graph or picture.
Receiving Certificate of Bravery
D.W. You received a Certificate for Bravery by the Royal Humane Society for a rescue. Can you tell me something about that rescue?
L.C. Oh well, that goes back a little while. A chap by the name of Presley, it wasn't Elvis. I don't know if it was any relation actually. He and his father got trapped. They got sunk on the bar in a small boat. They were going out fishing. There were three persons involved in that. My younger brother and a chap by the name of Jack Saul. When we got the message and that was from the police they were already in distress. Their boat had sunk, but he had the presence of mind to undo his belt, slip his belt through a handle on a twenty litre drum and hold his father to it. That was the way we rescued them actually.
D.W. Big seas?
L.C. There was a bit of a sea, not a great sea. It was in July, in the winter time. Whilst we had to row, it took us a bit of time to get there.
D.W. You had to row out there?
L.C. The only thing that saved them was, he had the presence of mind to grab the buoyancy and tied them to it. In actual fact they saved themselves with what they did. We recovered them and brought them ashore. That was about it.
D.W. When was that?
L.C. I can't tell you the date, except it was in July and was quite a few years ago now.
D.W. You were saying you rowed out was that the way you went through the bar.?
L.C. Yes, well you see our net dinghies in those days were powered by two sets of oars. That was for placing the nets in place and for moving the boat from point to point rather for when it was towed by the launch, rowing was no problem, I have probably rowed thousands of kilometres in my day, you know, with oars. So jumping in the dinghy and pelting the net out of it and rowing to the bar and doing the rescue and bringing them ashore
and rowing back home, then putting the net on and going fishing within the next half hour was just a part of life. It was something we looked on as no different to going onto the beach and making a haul for catching the fish. This was done on many, many occasions.
D.W. You are credited with over fifty rescues in the Caloundra region. You were called upon many times to effect rescues.
L.C. Yes, that is a fact. As I said before there were other people involved. Some of them, I did on my own but I had help sometimes.
D.W. Were there any experiences where you felt you were in danger?
L.C. Not really. No more than a day on the open beach when you are placing a net around a shoal of mullet. You know you often get dumped when you are doing that and filled in by a wave or whatever. I never considered that at any stage in my life in over the sixty odd years that I have been in the industry that I have ever felt that I have been in danger. You would never know how close you come to it, but then again.
D.W. I suppose the times with mullet swimming around, the sharks would have been fairly close to you?
L.C. Plenty of sharks in those days but I never felt threatened, even when I was in the Gulf by crocodiles or by sharks. I have been more threatened by man, the opposition than I have been by animals.
D.W. Any humorous stories?
L.C. Well, there is a few. My brother, the second eldest brother Jim, he was a bit of a character in more ways than one. Jim was a man that never looked for trouble although if it came up he was there. He was always able to handle himself. Yes, Jim could carry out a few tricks and I saw him operate something pretty professional on this occasion. The opposition was in the lead to a patch of mullet which we were both after off Moffatt Beach. Well it was heading round Moffatt Headlands actually they had about one hundred yards lead on us rowing the dinghy and we were following. So Jim had the presence of mind when he got to Moffatt Beach, he ran down and waved us on. He waved his hat in the direction of the Dicky wreck. So the opposition noted too and thought well that must be where the fish are and so they headed in that direction. When they got a little bit too far in that direction, he waved us in. When they returned we had five hundred cases of fish, netted on the beach. Another occasion, Jim was a great spotter for fish. Whilst he didn't place the net nor do a great deal apart from handling fish. He was the spotter, Jim told you where they were, what they were doing. He could say there were so many cases of fish in that. He could almost detail it to the number of fish in the school. So he was pretty qualified in that side of the industry. On one occasion he was going out to the beach spotting. He thought he saw what was a patch of tailor, the shade beyond the breaker line. So on the beach, we were coming along rowing the dinghy about a quarter of a mile behind. So on the beach to give us an indication that there may be something there; he drew a fish on the beach. He was a bit of an artist we reckoned. He rode on, on his pushbike and left us to it. When we got up to it we saw this sign but just before we got to it he had made such a thorough job of this sketch of this fish on the beach that a fish hawk dived down and tried to take it off the beach.
D.W. Life in the fishing industry must have had many hazards due to cyclonic weather, sharks and other dangers; can you recall any incidents where cyclonic weather caused problems at sea?
L.C. Yes, but not in our industry. It has occurred though. I imagine one of the most spectacular rescues on this coast was carried out by a trawler out of Mooloolaba who rescued a boat east of Double Island Point under cyclonic conditions. I think it was probably one of the most remarkable rescues that have ever occurred on the coast.
D.W. What happened?
L.C. Well, it was a sailing boat that this chap, I think either was sailing around Australia or around the world. He fouled at the Southern Shoals here in Moreton Bay in the cyclone. He got washed from there with the southerly breeze directly opposite the coast, parallel to the coast to Double Island Point. There was a huge sea. There was only one thing that could have happened to him. He would of eventually got wrecked somewhere. The wind was in the south and it blew him parallel to the beach. This was a remarkable rescue and it took about two and a half to three days to recover this vessel and bring it back to Mooloolaba. I think it is written up in some notes in the fishing industry.
D.W. What is the name of that boat?
L.C. I can't recall except it was a trawler out of Mooloolaba.
Cyclones 1954
D.W. Can you recall the cyclone in the fifties in the Caloundra region that caused all the damage?
L.C. Yes, it was the 20th of February, 1954. That was the worst cyclone we had. It was due to the positioning of the cyclone and how it affected the coast as badly as it did. The centre of the cyclone and the wind blew from the south, with something like twenty inches of rain overnight you see; it elevated the waters in the Pumicestone Passage... The huge seas outside and in February, you have the peak of the heavy summer spring tides. Then with the height of the waves, this water was not allowed to escape. So that the wind from the south blowing directly onto the northern end of Pumicestone Passage, which along the Passage front say from Bulcock Beach to Golden Beach, it then put pressure and elevated the tidal surge in that particular area. That was, in all of my knowledge here of living in Caloundra, was probably the highest tidal surge that I have ever seen. It is quite common for it to come up into Maloja Avenue; probably a couple of times a year under certain circumstances. That cyclone reached a level where it pushed debris right behind Bulcock Street and Tay Avenue. It did a lot of damage both along the waterfront and along the sea wall. Whilst the house that I lived in at that stage was the Clarke's old home and the ice works, most of the machinery went under water. The electrical motors, they went under water but they would have been able to be salvaged and dried out.
D.W. After that type of storm was the fishing industry alright, directly after that or does it take some time to settle down?
L.C. Well, it not only affected Caloundra you see, it affected Moreton Bay. Boats at Scarborough and on the Redcliffe Peninsula, they were badly wrecked and displaced. You know, fishermen were able to gather up their possessions as they swept away, even if it was days later and put them back in place and repair the necessary repairs and carry on. It's just a part of the happenings here within the industry. So, as far as I know it didn't affect the industry in any great way other for the immediate time, until the repairs were carried out.
Impacts of WW2 on Industry
D.W. Were there any restrictions placed on the activities of fishermen in this area during World War Two?
L.C. Well, you know there were limitations to your crew number to start with. There were limits put on your activities for the simple reason that Caloundra was a training area for the army. There was a curfew on the Passage with the fort on Bribie Island and the defence of Moreton Bay. The Passage was off limits to any activity at all whether it be professional fishing or recreational, it was totally banned in the hours of darkness. The beaches were all closed to netting because of the simple reason that the barbed wire was there down to high water mark. The whole of Moffat Beach, Shelly Beach and Caloundra, this was the threatened point between here and Noosa. If the Japanese had made a beach head it would have possibly been at Caloundra because by going in twelve miles they could cut off the railway that was feeding the north. It was just no go, whilst we had a fair relationship with the army with the fishing industry, by night for many months, it was totally banned and a restricted area.
D.W. Did you supply your fish locally to feed the soldiers or did it all still go to the markets?
L.C. No, as a matter of fact when the pressure eased off and the tide had been turned with the Coral Sea Battle and the troops were still here, they allowed a couple of the blokes, a couple of the soldiers to help pull the nets. We would give them a certain amount of fish for it. Labour was pretty short at that stage. At the same time the ice works down here was a curing store for more perishables for the army. Dad threw that open, he gave that freely to them. They didn't take it over; he ran it and paid the costs. He allowed them to take over the yard, which was the butcher shop. They would process their meat there, haul the carcasses into the room and deliver it to the mess were it was used from there. They also stored army supplies such as beer and perishable goods. So that operated that way until it was time that they withdrew from the area.
D.W. Would that have been local beef?
L.C. Yes, the beef was killed here locally and brought into there. They were doing about twelve to fifteen carcasses a day and breaking them down, and getting the supplies to the various army kitchens.
D.W. How much fish did you supply them with?
L.C. Not a great deal, whatever they felt they wanted.
D.W. When you first started in fishing, Lloyd has there been a rapid decline in catch over the years? Have you seen a change?
L.C. There has been a decline in fish stocks, I think generally. I imagine this is going to continue. I can't see it improving, for the simple reason the population in the south east corner and I am talking about fish stocks, onshore fishing, throughout our river systems, smooth water systems, semi smooth waters like Moreton Bay, Bribie Passage and the onshore fishing generally, I can't see how it is ever going to improve. This is for the reason, the population, pollution comes in many forms. It comes from noise, pollution from fallout from sewerage systems, it can come from light, over lighting along our beaches along the cities and general activities, boating activities in all shapes and sizes and recreational effort totally. When I say totally, I don't mean just line fishing but the total effort of recreation is going to eventually bring it down to as far as I think that they will allow it to go, without many restrictions put in place. There has been a lot of pressure put on the commercial effort and there is still more design for it. At the moment the Fish Management Authority is looking into buying back commercial fishermen's entitlements at a price. They are not offering any alternative to diversify to something else. The tuna industry and the offshore fishery, if they pushed the Japanese back a few hundred miles and allowed people that could afford to get into that section of the industry, when they take the offshore away from them, they could continue to carry on. At my age I don't need it but my son and grandsons could well afford to be in it. I think there has got to be some thought given to this. I think fish stocks onshore are going to diminish. I can't see any way that they can stop this.
D.W. Did Caloundra fish products have a good market due to reasonably quick access to market in those early days?
Caloundra renowned for quality fish: 1930 – 1940s
L.C. Caloundra fish was looked on as being one of the main sources of supply for quality.
I operated here for fourteen years as an agent for the fish board. The fish were received from the fishermen and delivered to Brisbane within twelve hours of being caught and placed on the market in a good state. I don't think we ever had a fish condemned over the period. I handled many hundreds of thousands of cooked prawns in those early days along with heavy stocks of fish. Caloundra was producing in the early days, in the 1930s and 1940s something like about twelve thousand boxes of mullet here. That would represent somewhere in vicinity of about two hundred, three hundred ton of fish.
D.W. What about prawns?
L.C. Well, the Bribie Passage only produced small bait prawns for the fishery that was operating in there. That was only in the latter years. The prawns of Moreton Bay were of a first class quality. Particularly the ocean king prawn, it was a beautiful prawn and handled properly it was highly sought after. You know, we had a variety of fish here not only the mullet produced, the bream, the whiting was a size, that there was always a very keen demand for it. There was a product from Noosa, you probably have heard of the Tewantin whiting that was caught back in the early days and it had a reputation on the market too. We had whiting and fish that was equal in quality and probably more in quantity than Noosa.
D.W. When you left this area in 1954 did you still own the ice works in Caloundra?
L.C. Yes, I still owned it and I leased it. It was still operating for the fish board as the agency. I leased it to a chap and he operated for the fish board.
D.W. Who was that person who was in charge of this operation?
L.C. I can't think of his full name but his first name was Ian. It will come to me, my memory is failing.
Industry in The Gulf of Carpentaria 1950s
D.W. I understand you were one of the first people to fish in the Gulf of Carpentaria in the fifties, what made you decide to fish in those waters?
L.C. Well, quite a number of years prior to that, each year after the fishing season ended here, I ventured north to the Tropic of Capricorn to follow the fish stocks through. That is the migration run for mullet, tailor in Sandy Cape, and mackerel on the Capricorn Bunker Group and for quite a number of years I moved up into there. I imagined the urge was to see what was just beyond that point.
D.W. This is still with a compass and charts?
L.C. Yes, with the smaller vessels that I had. So in about 1950 I ventured into the Gulf of Carpentaria just to have a look, to see what the possibilities were. I had read a couple of articles where a chap that was in charge of the Pilot Station there, said that there was facilities up there that suited a fishing operation. He said fish stocks in his opinion were pretty plentiful. So in 1950, I went overland and had a look at it. Then, I had to look for a market because to get the fish out, there was only one way that you could do it and that was to fly it. I had a look at Mt. Isa because it had a population of six thousand people at that stage. I thought six thousand people; a quarter of a pound of fish, per head, per week was a base for a market. Plus the fact, if I could spread it a bit further into some of the inland towns, then I could extend to there eventually as well. That was what I based it on in the beginning. I thought about it for a number of years. I had to think about ways then to raise the capital to finance this thing. I had some money and a property here that I couldn't raise too much money on, just a little. So I approached the Queensland Government with the help of Norm Smith who was the MLA in Mt. Isa in those days. Vince Gair was the Premier for Queensland and he looked on it quite favourably, backed of course by MLA Smith and it took off from there. So I was able to purchase a boat, get it designed to meet the requirements of the fishing industry, up there. Not that I was quite certain what I needed. I had an idea that I needed a sizeable boat and very good refrigeration and a holding capacity of something like fifteen to twenty thousand pounds of fish. I bought a boat and had it designed. It was a seventy three foot defence launch. It was a wooden boat and a small Fairmont powered it. I set it up for that purpose, with living quarters for eight people. On the tenth of October, 1954, I left Caloundra and headed for Karumba, in the Gulf of Carpentaria. I had already leased from the Department of Interior the buildings that had been the old QANTAS flying boats. The QANTAS flying boats had been running between Singapore and Sydney and during the war it had been taken over by the Australian Air force. The Catalina base was established there. These buildings were lying idle but still in very good repair. I was able to lease them from the department so I had accommodation ashore and a shore based facility. I moved into the Gulf after leaving here three weeks later and rode out the first wet season in the Gulf with cyclones and whatever. I started a production and shipped into Mt. Isa the following year in February.
D.W. Did you take your family with you?
L.C. At that stage I worked till February and my wife and eldest daughter joined me on my birthday actually, the third of March of that same year.
D.W. They flew up did they?
L.C. Yes they did.
D.W. What type of equipment did you have on board that boat?
L.C. I needed a couple of pretty sturdy dinghies which I took from my fishing fleet here. They were the same Carvel dinghies that we used in the surf. I was able to pick them up and carry them aboard. I had to fit myself out with suitable Barramundi nets with eight inch mesh in size. It had to be strong enough of course to withstand the power and the might, the strength and the destruction of everything that hurled itself at it, in the Gulf, such as huge crocodiles, sharks, saw fish, barramundi and progressing down to whatever. These nets were only linen in those days. Linen was subject to bacteria setting in and of course, you got rot. There was only a short life span under those conditions because; if they didn't rot away they were destroyed. Until I was able to sort things out, I had to place my nets in a place that they weren't destroyed by the vermin that was there. We caught huge crocodiles, when I say huge, large crocodiles sixteen to eighteen feet long tangled in the nets. Saw fish were equivalent in length and sharks, which not only attacked the fish but chewed hell out of the nets.
D.W. Where you ever hurt in any of these altercations?
L.C. No, not really. Well, a couple of times I stuck a knife into myself, when I was hurrying filleting fish. Apart from that I didn't have to go to hospital or didn't need any special attention.
D.W. There would be no medical facilities close by, would there?
L.C. No, the Flying Doctor Service would of been available had I been able to contact them.
D.W. What about stings from fish?
L.C. Yes, well I imagine that one of my crew would have been one of the first recorded being stung by that sea wasp, that jellyfish, the stinger.
D.W. Box Jellyfish?
L.C. Box Jellyfish, yes. Strangely enough, to quell the pain I threw him a can of methylated spirits. We had a kerosene burner stove in the boat and methylated spirits, to heat the burner to light it. Down here of course we used metho for various stings, bee stings and all sorts of things. That was the only thing we had, I didn't have a bottle of whisky, and I couldn't afford it. So he rubbed it on himself and survived, and he was stung seriously around the waist.
D.W. Was there a lot of pain?
LC A lot of pain, yes, he yelled and screamed for a few minutes until he got the relief from the methylated spirits. He was a nephew of mine.
Image: M. F. V. Larry Cork a 22.25 metre Fairmile owned by Caloundra professional fisherman Lloyd Clarke, who established the first commercial barramundi fishery industry in the Gulf of Carpentaria.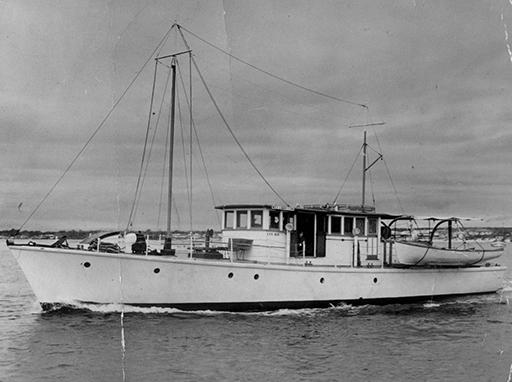 Working life in the Gulf 1950s
D.W. When you went to the Gulf, how many were in your crew?
L.C. I worked with a crew of three to start with, apart from my immediate family. My wife helped and my eldest daughter, she became a professional. My youngest daughter, later when I went back the second time she became a professional at filleting, equivalent to my own efforts.
D.W. Who were the crew that went with you on the boat?
L.C. Chap by the name of Jack Sewell, who was one of the main stayers. He fished for me for over twenty years. He still lives in Caloundra. Well, I had a chap by the name of Graham Barnett, still in the Gulf. I took him there over forty years ago. He arrived there with my wife and he is still there! He's still alive and kicking too. Still smoking terrible butt cigarettes!
D.W. What about when you got into places like the Gulf, there would not have been lights.
L.C. No there was no lights, no nothing. I went round that area like a flying fox, around the Gulf you know. I was able to, once you have been over it a few times; you get a bit of an idea of direction and what you are looking for. There were foul conditions that prevailed at times, such as heavy storms and cyclonic conditions. Knowing the area, got to know it, and had to know it. Using judgement, which you have had to use, all of your life in the fishing industry, you knew you were able to survive. Put it that way!
D.W. You were quite confident, your family was confident?
L.C. I always had a reasonable amount of confidence.
D.W. There was total support from your wife for this venture?
L.C. Yes, well it was do or die. No one knew whether it would be a success when we started it. I went into debt to the extent of sixteen thousand pounds and that is nothing today. That was a lot of money in those days. That would be about thirty six thousand dollars today.
D.W. Your daughter went to the Gulf with your wife, were there other children born there?
L.C. No, the rest of my children were at school. Although Les my youngest son that lives here in Caloundra, was then eight years of age. He was with us until my second daughter left school the following year. Barbara then went nursing and Elaine filled her place. Les, we put into Scots College. He did eight years at Scots College.
Transporting fish: Gulf to Caloundra
D.W. How did you get your produce to market from the Gulf region?
L.C. Well, I had to arrange that, prior to me leaving here in Caloundra. I made contact with T.A.A. It was Trans Australian Airlines then. They had an aircraft that was stood down. It did the Gulf run every Tuesday, once a week and the Channel Country, once a fortnight. So, every second Tuesday it was stood down and luckily for me, that was the day I was able to use for charter. The charter rate on that was pretty reasonable in those days. It was sixty eight pounds an hour flying time. You wouldn't get that for the driver today, let alone the aircraft.
D.W. You would have needed to catch a lot of fish in order to make a profit on top of that?
L.C. That's right. We made certain, we flew each fortnight and we worked to suit that. I think that first year in operation; a little bit late in starting we put out sixteen charters. That aircraft could carry up to seven and a half thousand pounds of fish, depending of course on the amount of fuel it had on it. With a minimum amount of fuel, to do the trip both ways we could get seven and a half thousand on and they tried to adjust to that.
D.W. When did you leave the Gulf and return to Caloundra?
Returning to Caloundra 1958
L.C. I left the Gulf and arrived back in Caloundra in December, 1958.
D.W. Had you, had enough of the Gulf?
L,C, I had, had enough. There was a certain length of time that you could stay there with a young family. You know, travelling backwards and forwards we felt that we'd had enough at that stage. I had a market for the boat and it was sold. I came back into Caloundra and joined the ranks of the fishing industry here. I took back the ice works and operated it again for the Fish Board.
D.W. When you came back to Caloundra did you see much change?
L.C. Quite a bit of change, though I was coming back to Caloundra for about six weeks each year for the Christmas period, so you know I was still in contact with the area.
Resuming the Ice Works
D.W. Everything was still working well regarding the ice works? What was the name of the ice works here in Caloundra?
L.C. Caloundra Fish and Ice Supplies. Yes, he had worked it well. I was able to take it back. I redesigned and rebuilt the whole thing again with bigger output and more cold rooms. That was when the prawning industry started. I brought back a film with me called Operation Fish Lift. That featured our fishing activities in the Gulf and the potential for the prawning industry in the Gulf. About three years later, you know that kicked it off. Matter of fact, I presented that film to the very first man that started the Gulf prawning industry, chap by the name of Craig Moston. He had a look at the film and in conjunction with the Manager of the Queensland Fish Board, Noel Gallagher; he decided to have a look at it. In 1963, he started that very industry, the prawning industry in the Gulf.
Kerosene Taint Pollution Impacts 1960s
D.W. In the early 1960s a kerosene taint spread through the fishing industry. I understand it was the mullet industry that was affected due to industrial pollution? Can you tell me a bit about that, Lloyd?
L.C. Well, there have been a lot of suggestions of what it was and what it wasn't. It was only north of Brisbane, any fish caught south of the southern end of Moreton Bay was not affected, and any travelling fish from the south was not affected. It was only when the
migration run came through Moreton Bay and the fish caught up with Moreton Bay moved north, that the fish was considered polluted with kerosene taint. So it was coming from the fallout from the sewage of the Pine River from the Australian Paper Mills or the Brisbane Sewerage System. It could only be traced back to that side, which was polluting the waters of Moreton Bay.
D.W. Did you lose a lot of money?
L.C. We did, our fish was not worth catching. Actually, we caught hundreds of tons of mullet for tuppence a pound which was sent to Western Australia for crab pot bait. Tuppence a pound and it would have to be packed in ice and sent away. Then again, you would have to do things like that some times.
D.W. How did you survive, it would not have been worth doing this?
L.C. No, well we graded out the fish that were not polluted, such as tailor, bream and mixed fish and just survived on that.
D.W. How long did that last?
L.C. That lasted thirteen years.
D.W. Did that stop when it was realised that pollution was doing this?
L.C. That's right. When it was tidied up, when it was cleaned up, the fish became clean. Now, they are still fit for human consumption today.
D.W. I understand that foreign offshore vessels are a concern of yours. Do you see problems for this area, with these vessels fishing so close to Australian waters?
L.C. Well, it is pretty hard. We are not permitted to work out there, though there are a few boats working now on tuna. This is only in recent times. When I talked about this, ten or fifteen years ago, of course there were very few offshore fisheries. The tuna industry was dominated by Japanese, and rightly so because they had the authority to fish in those waters. The Australian Government of the day favoured them being there. When it is all said and done, we had other products to sell, such as coal, wheat and wool and so on and in return we had to offer them something, some inducement to come here. So the fishing industry was probably the only thing we had left to offer them. They were able to operate it very successfully. There is no reason why Australian's couldn't do it, if they had that opportunity. There have been restrictions placed by Commonwealth Fisheries. There were Commonwealth licences issued you see, to fishermen but in a limited way. I haven't kept up with the rules and regulations in latter years so I don't know a great deal about that now.
D.W. With those long lines that they use now, do you see those methods as being a good way to catch fish?
L.C. Well, actually for tuna, offshore for tuna out there, I imagine it is one of the few ways that you can catch. I can't see where, I think that there must be a tremendous amount of destruction. You are not only hooking the tuna, the pack shark must be eating it out as they progress. I think a fair amount of the fish is caught by a shark, that doesn't worry me a great deal. The quantity of fish that must be eaten out by sharks, there must be a tremendous loss.
Commercial Fishing banned in Pumicestone Passage 1995
D.W. Commercial fishing was banned in Pumicestone Passage from October, 1995. What were your feelings regarding this decision?
L.C. Well, I felt that it had to come. I expressed my views about eight years prior to that decision. An article I published in the paper got highly criticised at that time by the commercial fishermen in the area and also from the Queensland Commercial Fishermen's Organisation. Eventually it happened, and I don't think it was for the reason that I expressed. You see from the early 1920, there was a move against commercial effort in this passage in the way of fishing. If you read Vance Palmer's impression of the activities on the waterfront of Caloundra in the early days, it even came up there. It was stated by one of the parties, that he was over fishing on the sand bank and his daughter said to him, "how did you get on father?" He replied," that it was not too good". His comment then was that he thought the fishermen had been over there in the night scraping their nets along the bottom. He then says, "Last year when I threw out, the fish would rush the bait, now you have to wait to get one on!"
Not only is that, even to this day there a strong move against commercial efforts. Our beaches are very restricted and we have got to be very careful in what we do on them. The council have been very tolerant and accept us, and our operation on the beach. We are very careful that we don't do anything to upset that. It is important to the fishing industry that we are able to harvest the migrational run of mullet. That is the only exception that is left now to the commercial effort, locally. The ever growing number of people within the area, tourists and the recreational effort such as sailboards, water jet skis, you name it, are operating on the Bar. It was always considered that the bar was an important part of the fish habitat of this Bribie Passage. The bar had to be protected. Since the early 1930s, the Caloundra Bar has been closed to net fishing, that is the Bar itself but not the beaches. Years ago, it was closed for one mile on either side and it was protected for eight months of the year and was just opened for the mullet season in the winter. So it has always been protected, always considered an important part for the fish stocks of the passage. The amount of recreational effort in those areas today can't be helping the fish stocks of Bribie Passage. That is one reason why I say that, totally in the South East corner, I think that fish stocks are going to diminish. Noise, lights, pollution from underwater exhausts and general disturbance, must play a part.
D.W. Do you believe that this must be cleaned up, in order to help the failing fish stocks?
L.C. I think that this must be regulated. I think there is a place for them all, but regulated to certain areas. I don't think that you can combine the two together. For instance, the chap who wants to go down on the beach and throw a line in, to catch a fish. He is never going to catch a fish whilst there is sailboards rushing around, tangling his line and the fish being disturbed. They hurl abuse at one another. You can hear it as far away as Golden Beach sometimes. All these things, I think if they were corrected and put in their right place probably it could improve. I think at this stage it is working one against the other.
D.W. Are you still active in the fishing industry today?
L.C. I have shed my commercial fishermen's licence. I work with my son now as an employee, on an employee's licence. Now, I am just a member of his crew as a spotter.
D.W. Which son is that?
L.C. Les. Whilst he doesn't always agree with me, he puts up with me. I give him criticism and direction from the top of the hill, sometimes where he can't hear me.
D.W. Les is still active in the fishing industry.
L.C. Yes, Les has got to two sons. His sons did work with him in the early part and then they went on their own. Darren, his eldest son is in Townsville and Cairns, where he works on a Game Fishing Charter Vessel. David, his youngest son is in the Caribbean. He is in the tourist industry over there, works on a big charter boat, totally in charge of it.
D.W. Do you see any other major problems within the fishing industry for the Sunshine Coast?
L.C. I imagine eventually that things will sort themselves out. The people that will survive are the ones that can manage their affairs. There are plenty of people that take a dive at the fishing industry with finance and have failed. Simply for the reason that they don't understand what it is all about. This eventually will sort itself out. I imagine that certain regulations will tighten up. The mullet industry along our coastline from Tweed Heads to Sandy Cape now is zoned. That's the harvesting of mullet, beach zoning they call it. The zone for Caloundra is from the north head of the Caloundra Bar to Point Cartwright. There are four operators within that zone. It is all combined together, those four entitlements form two. So that cuts down the general activity in that area. So to limit the commercial activity on our beaches and control their activities and to satisfy the requirements of probably the Council, the industry and the Government in general.
Caloundra Boat Builders
DW Were you ever involved in boatbuilding in the Caloundra region?
LC Only as an amateur builder, building boats for myself. I was involved in the repairs actually. I had the only slipway in Caloundra for over thirty years. It was sold when I moved out of Malojah Avenue four years ago.
DW Can you tell me a bit about the early boat builders and this industry?
LC Yes well, there was a chap by the name of Charlie French started it off in the early stage. He built and he had a site over on The Esplanade between where the Sailing Club have their building now. He built several boats there. One for Paddy Stewart, probably at least five boats there and many small dinghies, smaller powered boats.
DW Claude Boyd?
LC Claude Boyd was a boat builder. He built a boat up on Golden Beach. It was a trawler, fifty footer. It went to Mooloolaba, as a matter of fact I think it is still afloat there now and working out of Mooloolaba. Claude Boyd also bought property at Little Mountain and he built some boats out there. I know Claude quite well. He came from down south where he was a professional boat builder in that area too. Then Pat Van Sleeve set up in a big way and built quite a number of boats. The council would have him on record. He troubled them for a few years in regards access to the building off Tripcony Park. He had the end block there which was his old site. He built a number of boats there, a lot of boats. One boat went into the tuna industry. I understand it is still operating in South Australia down the Spencer Gulf.
DW How old would that boat be?
LC That boat would be now well over thirty years old.
DW When these boat builders made boats in the local area where would they get their timber from?
LC Well, South East Queensland of course had many quality timbers for boatbuilding, hardwoods and various scrub timbers. Soft woods also and the like, so there was no problem there.
DW Was there a preference for a certain type of wood?
LC Tesch was in Maleny. We have got hard woods, Ironbark is good for keels and we have a got a selection of hardwood such as Blackbutt to stringy bark to blue gum. They are quality hardwood timbers that have lasting qualities for boatbuilding and also out of water. There were no problems for timbers and there were plenty of mills. It is getting harder all the time. The forestry's are closing down and our hardwood forests are being preserved. It is not all that easy today but they are still able to build big boats with quality materials.
DW Your family was used as fictional characters in Vance Palmer's novel "The Passage". Did you meet Vance Palmer?
Associations with Vance Palmer
LC I did, I knew him. I was only a lad then of about eight years of age. I went to school with his daughters. I knew both Vance Palmer and Mrs Palmer and their daughters. I knew Mrs Emily Bulcock.
DW What was he like?
LC He was a tall man. He would have been a man then in his early forties I imagine, when I first knew him. He was quite a good cricketer. He played on what we called Black Flat which is Tripcony Park now. He was quite a good batter actually when he swung a bat. He played with the Caloundra team.
DW Would you explain where Vance Palmer lived?
LC Vance Palmer lived in Bulcock Street in Tom Maloney's house. Maloney set up in Caloundra in the early days to harvest the shell grit on our beaches. They also brought the stores back with their boat. They supplied Caloundra and the stores here with the building material from Brisbane. Vance Palmer rented their house in Bulcock Street which was almost opposite the fire station. DW Did he ever go to sea with you or your family?
LC Not that I know of. He would have moved amongst the people to pick a bit of knowledge so he could piece it together for the book that he wrote.
DW Who did he write about in your family?
LC He wrote about my mother. He described my father; see he linked some of the early history of Bribie Passage and this together. You see the early history of the fishing industry here was established by Leach's, Leach Brothers. They couldn't get property at the north end of Caloundra because Bulcock owned it all. Leach set up originally down at Bells Creek, on a piece of land there on the frontage. Leach came here first; he was digging shell for the Moreton Bay Oyster Company on some of the old Aboriginal midden heaps along the foreshores of The Passage. They used to dig this out and Bay Oyster Company. Bribie Passage produced a lot of oysters sieve it and supply the shells in bags. They would go back to the Moreton in the early days particularly in the northern end of the passage.
DW What was your mother's fictional character?
LC Anna Callaway. I can't understand how he derived that name. Whether he linked the name Caloundra and the name Westaway together I wouldn't know. Some people
describe it as Call-a-way. My mother he described as Anna Callaway. Pretty true to form as he wrote, you see my mother was the dominant person in the family. My father was a tremendous worker, he had tremendous energy but my mother she played her part in more ways than one. She had nine children to look after. She had to design the table we ate off and she had to mend and sew our clothes. One thing I can remember my mother saying was, "keep your hat on." I don't think she had nine hats. I suppose the first one dressed got the best hat.
Close relations with Miriam Westaway
DW Could you tell me about Miriam Westaway?
LC Miriam Westaway and my mother described this event to me; I can't remember it of course. Miriam Westaway was the first person to introduce me to Caloundra. On that occasion we had arrived from where we lived at Gympie Road, Coochin at Beerwah by boat down Coochin Creek to Caloundra. We pulled in to what is now known as Tripcony Park. Miriam Westaway was teaching school here at that stage. She happened to be there on the shore. I imagine she would have been then a young woman of about eighteen to twenty years of age. My mother told me she waded in knee deep up to the side of the boat and took me in her arms. She brought me ashore so was the first one to introduce me to Caloundra. Of course she became a member of our family. Very highly and proudly thought of by all members of our family right through the years that she lived.
DW Was there a rivalry between fishermen in the early fishing industry?
LC There has always been rivalry in the fishing industry. All fishermen are individuals. Mostly you never reveal where or how much you have caught. If you do you are only feeding out information and robbing yourself of probably the next catch of fish.
DW Was there any Aboriginals involved in the fishing industry in the early days?
LC There was. Tripcony bought the Daltons here from Dunwich or somewhere in the southern end of Moreton Bay. He bought them here to compete against the Clarke's. When he found that this couldn't be done because my father set up here first. He had the support of my three older brothers who were able to conduct our activities thoroughly. With the ice works of course we couldn't be defeated. So that didn't last long. The Dalton's, I don't think had ever been really active as fishermen, only in their own natural state. They were not the only people that Andy Tripcony set up against us. Eventually we became probably the best friends that the Daltons had in Caloundra. On one occasion whilst they were working for Tripconys one of them got stung with a sting ray in the leg. Who should bring them home but the Clarke's and transported them at their own expense by car to the ambulance at Landsborough. Eventually they no longer worked for Tripconys and they split up. Some of the family lived on Bribie Island, a few went to Duck Holes creek and eventually they left. I understand there are still Dalton's in our district.
DW Do you feel if one of your parties had been hurt would Tripcony have bought you back?
LC I can't say anything other than as far as the Tripcony's are concerned I have always found them reasonable people to get on with. They just couldn't accept the fact that my father had come to Caloundra and was probably the most successful fisherman there. But he was not the only one, in the earlier stages there was the Leach's'. They set up and some of the Leach's didn't accept my father's activities here. Yet, Harry Leach did, he worked with my father. Eventually he left Caloundra and went to Maryborough and fished in Hervey Bay. Of course there was other people who tried to fill in the gap, the Manthey's came and they left and went to Tin Can Bay. We survived, the Chaplin's came, they were stiff opposition because they had the numbers. It was very awkward, we survived, they survived and now the Chaplin's and the Clarke's work together. Chaplin's worked out of Noosa too.
DW In the early days did a lot of your fish stay in the area for private guest houses and the like?
LC Yes. Prior to the fish board setting up in Caloundra. It would of been in about 1944/45 at the tail end of the War when the fish board set up in Caloundra. Prior to them setting up we would have been able to market our fish wherever we liked. We didn't even have to supply the Brisbane Fish Market
Which was the accepted marketing system? There were other buyers in Brisbane that bought our fish. We hawked fish in Maleny and around Woodford and Kilcoy. We sent fish to Nambour and provided fish for local consumption to guest houses, shops wherever. When the fish board set up of course this all changed. Firstly, you had to have a licence to be able to retail fish. It all had to be placed with the fish board and then brought back by the retailer or the wholesaler.
DW Did you have much to do with the Bulcock's?
Family relationship with Arthur Bulcock
LC Old Arthur Bulcock lived with us. My mother boarded him as he was an old bachelor. He had come from Ipswich and I understand that is where the Bulcock's originated from. When they came to Caloundra in the early days they had been in coal up there. They came to Caloundra and whether they were looking for coal I don't know. There were two families set up here. One out on the point, old Eddy Bulcock. Arthur Bulcock, he was a relative, I think a nephew. He lived with us for quite a number of years at our family home. Mum boarded him for a few shillings a week. He was an old fellow. I don't know whether he had much money or not. He could have been on the pension. There wasn't much pension in those days. He paid a little bit and made a contribution to the table. Likewise, when I went fishing, my income from fishing in the early days would have been less than one hundred pound a year. That is fact, but then again that was nearly two pound a week. Ten shillings went to mother. I got my washing done for that and my mending if any, my food and a bed to sleep in.
DW Did you have a car?
LC No, I had the family car though. Dad always had a reasonable vehicle. It was available for us to use, very limited you know. Only on special occasions.
DW Where did you get a licence and when?
LC I didn't get a licence until I was about sixteen years of age actually. I probably faked my birth certificate to get it. I have got a clean licence at this stage. Never been booked in my life.
DW Anything more you can tell us about the fishing methods?
LC Hooks were bought in boxes. You could buy them from a distributor in Brisbane and anything else you required.
DW Your father would have purchased things like that in the same way?
LC Yes. While dad was operating the ice works all the material came through him.
DW You were saying in those early days the nets were made in Ireland. Was there any stage in his life where he would have had to make nets?
LC No, the only way that you would have made up a net was that you bought it wrapped up as a bundle of net wrapped up in a parcel. You either joined it up or tapered it and hung it on rope and joined it up with the required length.
DW Was that an expensive process and time consuming?
LC Not only that but a lot of time consuming effort in hanging a net, placing it on the rope and hanging it correctly so that it would fish. The ropes had to have the stretch and the curl taken out of them. It was a full time job for dad, ashore. The elder brothers and the crew that was employed, two or three blokes worked for us then.
Jack Clarke's death 1937
DW How did your elder brother die?
LC No, my elder brother was badly burnt in a boat accident. He was twenty six years of age. That was in 1937. He was down in the Bribie Passage when that happened. Petrol engine had flooded in to the bilge and it coughed back through the carburettor, cold motor and it blew up and badly burnt him. He died from pneumonia; actually today I suppose with the introduction of penicillin, it wouldn't have killed him. Back in those days, pneumonia set in after four or five days from a bad accident. He passed away after about eight days. His name was Jack. I am the only male side of the family left and three sisters.
LC My great grandparents arrived from England in 1873, 28 June of that year. They arrived and anchored in Moreton Bay. They came from Steeple Clayton in Buckingham Shire. They arrived here on a ship called the Ramsay. They were John Palmer Clarke and his wife was Gemima Hill Clarke. They arrived here with their family of four girls and one boy. The eldest boy was William Jess and my grandfather. They settled at Upper Caboolture. We often wondered how they got a free passage. When we started researching for this book we found at that stage the Gympie gold fields had just broken out and Charters Towers. The vacuum in the labour force in the rural sector was caused by people rushing to the gold fields. So to combat that shortage of labour in the rural sector the Queensland Government got their representative in London to organise a ship load of migrants. He was one of them. The conditions were he got a free passage to Australia on the condition he worked for three years in the rural sector. Then he could select for himself which he did. He settled with Zilman's at Upper Caboolture. That is where he selected land eventually. He brought up his family there, and then retired. She was buried there and died in 1907 and is buried in an unmarked grave. We put a plaque on it recently. He died at Dunwich. He sought asylum in the old age pensioner home. That is where he died over there. He died many years later in 1926. I was nine years of age. Things were very hard in those days I imagine. Thankfully this book should be coming up this year so if I get the opportunity I will certainly hand one over to you.
DW Thankyou very much Lloyd, it has been a great morning. I could sit here all day.