William Burgess bill spikes
William's bill spikes contained documents covering all aspects of his life such as invoices, receipts, letters, councillor correspondence and timber records
The Burgess family was the second generation to reside in Bankfoot House. William Burgess married Clementina Grigor in 1902 and moved into the property. From 1902 till his death in 1946, he kept a remarkable record of daily life at Bankfoot House. Along with his working diaries, William kept four bill spikes. These contain over 1900 documents covering all aspects of his life - invoices, receipts, letters, councillor correspondence and timber records to name but a few.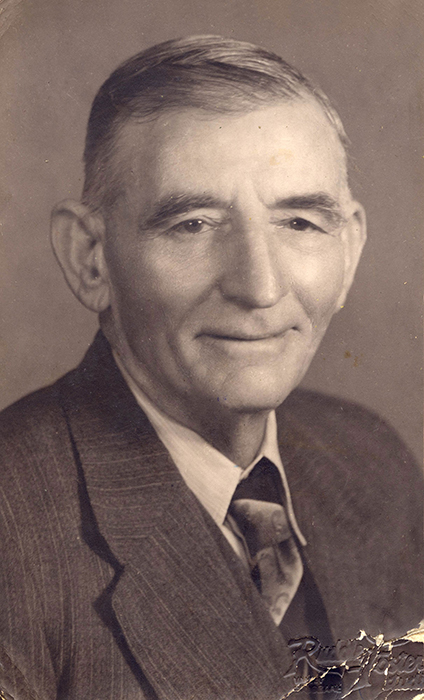 William Burgess, 1943. William was one of the longest serving Councillors on the Landsborough Shire Council, holding the position for 33 years.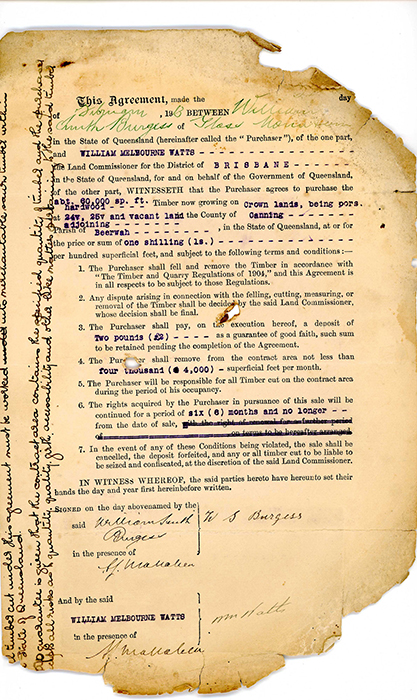 Timber Agreement, 1913. This agreement outlines the terms by which William could remove and sell timber from a portion of crown land. The timber is measured in superficial, or super, feet. With one superficial feet equalling the volume of 1 foot by 1 foot by an inch (30.48cm x 30.48cm x 2.54cm).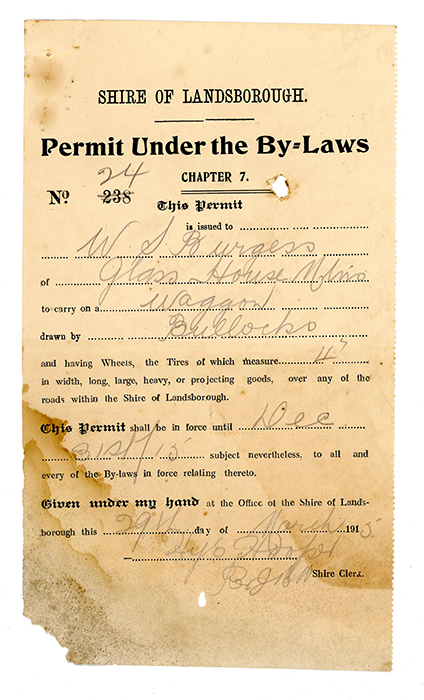 Wagon Permit, 1915. There are a number of different wagon permits on the spikes. William held permits for the Landsborough and Caboolture Shires for wagons drawn by Bullocks.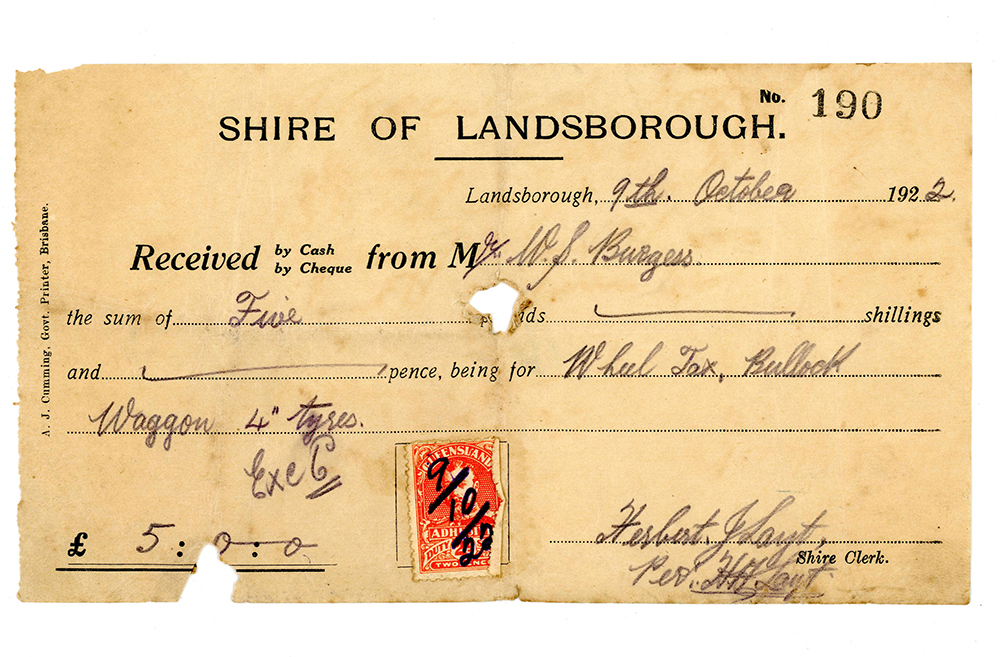 Wheel Tax receipt, 1922. Wagon wheels, especially on bullock wagons, caused a considerable amount of damage to the road as they moved along. Shire councils set up wheel taxes as a way of funding the ongoing maintenance of their roads. Like the wagon permit, William payed a wheel tax in both the Landsborough and Caboolture Shires.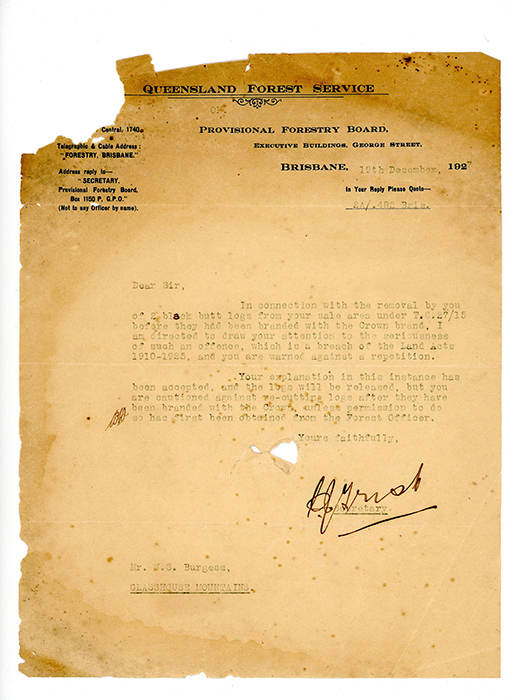 Queensland Forest Service Letter, 1927. Correspondence from the Provisional Forestry Board informing William about his breach of the Land Acts 1910-1925.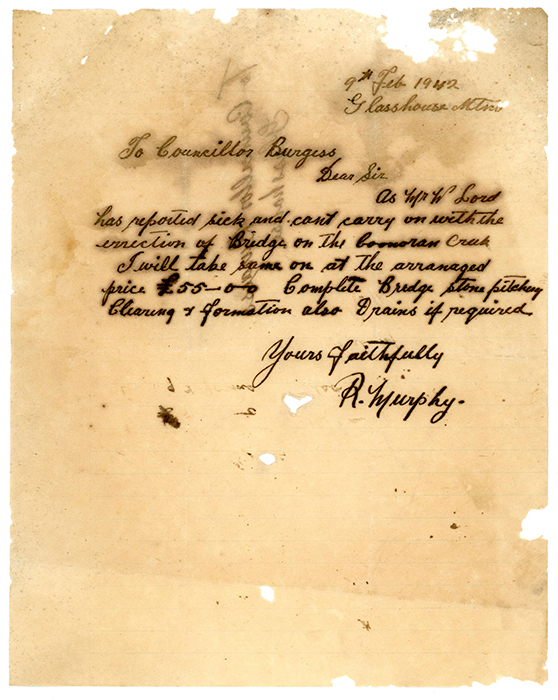 Councillor Burgess Letter, 1942. The spikes contain many examples of correspondence and minutes featuring Councillor Burgess. These documents span a wide range of topics and forms, including council minutes, his notes on projects, and letters.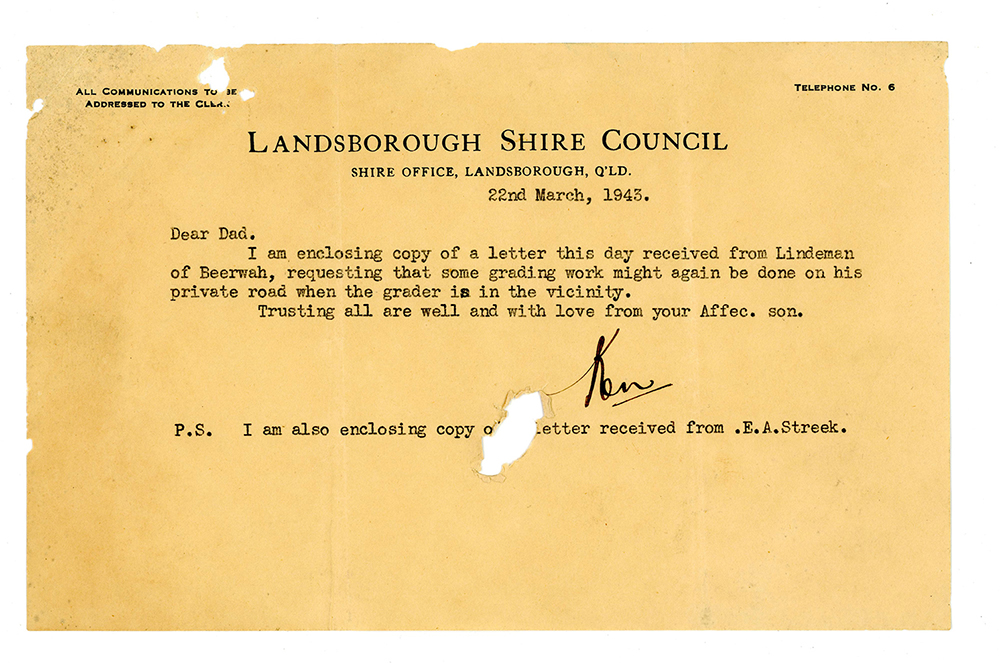 Official council letter from Ken Burgess to WS Burgess in 1943. Ken was the youngest Burgess son, and was Shire Clerk at the time of writing this letter.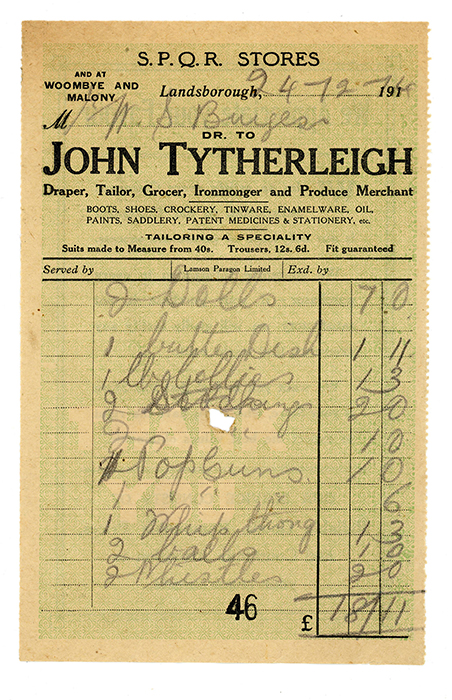 Tytherleigh Receipt, 1914, detailing Christmas gifts for the family. John Tytherleigh ran a drapery, clothing and footwear business in Landsborough from 1894. His business expanded to include stores in Woombye, Maleny and Caloundra.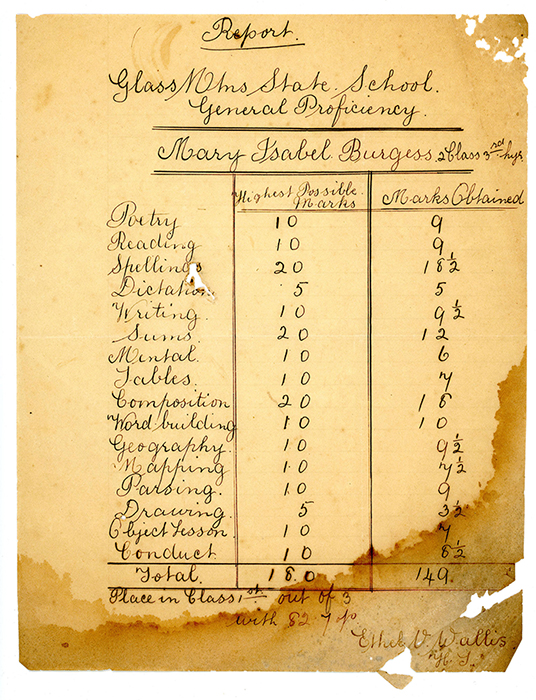 Mary Burgess School Report. Two school reports have been found on the bill spikes. They were for William's daughters Mary and Janet 'Ellie', who attended Glass Mountains State School. Along with Mary's report was a letter from the school master regarding her academic progress.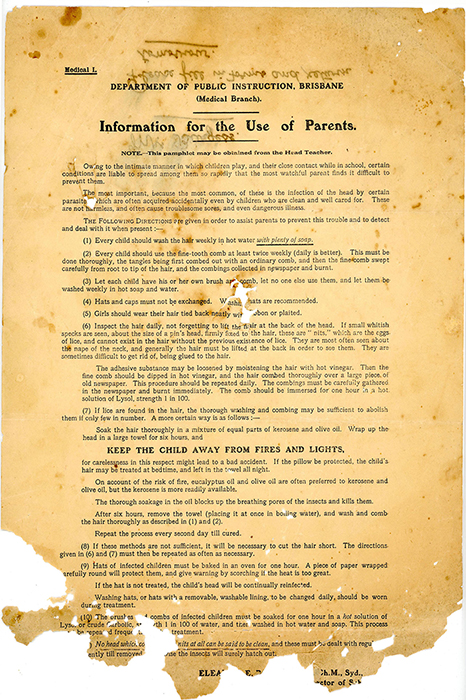 Department of Public Instruction. A pamphlet sent out by the school the Burgess children were attending, for the prevention and treatment of head lice.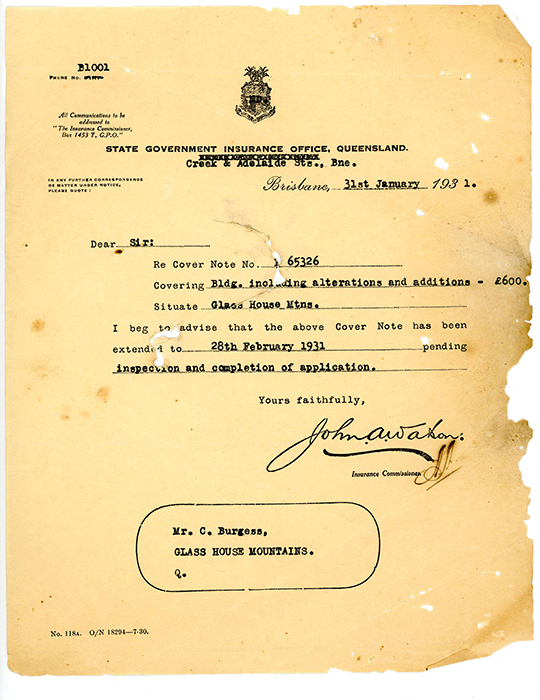 State Government Insurance, 1931. The Burgess family demolished the original Bankfoot House in 1930, and renovated the 4 roomed 1878 extension. This insurance document from January 1931 notes the alterations made to the building.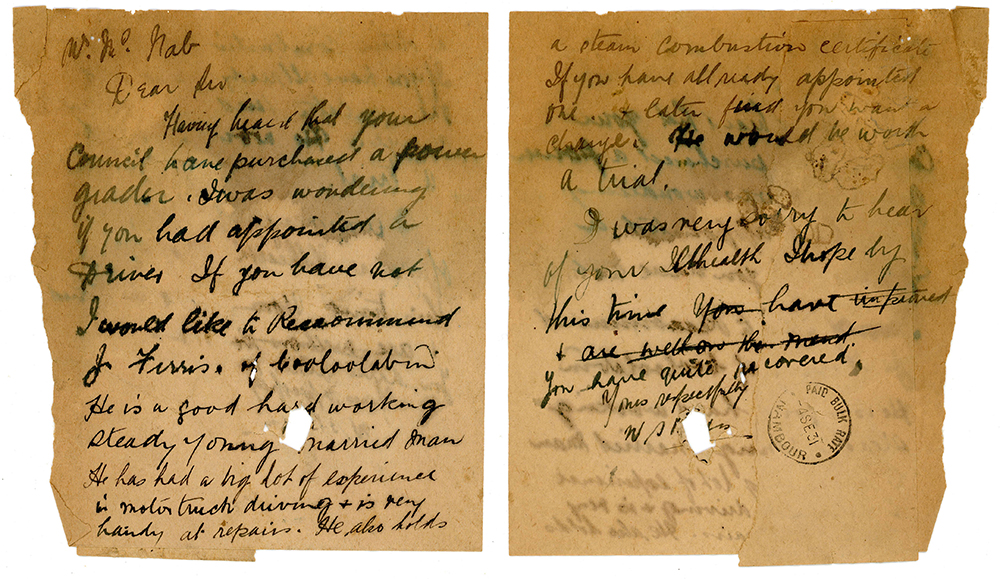 Draft Letter. This letter drafted by William is a job reference for son-in-law Jack Ferris. A version of this letter was sent to both the Landsborough and Maroochy Shire Councils seeking employment during the depression.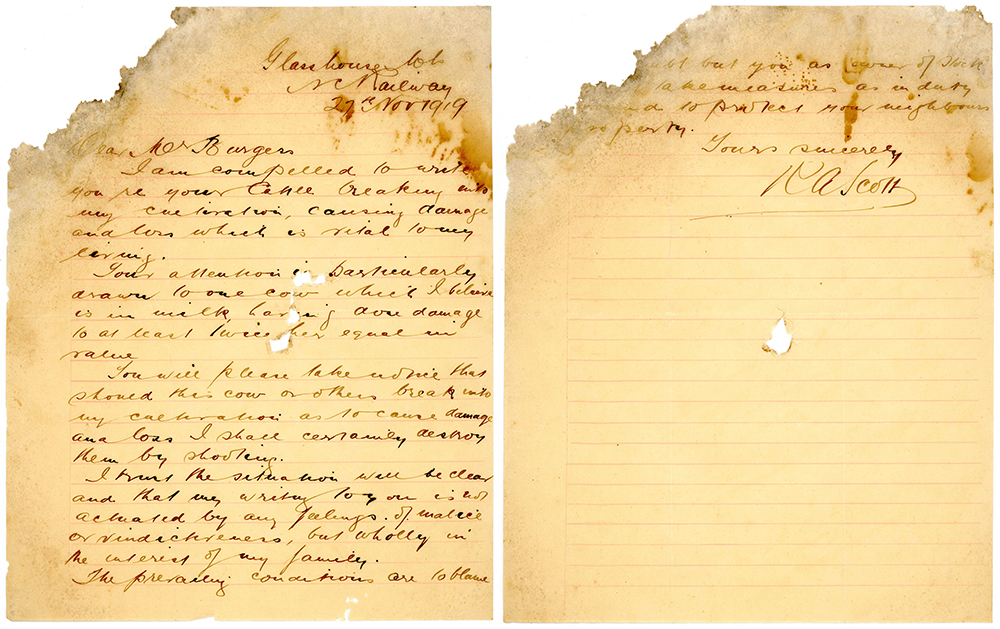 Dear W Burgess, 1919. The bill spikes contain many letters received by William. This letter is from an irritated neighbour over the escaped cattle on his property.